<![if !vml]>
<![endif]>
Date: Wednesday, 4th February 1969.
Venue: AWD Stadion (Niedersachsenstadion), Hannover, Germany.
Competition: Inter-Cities Fairs Cup, Fourth Round, Second Leg.
Score: Hannover 96 1 Leeds United 2
Scorers: Hannover 96: Heynckes. Leeds United: Belfitt, Jones.
Attendance: 15,000.
Teams:
<![if !vml]>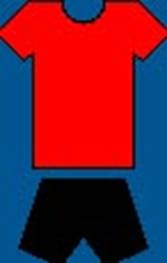 <![endif]><![if !vml]>

<![endif]>
Hannover 96: Helschrot; Hellingrath, Loof; Anders, Breuer, Stiller; Zobel (Wottka), Bruner, Bandura, Heynckes, Kettler (Ritter).
<![if !vml]>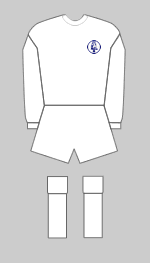 <![endif]> <![if !vml]>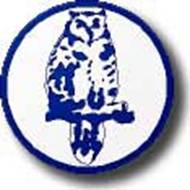 <![endif]>
Leeds United: Sprake; Reaney, Cooper; Bremner, Charlton, Hunter; O'Grady, Lorimer, Jones, Belfitt, E. Gray.
Referee: Jef Dorpmans (Holland).
Seven weeks after the first leg United flew to Germany and duly completed the formality of winning through to the Fourth Round in the same vein as they had performed at Elland Road. Johnny Giles, with a thigh injury, and Paul Madeley, with an ankle injury, were left behind as the team took the two hour flight from Yeadon Airport and landed in a snowstorm. Milder weather, thankfully, followed and the pitch was in a perfect condition with the 15,000 crowd being swelled by a large contingent of British soldiers, who were soon singing 'Ilkla Moor Bah't 'at' loudly.
Bernd Helschrot, who replaced first leg goalkeeping hero Horst Podlasly, had already fumbled a long free-kick from Jack Charlton when he spilled a fifth minute shot from Mike O'Grady to leave Rod Belfitt with an easy chance which he duly netted. United put the tie way beyond Hannover's reach and there was only sixteen minutes on the clock as Mick Jones doubled the score, after the unfortunate Helschrot failed to cut out Norman Hunter's low cross. With a 7-1 aggregate lead, understandably, United eased off after that but the Germans became more frustrated and the robust tackles started to fly thick and fast. The match turned nasty when Christian Breuer fouled Billy Bremner and a police guard was called to man the moat surrounding the pitch. Within minutes United found themselves down to ten men when Terry Cooper was sent off after a foul on substitute Winfried Wottka, who made the most of the challenge.
Manager Don Revie complained, "I thought it was a harsh decision considering what Hannover had been doing. I thought their players got upset when they were making no impression on us."  United's sense of grievance was not helped by another foul on Billy Bremner, just after the Cooper incident, which earned Jurgen Badura a booking rather than a red card. The fiery ending took the gloss off the best goal of the night, scored by Josef Heynckes with a thumping free-kick from the edge of the penalty area, three minutes before the final whistle as United were 2-1 winners on the night and 7-2 on aggregate. The only downside seemed to be the dismissal of Terry Cooper, who would have to miss the first leg of the clash with Ujpest Dozsa.
<![if !vml]>
<![endif]>  <![if !vml]>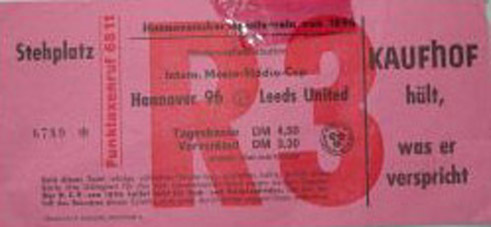 <![endif]>
Match Action:
<![if !vml]>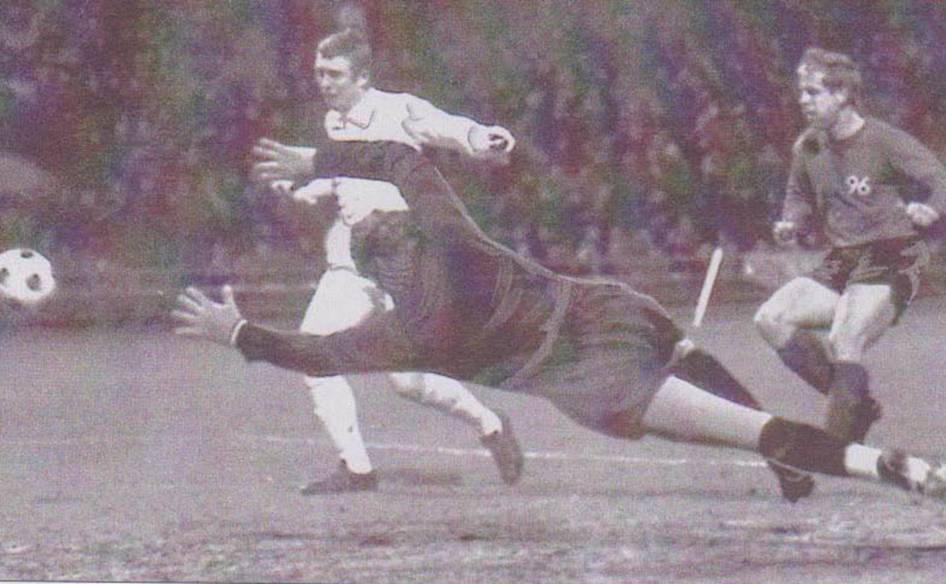 <![endif]> 
Mick Jones gets the second goal
Players:
| | |
| --- | --- |
| Rod Belfitt and Mick Jones were United's scorers | Terry Cooper was sent off |