<![if !vml]>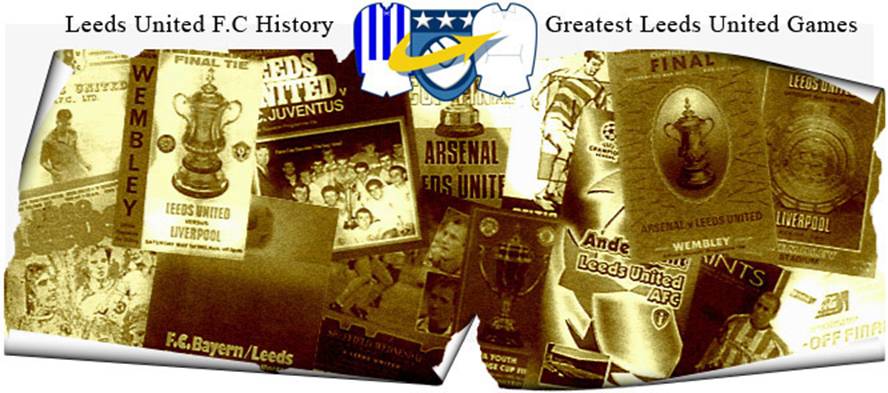 <![endif]>
Date: Sunday, 3rd November 2002.
Venue: Elland Road, Leeds.
Competition: English Premier League.
Score: Leeds United 0 Everton 1
Scorers: Leeds United: Nil. Everton: Rooney.
Attendance: 40,168.
Teams:
<![if !vml]>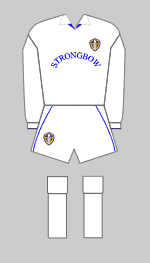 <![endif]><![if !vml]>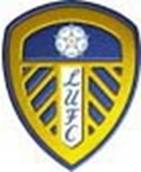 <![endif]>
Leeds United: Robinson; Mills, Woodgate, Radebe, Lucic (Harte); Bowyer, Bakke, Barmby; Smith (McMaster), Viduka (Bridges), Kewell. Unused Subs: Kelly, Martyn.
<![if !vml]>
<![endif]><![if !vml]>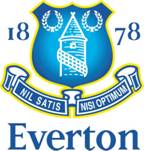 <![endif]>
Everton: Wright; Hibbert, Yobo, Stubbs, Unsworth; Carsley, Linderoth, Li Tie (Naysmith), Pembridge; Campbell, Radzinski (Rooney). Unused Subs: Watson, Weir, Gerrard.
Referee: Mr N. Barry (Scunthorpe).
Teenage hot-shot Wayne Rooney piled on the misery for Leeds United by shooting Everton to a rare Elland Road win. Rooney's eightieth minute strike was enough to secure Everton their first League win at Leeds for fifty-one years and left dejected United boss Terry Venables wondering what might have been. While the 1-0 success was an historic achievement by the Evertonians, the scars would run deeper than just losing what was a proud home record for Leeds United. Statistics didn't lie and with almost a third of the season now gone United were lying in thirteenth place, their lowest for twenty-two months, and were without a Premiership victory since September 14. More worrying for Venables was that, despite plenty of encouragement in recent weeks, United were more exposed yesterday as they suffered another setback.

The performance against Everton wasn't bad, it was far more enterprising than some that season, but it was results that counted and United desperately needed to find a League win. It was debatable whether they deserved anything from yesterday's game despite managing more shots on goal than in recent weeks and equalling Everton's effort of seven on target. But when Everton broke they were quick and succinct while Leeds laboured and there was a certain spark still missing from United's play. Unsurprisingly, the supporters again chanted the name of local hero David Batty after reading the player's claims that he was being frozen out by the Elland Road club. Whether or not Batty's return to the side would make a difference was open to question, but the supporters' calls were understandable, given United's sorry run of two points from six games.
<![if !supportLineBreakNewLine]>
<![endif]>
Whatever the answer, and Terry Venables must have been hoping to find it soon, United were certainly missing something because their current toils were simply not producing the results the supporters craved. Paul Robinson was the hero once again with the England International pulling off a string of brilliant stops to deny the impressive Tomasz Radzinksi. Robinson was called upon regularly as Everton's twin strike force of Tomasz Radzinksi and Kevin Campbell frequently found themselves in acres of space after a quick break.
<![if !supportLineBreakNewLine]>
<![endif]>
United again lacked ingenuity in midfield where, for all their efforts, they failed to ask Everton enough questions and allowed the visitors time and room to manoeuvre. Leeds, who were struggling to create enough chances, were also out of luck at the moment and they could have considered themselves unfortunate not to have been awarded at least one penalty. There were claims after Nick Barmby was brought down by Richard Wright and when Tobias Linderoth appeared to handle, but the clearest shout was when Alan Smith was chopped down by Joseph Yobo. That incident came on twenty-eight minutes and would have changed the outcome of the game, but Leeds were not getting the rub of the green and were having to do things the hard way.
<![if !supportLineBreakNewLine]>
<![endif]>
Maybe it would have been harsh on an Everton side who played the better football and showed more ambition throughout, but little was going United's way at that point of time. Elland Road was once a fortress but there was almost a resigned atmosphere about the crowd and the natives were becoming more restless by the week. Things could have been different had a delightful dipping effort from Harry Kewell gone the right side of the bar after just thirteen minutes, but Everton responded by carving out the better openings.
<![if !supportLineBreakNewLine]>
<![endif]>
Alan Smith made a superb tackle to deny goal-bound Chinese international Li Tie while Paul Robinson made two stunning saves to thwart Tomasz Radzinksi. Everton's build-up play was impressive and the patient workmanlike ethics employed by David Moyes were paying dividends for a side who were much improved. Leeds weren't as neat as their visitors, but Nick Barmby and Eirik Bakke could have considered themselves unlucky not to nudge the home side ahead early in the second half.
<![if !supportLineBreakNewLine]>
<![endif]>
The game ebbed and flowed throughout, both sides enjoying good spells of possession, but there was a sense of inevitability that it would be Everton who got the breakthrough. Harry Kewell shot narrowly wide with a great effort after a tidy build-up and Jonathan Woodgate had a header cleared off the line, but it was Paul Robinson who was the busier of the goalkeepers. The England stopper made a tremendous save to deny Tomasz Radzinski after a lovely pass from Kevin Campbell and two minutes later he made another brilliant near-post block to deny the Canadian striker. The game appeared to be heading for a stalemate when Moyes introduced seventeen-year-old Rooney in the seventy-fifth minute and he took less than five minutes to make his mark.
<![if !supportLineBreakNewLine]>
<![endif]>
He collected the ball thirty yards out with his back to goal and, after leaving Eirik Bakke in a crumpled heap, he raced clear to deliver an inch-perfect shot through the legs of Lucas Radebe. It was a piece of magic and his strike proved a worthy winner in what was another tough afternoon for a frustrating United side. The result was a shattering blow to United's confidence with a crucial Worthington Cup clash with Sheffield United on the agenda the following week. The competition took on extra importance given United's lowly placing in the Premiership and Terry Venables would have been hoping to see his players dig deep and give more than they did against Everton.
<![if !vml]>
<![endif]> <![if !vml]>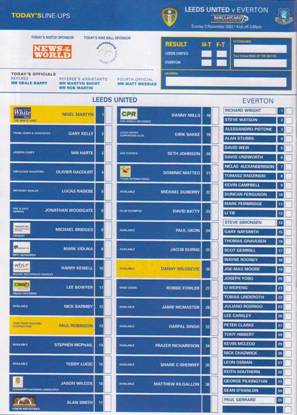 <![endif]>
Match Action:
<![if !vml]>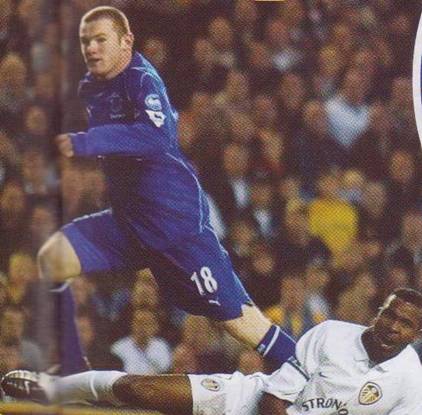 <![endif]> <![if !vml]>
<![endif]>
Wayne Rooney leaves Lucas Radebe stranded                            Wayne Rooney jumps for joy on scoring
<![if !vml]>
<![endif]>
Eirik Bakke, Lee Bowyer and Ian Harte are dejected as Li Tie runs to join in the celebration of Wayne Rooney's winning goal
<![if !vml]>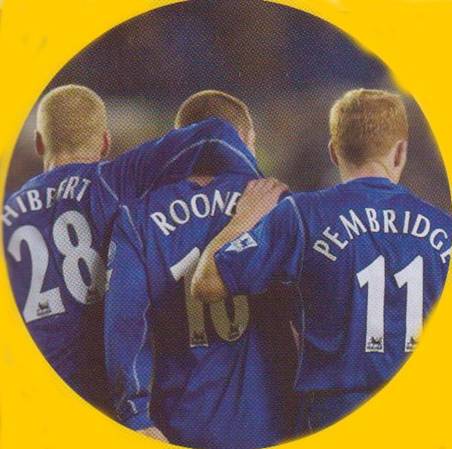 <![endif]>    <![if !vml]>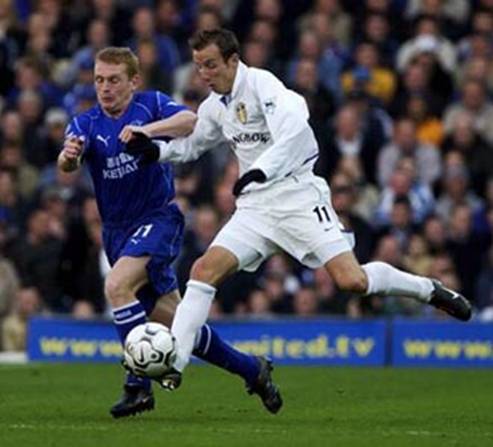 <![endif]>
Tony Hibbert, Wayne Rooney and Mark Pembridge                               Lee Bowyer cuts inside Mark Pembridge          
celebrate the winning goal
<![if !vml]>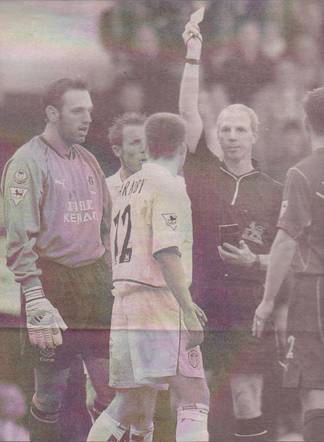 <![endif]>  <![if !vml]>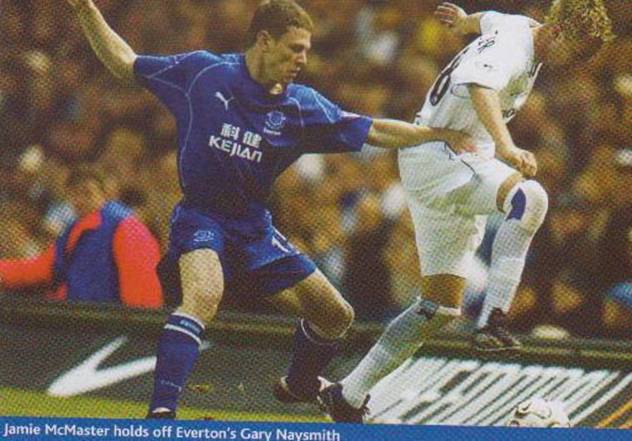 <![endif]> 
Nick Barmby is yellow-carded
<![if !vml]>
<![endif]>      <![if !vml]>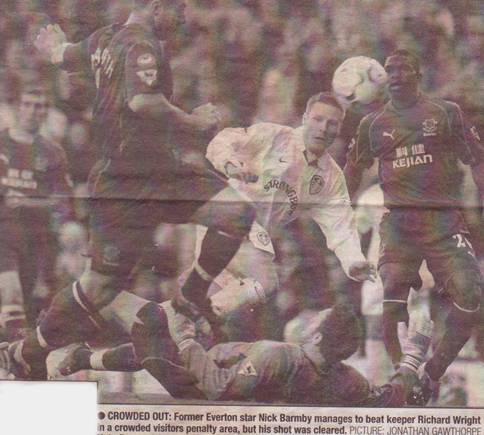 <![endif]> 
Harry Kewell tries to beat Tony Hibbert
Players:
<![if !vml]>
<![endif]>     <![if !vml]>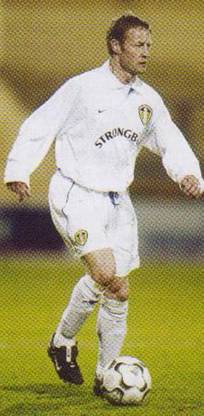 <![endif]>    <![if !vml]>

<![endif]>    <![if !vml]>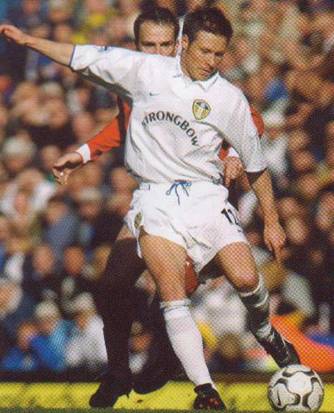 <![endif]> 
Wayne Rooney got the winner.     Fans chanted for David Batty      Paul Robinson pulled         Nick Barmby was denied a penalty claim
                                                                                                                off a string of saves
<![if !vml]>

<![endif]>  <![if !vml]>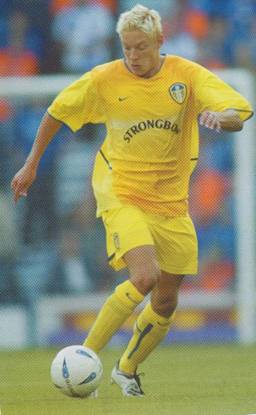 <![endif]>  <![if !vml]>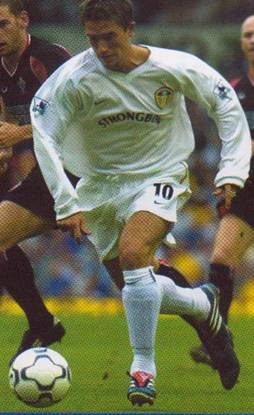 <![endif]> <![if !vml]>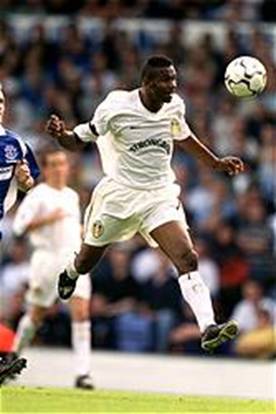 <![endif]> 
Jonathan Woodgate had    Alan Smith was chopped down                Harry Kewell had a delightful               Lucas Radebe couldn't stop Wayne Rooney
header cleared off line                                                                         chipped effort which went close        
<![if !vml]>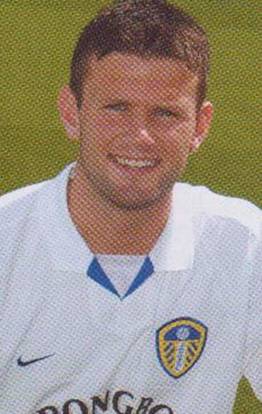 <![endif]> <![if !vml]>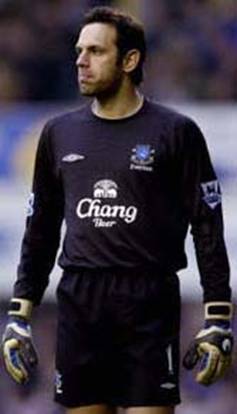 <![endif]> <![if !vml]>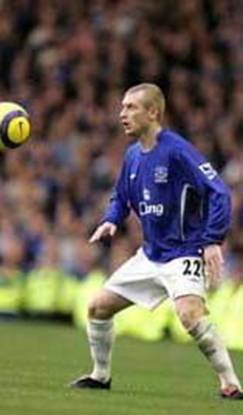 <![endif]> <![if !vml]>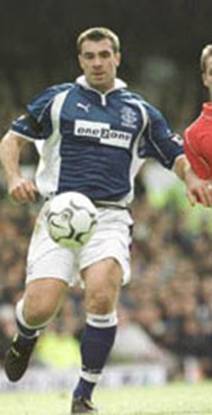 <![endif]>
Eirik Bakke was unlucky not to score Richard Wright was in goal                      Terry Hibbert and David Unsworth were the full-backs
<![if !vml]>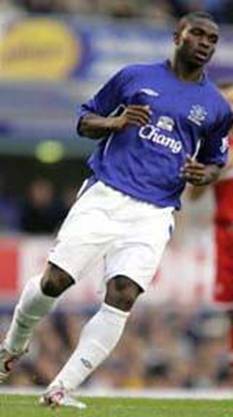 <![endif]> <![if !vml]>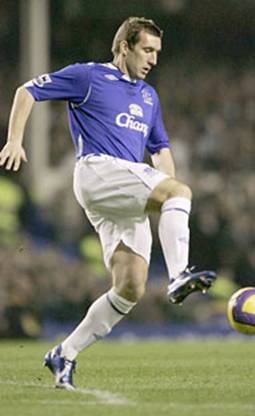 <![endif]>   <![if !vml]>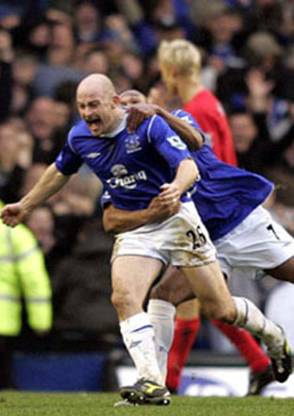 <![endif]> <![if !vml]>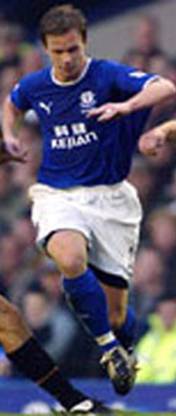 <![endif]>
    Joseph Yobo and Alan Stubbs were in central defence                                        Lee Carsley, Tobias Linderoth,
<![if !vml]>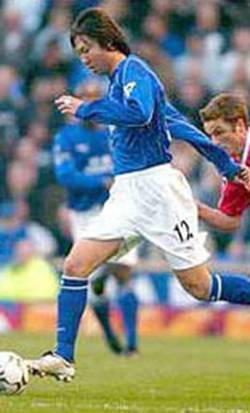 <![endif]> <![if !vml]>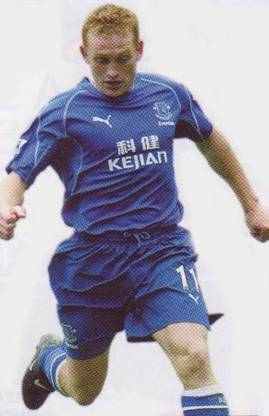 <![endif]> <![if !vml]>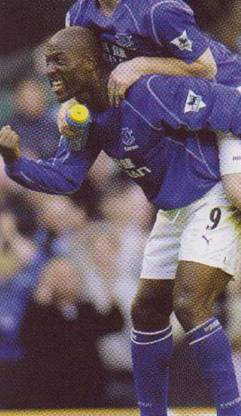 <![endif]> <![if !vml]>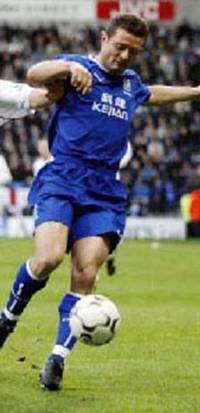 <![endif]>
Li Tie and Mark Pembridge were the starting midfield                                           Kevin Campbell and Tomasz Radzinski were the strikers
<![if !vml]>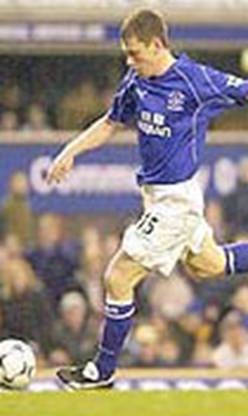 <![endif]> <![if !vml]>

<![endif]>   <![if !vml]>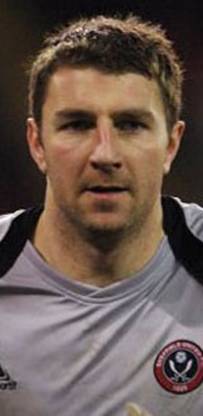 <![endif]> <![if !vml]>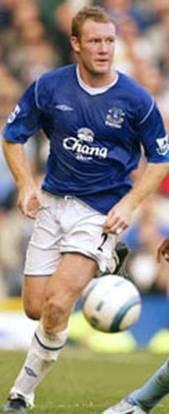 <![endif]> <![if !vml]>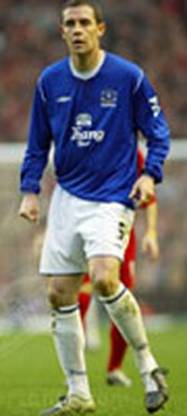 <![endif]>
Gary Naysmith and Wayne Rooney came on as substitutes      Paul Gerrard, Steve Watson and David Weir were the unused substitutes