<![if !vml]>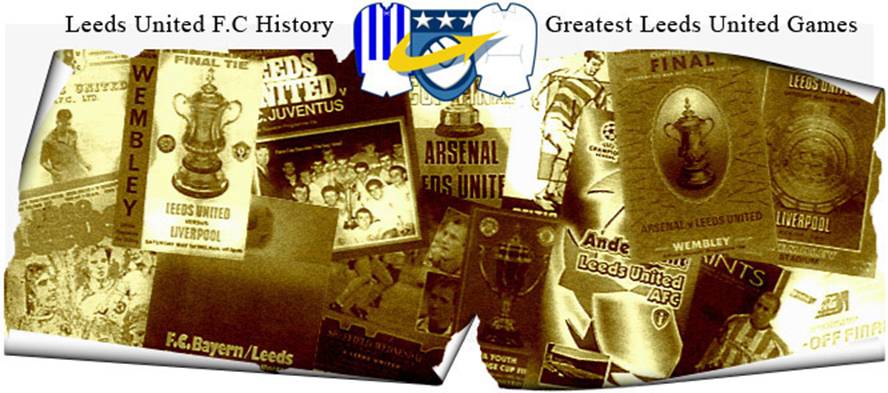 <![endif]>
Date: Wednesday, 3rd October 1979.
Venue: Elland Road, Leeds.
Competition: UEFA Cup, First Round, Second Leg.
Score: Leeds United 3 Valletta 0.
Scorers: Leeds United: Curtis, Hankin, Hart. Valletta: Nil.
Attendance: 13,682.
Teams:
<![if !vml]>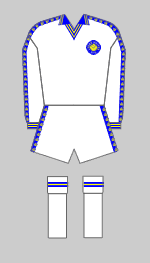 <![endif]><![if !vml]>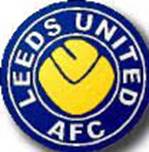 <![endif]>
Leeds United: Lukic; Hird, Hampton; Flynn, Hart, Parkinson; Hamson, Cherry, Hankin, Curtis, Graham.
<![if !vml]>
<![endif]><![if !vml]>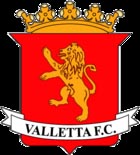 <![endif]>
Valletta: Grima; Gauci, Curmi; Abdilla (Kassair), Spiteri, E.Farrugia; Magro, L. Farrugia, Agius, Fenech, L. Seychell.
Referee: Mr Gudmundur† Haraldsson (Iceland).
In the return leg of the First Round UEFA Cup tie with Valletta of Malta at Elland Road there was never really any doubt that United were going to win the tie, they had already virtually achieved that in Malta, it was just a matter of how many they could get at Elland Road that was in debate. When Alan Curtis scored in the first minute it looked as if it was going to be at least double figures but it was over an hour before they were able to increase the margin. Ray Hankin got the second of the night in the sixty-second minute and Paul Hart rounded off the scoring twenty minutes later and gave them an easy 3-0 victory as United cruised into the Second Round with a 7-0 aggregate win.
However, you would have thought that Valletta had won the tie such was their celebration at the final whistle. In a way they had as they had held United to one goal apart from the final twenty-eight minutes. They danced and celebrated on the pitch and gave their goalkeeper Frank Grima special congratulations after his spell-binding display. Earlier Leeds had roared back into Continental football at Elland Road, after an absence of more than four years, with their fastest goal in their ninety European ties. However, that was as far as it went until their two big men, Ray Hankin and Paul Hart, forced home goals late on.
Against a side made up of waiters, accountants, storemen and the like, they found the biggest obstacle to their progress with a twenty-three-year-old airline courier, who not surprisingly works nights and that night he was on overtime. While Lukic was unemployed on his debut in the Leeds goal, his opposite number became the darling of the 13,682 crowd, one of the smallest attendances to witness a European Cup tie at Elland Road. Frank Grimaís aero-acrobatics left Leeds gasping as he saved a penalty and with dives and leaps straight out of a Superman comic he heroically tipped headers over his crossbar and turned shots around the uprights. The Kop made no secret of their admiration of his first half efforts when he saved with ease from the debutant Gary Hamson and with rare skill from Alan Curtis (twice) Kevin Hird, Paul Hart and Ray Hankin.
When he arrived at their end to defend his net for the next forty-five minutes, he received a tremendous ovation and the extra-ordinary Malteser proceeded to show that his exhibition in the first half could be repeated. Even when Alan Curtis took on the packed defence, found a way through and rolled the ball back to Trevor Cherry, to aim his shot into the farthest corner of the net in the fifty-first minute, Frank Grima was a match for the situation, by turning the ball for a corner. In front of him Valletta tried to build a wall of nine defenders, with just their captain Carlo Seychell left up-field to represent their attacking force. The in-depth defence often frustrated, but Leeds seldom repeated their incisiveness of their work in the opening seconds.
In their first raid Brian Flynn sent Arthur Graham clear down the right, and the hat-trick hero of the 4-0 win in Malta turned the ball back for Alan Curtis to slide the ball home from eight yards. The game was just twenty seconds old and United had beaten by fifteen seconds the old record set by Mike OíGrady with the first goal in a 10-0 slaughter of Lyn Oslo ten years previous. The crowd settled back expecting more of the same and an eclipse of the 10-0 score-line for that game. Frank Grima and the Valletta players had different ideas and this was helped by some woeful shooting by United with Ray Hankin, Paul Hart and Trevor Cherry failing to hit the target when presented with gaping opportunities. United could not even convert from the penalty spot. In the twenty-sixth minute Vincent Magro brought down Peter Hampton in full flight but Kevin Hird saw his firm shot turned over the bar by the magnificent Frank Grima. In the final half-hour the Maltese, who were not used to playing on grass or under floodlights looked weary. It was in that spell that they conceded two further goals. In the sixty-second minute Paul Hart turned a ball from the right into Ray Hankinís path and he headed home from three yards. Twenty-one minutes later Paul Hart repeated the goal he scored in Malta when he firmly headed Brian Flynnís free-kick into the net from eight yards.
Jimmy Adamson commented, ďThey came to defend, wanted to slow it down, and we attacked their goal as much as we could. I have never seen such a one-sided game where there have only been three goals. You have to give credit to their goalkeeper and the way they defended, but having said that, we should have won by a cricket-score.Ē
<![if !vml]>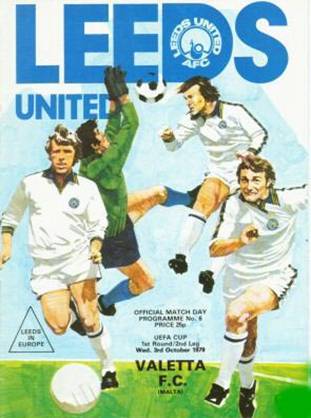 <![endif]>
Match Action:
<![if !vml]>
<![endif]>
Alan Curtis (obscured by the leaping little Brian Flynn and the more bulky Ray Hankin) scores Unitedís opener after just twenty seconds.
<![if !vml]>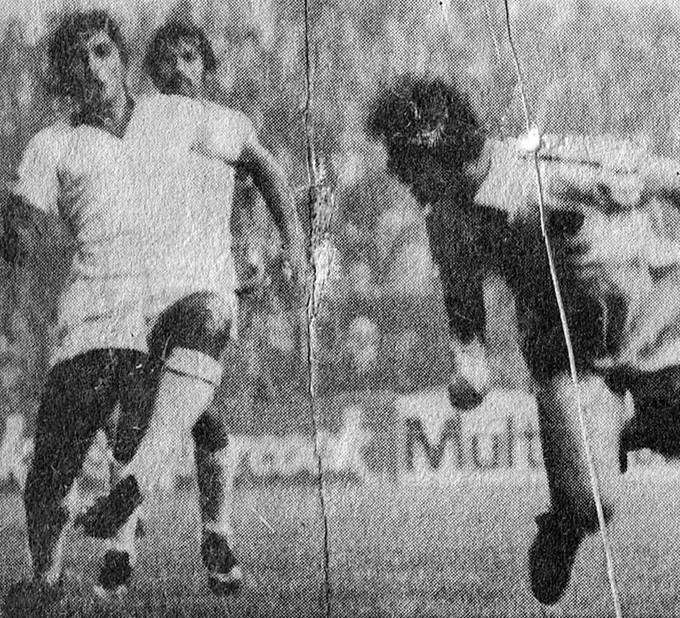 <![endif]>
Ray Hankin heads Unitedís second goal
<![if !vml]>

<![endif]>
Ray Hankin dives to head home Unitedís second (The three goal photos Courtesy of Mark Ledger)
<![if !vml]>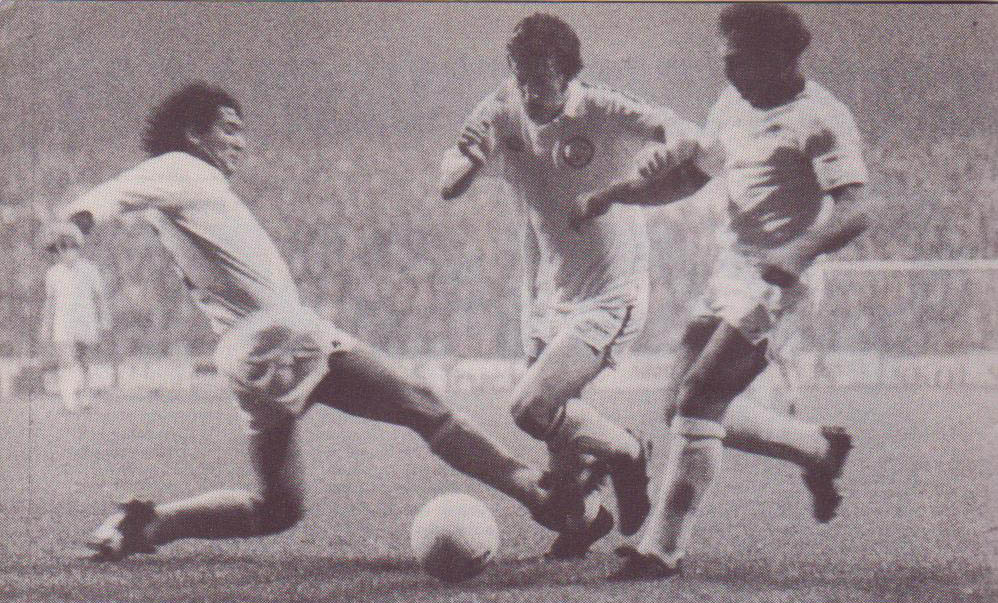 <![endif]>
Peter Hampton is brought down as he enters the penalty area
<![if !vml]>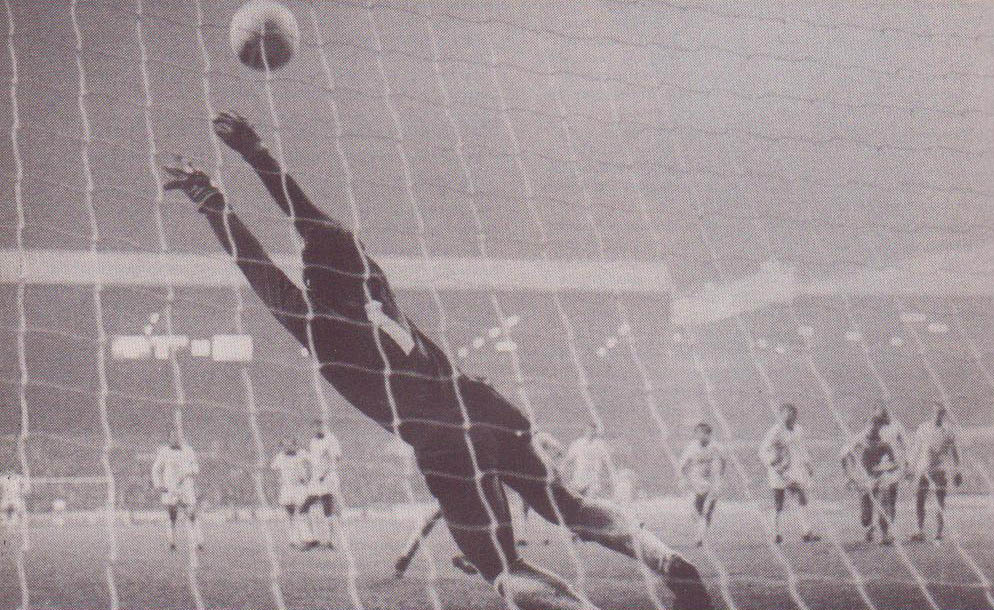 <![endif]>
Frank Grima makes a brilliant save from Kevin Hirdís penalty
Teams:
<![if !vml]>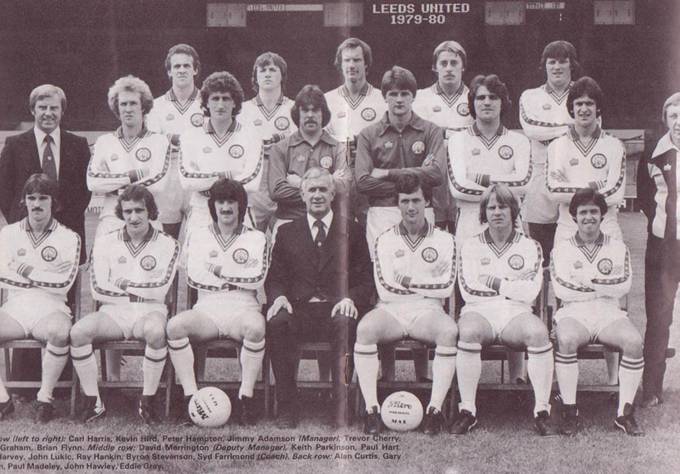 <![endif]>
<![if !vml]>
<![endif]>
Valletta 1979-80:
Players:
<![if !vml]>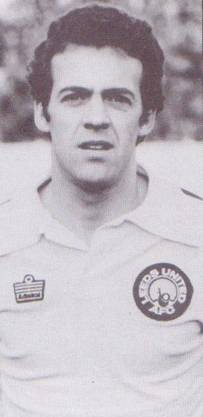 <![endif]>††† <![if !vml]>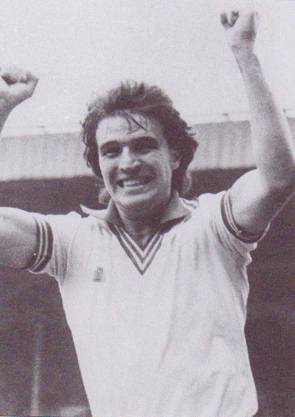 <![endif]>††††<![if !vml]>
<![endif]>
Alan Curtis, Ray Hankin and Paul Hart scored the Leeds goals