<![if !vml]>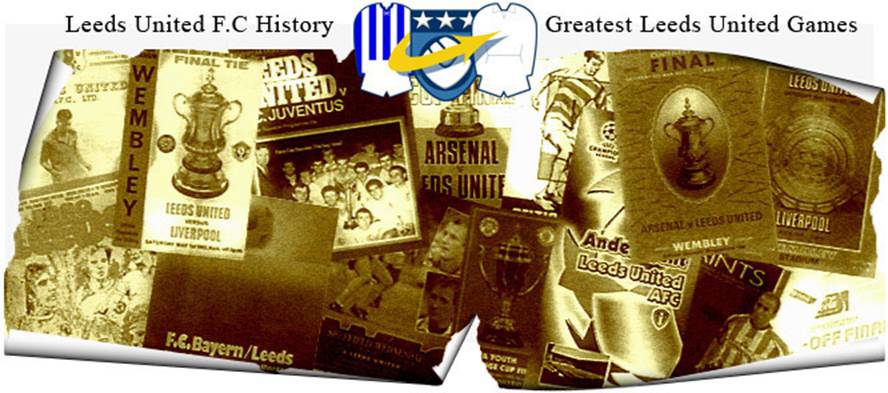 <![endif]>
Date: Saturday, 3rd May 1986.
Venue: Carrow Road, Norwich.
Competition: Second Division.
Score: Norwich City 4 Leeds United 0.
Scorers: Norwich City: Ormsby (o.g.), Drinkell, Bruce, Williams. Leeds United: Nil.
Attendance: 17,942.
Teams:
<![if !vml]>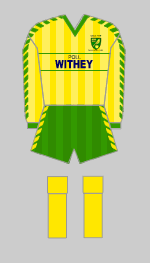 <![endif]> <![if !vml]>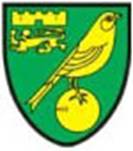 <![endif]>
Norwich City: Woods; Culverhouse, Van Wyck; Bruce, Phelan, Watson; Brooke, Drinkell, Deehan, Clayton, Williams.
<![if !vml]>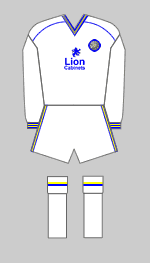 <![endif]><![if !vml]>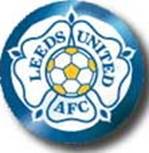 <![endif]>
Leeds United: Day; Aspin, Hamson; Robinson, Ormsby, Rennie; Ritchie, Sellars, Baird, Swan, Stiles.
Referee: Mr. K. Miller (Harlow)
A return of eight goals in as many games sparked new life into striker Andy Ritchie and set up an interesting battle with Ian Baird for the honour of finishing the 1985-86 season as Leeds United's leading marksman. When United travelled to Carrow Road on 3rd May 1986 for their meeting with Norwich City on the final day of the season, Ritchie's total stood at eleven, just one behind that of Baird. "Football is a team game and it does not matter who scores as long as the team does well but it would be great for me if I could finish as top scorer," Baird said.
Although he had taken a back seat in recent games, Baird had been full of admiration for Ritchie's run of goal-scoring which had played a key role in United winning four matches and drawing two as United earned Second Division security. Their task at Carrow Road, though, was never likely to be easy as Norwich were already heading for the First Division as Second Division Champions and they were determined to end with a flourish.
Neither Baird nor Ritchie could make much of an impression on the Norwich defence and United failed to score while Norwich knocked in four, three of them in the second half, when United faded badly. United had two thousand five hundred fans at the game and they backed the team fully right to the end but the second half fade-out brought an instant rebuke from manager Billy Bremner. "With backing such as that I would have been prepared to break an arm and a leg for the club. My players have to learn to 'die' for Leeds United. We just cannot let support like that down." he said.
United, who were without the injured John Sheridan and Ian Snodin, did not do all that badly in the first-half. In fact at that stage Norwich hardly looked like the runaway champions they were. Even a bizarre own goal from the usually reliable Brendan Ormsby, who headed a Gary Brooke free-kick into his own net after thirty-three minutes, "It actually went in off my nose," Ormsby explained, did not seem to unsettle United.
Once former Grimsby Town striker Kevin Drinkell had headed in his twenty-fourth goal of the season just on the hour, it became a vastly different story, United lost their appetite for the job on hand and Norwich took full advantage. Steve Bruce made it 3-0 in the sixty-sixth minute from an acute angle and David Williams completed the scoring eleven minutes from the end, following good work from Drinkell.
Alternate Report (Courtesy Mark Ledgard)
Like a candle in the wind Leeds burst into life, flickered briefly and then died. By the end of the game they were well beaten and were a disorganised side, with Norwich City turning on the style as true champions. In the first half it had all looked so promising as Scott Sellars and Peter Swan inspired a series of swift raids that had Norwich struggling. Sadly a bizarre own goal from centre-half Brendan Ormsby after thirty-three minutes signalled an end to the early Leeds domination and a start of the Norwich ascendancy that was to end in a rout. The goal was doubly unfortunate in that it was also unnecessary. A right wing cross from Gary Brooke seemed harmless as three Leeds defenders converged to clear without a Norwich forward in sight. Inexplicably, Ormsby rammed his header past Mervyn Day before sinking to his knees in dismay. Afterwards he recalled, "I intended to head it over the bar, but somehow I just didn't get it right and it ended up in the net. It seemed to hit me on the nose." Mervyn Day admitted, "The goal was a disaster really, after that we just got bottled up." Kevin Drinkell, the Second Division's leading goal-scorer, made it 2-0 with a clinical header from a David Williams corner after fifty-nine minutes, and after that Leeds were never in the hunt. Steve Bruce added a third with a fine solo effort seven minutes later and the influential Williams, the experienced campaigner Leeds perhaps lacked, tapped in a simple fourth in the seventy-ninth minute, after more good work from Steve Bruce. Leeds could take some consolation from the performance of Scott Sellars, without doubt the outstanding player on the field, and the honest endeavour of Andy Ritchie and Ian Baird up front, who never stopped running.
<![if !vml]>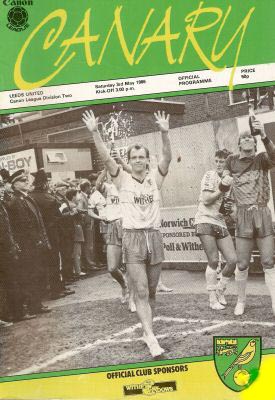 <![endif]>
Match Action: (Courtesy Mark Ledgard)
<![if !vml]>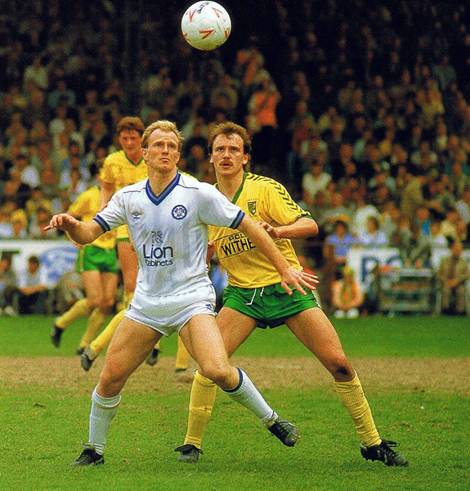 <![endif]>       <![if !vml]>
<![endif]>
Andy Ritchie takes on Mike Phelan                                                            Brendan Ormsby challenges Kevin Drinkell
Teams:
<![if !vml]>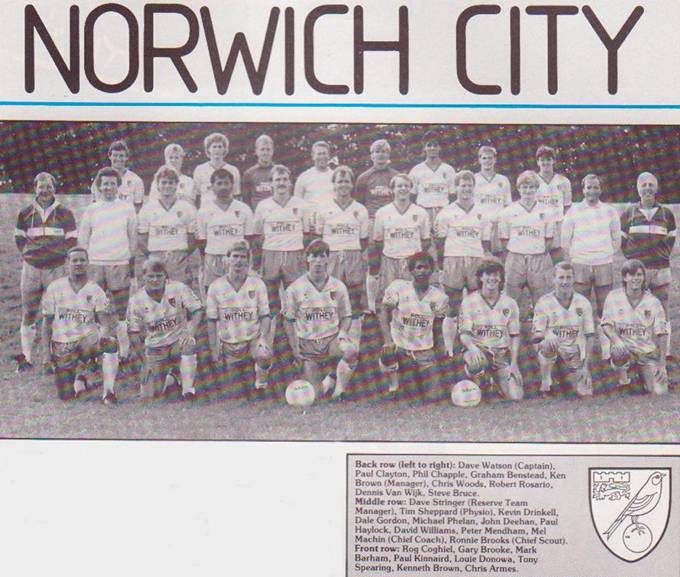 <![endif]>
<![if !vml]>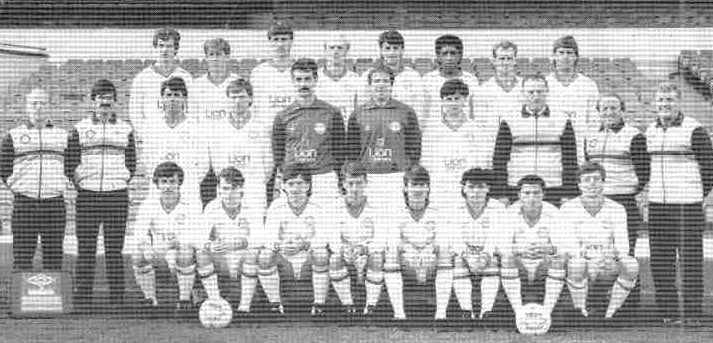 <![endif]>                                                                                                                    
LeedsUnited 1985-86:
Back Row: Peter Swan, Ian Baird, Andy Linighan, Neil Aspin, Stephen O'Shaughnessy, Roger Eli, Andy Ritchie, Martin Dickinson.
Middle Row:Geoff Ladley (Physio), David Bentley (Coach), Nigel Thompson, Gary Hamson Mervyn Day, Trevor Swinburne, Dennis Irwin, David Blakey (Chief Scout), Billy Bremner (Manager), Peter Gunby (Coach).
Front Row: Peter Lorimer, John Sheridan, George McCluskey, Scott Sellars, Ian Snodin, Lyndon Simmonds, Terry Phelan, John Stiles.
Players:
<![if !vml]>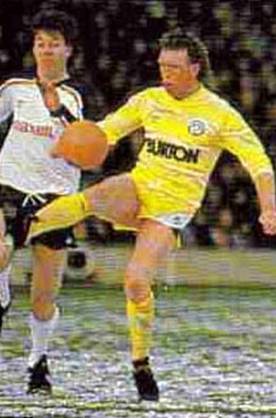 <![endif]> <![if !vml]>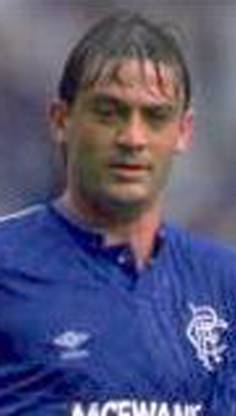 <![endif]> <![if !vml]>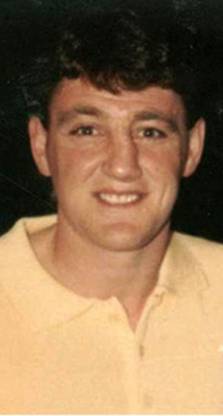 <![endif]> <![if !vml]>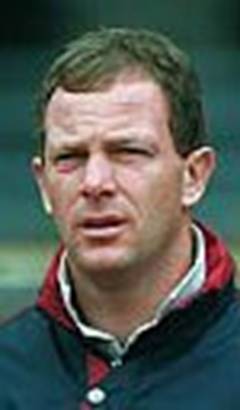 <![endif]>
Brendan Ormsby (o.g), Kevin Drinkell, Steve Bruce and David Williams scored the Norwich goals, David Williams later coached at Leeds.
<![if !vml]>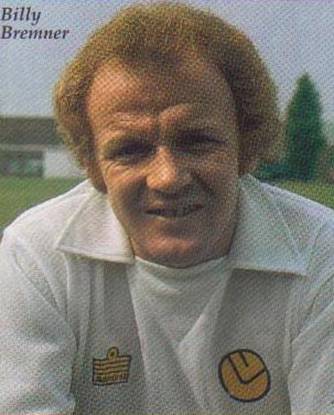 <![endif]> <![if !vml]>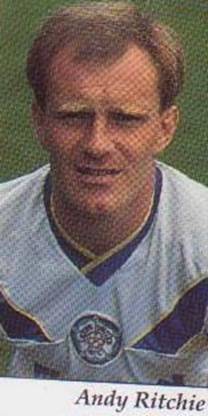 <![endif]> <![if !vml]>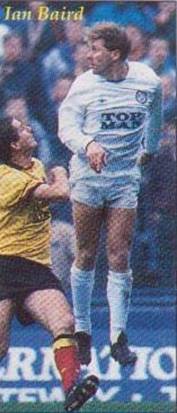 <![endif]> <![if !vml]>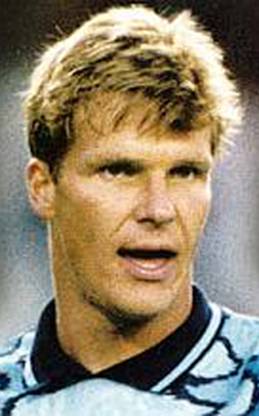 <![endif]>
Billy Bremner was unhappy with his players'      Andy Ritchie and Ian Baird could make no impression. Chris Woods, a future England keeper
lack of commitment.
<![if !vml]>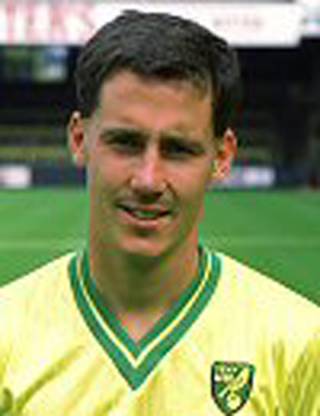 <![endif]> <![if !vml]>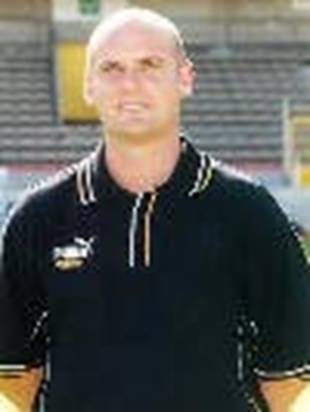 <![endif]>    <![if !vml]>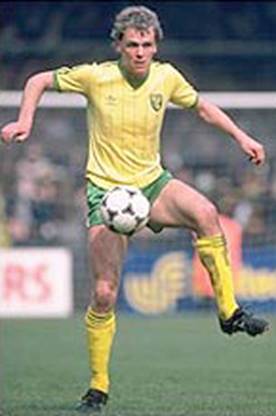 <![endif]>
Ian Culverhouse and Denis Van Wyk were strong full-backs                                                  John Deehan was not on the score-sheet
<![if !vml]>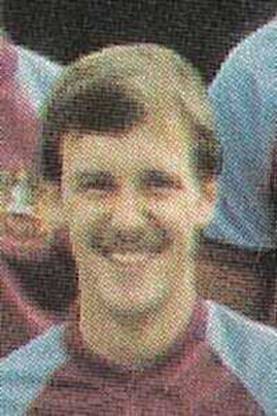 <![endif]>   <![if !vml]>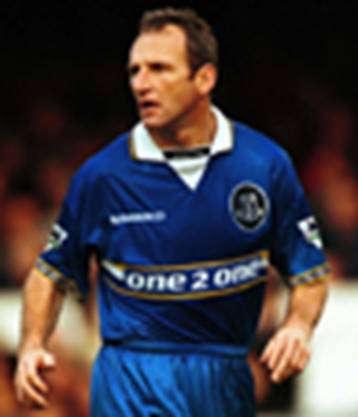 <![endif]>                 <![if !vml]>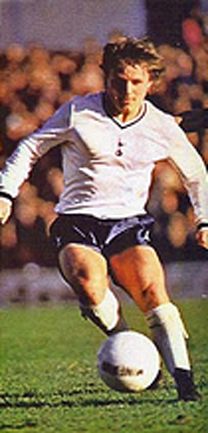 <![endif]>
Mike Phelan and Dave Watson, together with Steve Bruce, were a good half-back line       Gary Brooke's free-kick caused the first goal
<![if !vml]>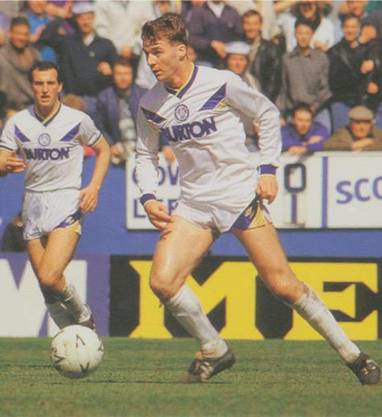 <![endif]> <![if !vml]>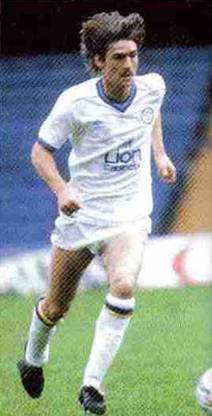 <![endif]>
John Sheridan and Ian Snodin were badly missed
<![if !vml]>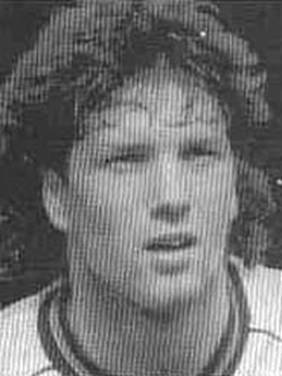 <![endif]> <![if !vml]>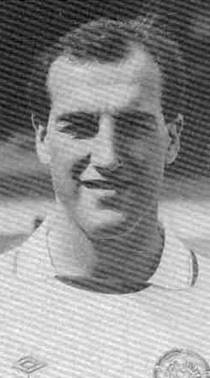 <![endif]> <![if !vml]>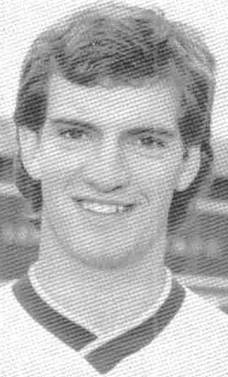 <![endif]> <![if !vml]>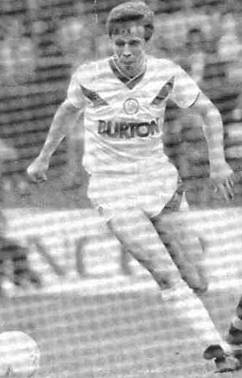 <![endif]>
                                 Ronnie Robinson, David Rennie, Peter Swan and John Stiles were given a chance by Billy Bremner