<![if !vml]>
<![endif]>
Date: Saturday, 3rd March 2001.
Venue: Elland Road, Leeds.
Competition: English Premier League.
Score: Leeds United 1 Manchester United 1
Scorers: Leeds United: Viduka. Manchester United: Chadwick.
Attendance: 40,055.
Teams:
<![if !vml]>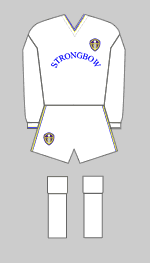 <![endif]><![if !vml]>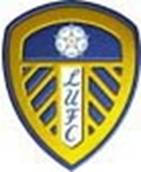 <![endif]>
Leeds United: Martyn; Mills, Ferdinand, Radebe, Harte; Bowyer, Batty, Dacourt, Matteo (Kewell); Keane (Smith), Viduka. Unused Subs: Kelly, Bakke, Robinson.††††††††††††††††††††††††††††
<![if !vml]>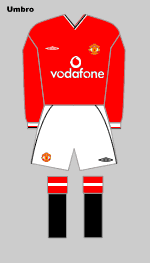 <![endif]><![if !vml]>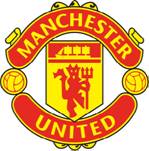 <![endif]>
Manchester United: Barthez; G. Neville, Stam, Brown, Irwin; Beckham, Butt (Chadwick), Scholes, P. Neville; Solskjaer, Sheringham (Yorke).May, greening. Rachubka.
Referee: Mr. G. Barber (Tring).
In this game which eventually had such a big bearing on Unitedís future fortunes, their present and future was not helped in the least by an unbelievably poor display of refereeing by one Graham Barber of Tring. His tolerance for the breaking of the rules of the game and his inability to apply the offside rule cost United dearly.
There was only one course of action open to him when goalkeeper Fabien Barthez took it upon himself to stamp on Leedsí Ian Harte and that was to dispatch the Frenchman on a long walk to the tunnel. Barber bottled it. The bald exhibitionist was allowed to remain between the posts and having psyched out Ian Harte, he dived acrobatically to his right to keep out the penalty which had resulted from his assault.
Much later, as Leeds tore into the Mancunian throat like a lion in search of the kill, defender Wes Brown planted the ball in the back of his own net identically to the goal he had conceded against Valencia in the Champions League just eleven days previously. To all intents a purposes that should have been a deserved winner for Leeds, but once again Barber came to the rescue of the Red Devils by ratifying his linesmanís wholly isolated view that Mark Viduka had momentarily strayed offside. Quite simply there had been no transgression and that the goal was not allowed to stand was scandalous and cost Leeds dearly. It denied them two points which had bit meritoriously achieved and at the seasonís end Liverpool had just one point more than United to take the vital third spot and with it the chance to participate in the money-spinning ECL.
The inability of the referee and his assistants to know the rules of the game and correctly apply them posed the question of their incompetence and its affect on the future of Leeds United. The implications of their incorrect application of the rules could have been, and was, very serious.
Manchester United did not need the point, the retention of their title was a formality, and they played as if they didnít need a point. But the daylight robbery of two points could and did have dire significance for Leeds. Video replays of the incidents would bring into focus the refereeing teams incompetence; if players and managers can be judged on such evidence then why should referees and their assistants not receive similar treatment? Mr Barber then sat at the bottom of the refereeing table having issued forty-nine cards in eleven games. None of which were red. It was an explosive encounter which, in the final analysis, only perpetuated the widely held belief that there is one set of rules for Manchester United and another for the rest.
It was nearly all Leeds. A badly weighted back-pass from Japp Stam to Fabien Barthez almost let in Robbie Keane at the start but the keeper performed heroics to take the ball off the strikerís toes as he was about to pull the trigger. Robbie Keane worked hard for possession of the ball out on the right and from his cross Mark Viduka got in a header, but it was wide. Danny Mills raced forward in promising fashion, but his twenty yard shot was disappointing and bobbled wide. When Olivier Dacourt was fouled by Nicky Butt, Ian Harteís free-kick was won in the air by Mark Viduka, but a corner was the only reward. Then Fabien Barthez was fully tested by Ian Harteís arcing free-kick and did well to clear it from under the bar, while Olivier Dacourt tried his luck from distance but was way over the top.
With half an hour gone the league leaders, merely going through the motions, had yet to produce a shot of any description, but Leeds were having trouble in negotiating their way through their massed ranks. When Ian Harteís free-kick came back off the wall Olivier Dacourt tried to lob Barthez, but the keeper was alert to the danger. Six minutes before the break Lee Bowyer rifled in a left-foot shot from the edge of the box, but it was wide of the target.
In first-half injury time there was uproar when Fabien Barthez purposely stamped on Ian Harte and amazingly got away with just a yellow card. It was, however an undeniable penalty and the resulting remonstrations meant a considerable delay. Harte took it himself and Barthez, who no doubt would claim that justice was done, pushed the ball to safety.
Leeds changed things around for the second half, introducing Alan Smith for Robbie Keane and Harry Kewell for Dominic Matteo, but it was the Mancunians who grabbed the initiative on sixty-four minutes through their own substitute Luke Chadwick. Paul Scholes set it up, drilling the ball forward for Ole-Gunnar Solskjaer to try an angled drive which Nigel Martyn could only parry straight into the path of Chadwick who, from two yards and with an empty net in front of him, simply could not miss.
Alan Smith brought the best out of Fabien Barthez with a stunning shot in the seventy-eighth minute, but Leeds appeared to be fast running out of ideas. Harry Kewellís excellent volley fully tested Barthez but he was once again equal to the task and Leeds finally carved a way through six minutes from time. Danny Mills did extremely well to whip over a cross from the right, Lee Bowyer glanced it on and Mark Viduka powered home his header from close range for a deserved equalizer.
Leeds manager David OíLeary said, ďFabien Barthez should not have been on the field to save the penalty. The last twenty minutes we really got to them, we got a good equaliser and then the linesman gifted them an offside decision. We tried to win the game and we should have won the game.Ē† Sir Alex Ferguson observed, ďFor all the pressure they had they never really looked like breaking us down and a draw was a fair result. I donít know if the ref saw the penalty incident, but if heís kicked out itís a sending off. We needed a stronger referee. Heís one of the weaker oneís.Ē† He was not wrong!
<![if !vml]>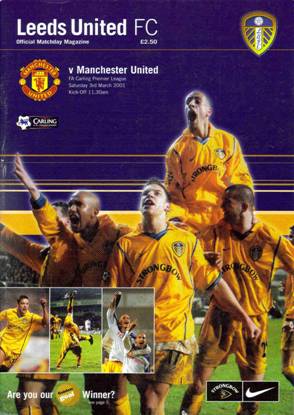 <![endif]>
Match Action:
<![if !vml]>
<![endif]>†
Mark Viduka acrobatically heads the equaliser
<![if !vml]>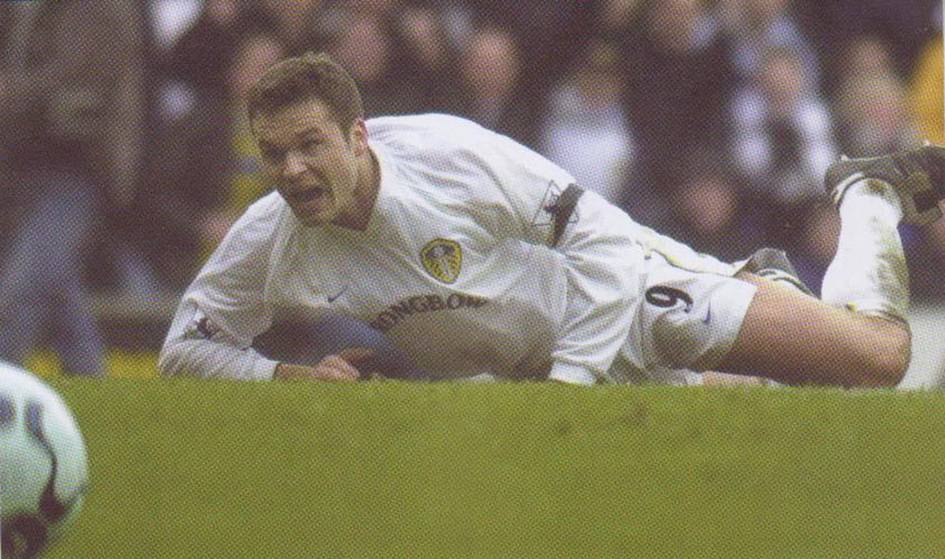 <![endif]>
Mark Viduka watches his goal go in
<![if !vml]>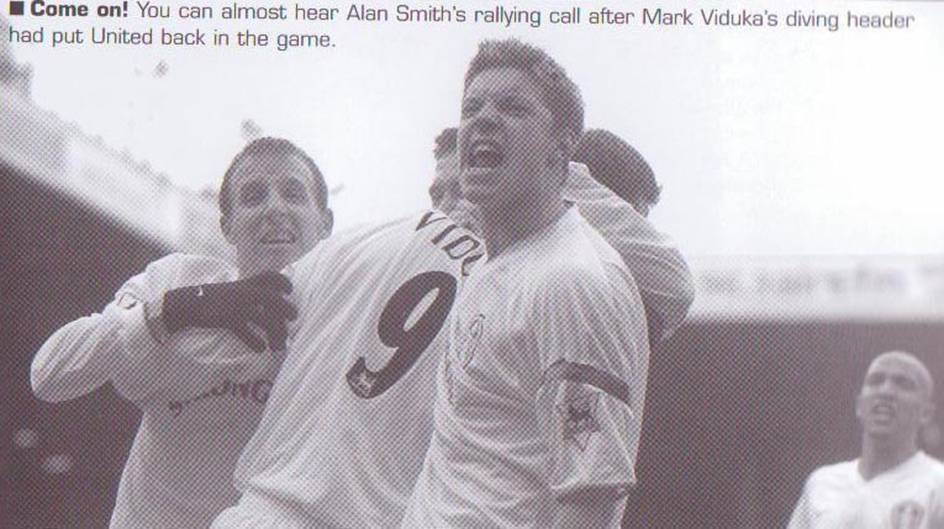 <![endif]>†
<![if !vml]>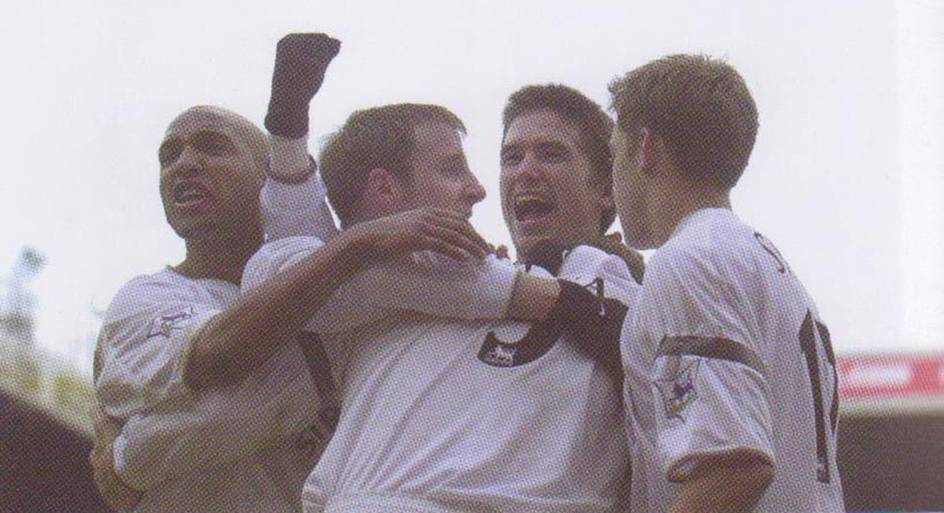 <![endif]>†
Olivier Dacourt, Lee Bowyer, Harry Kewell and Alan Smith mob goal-scorer Mark Vaduka
<![if !vml]>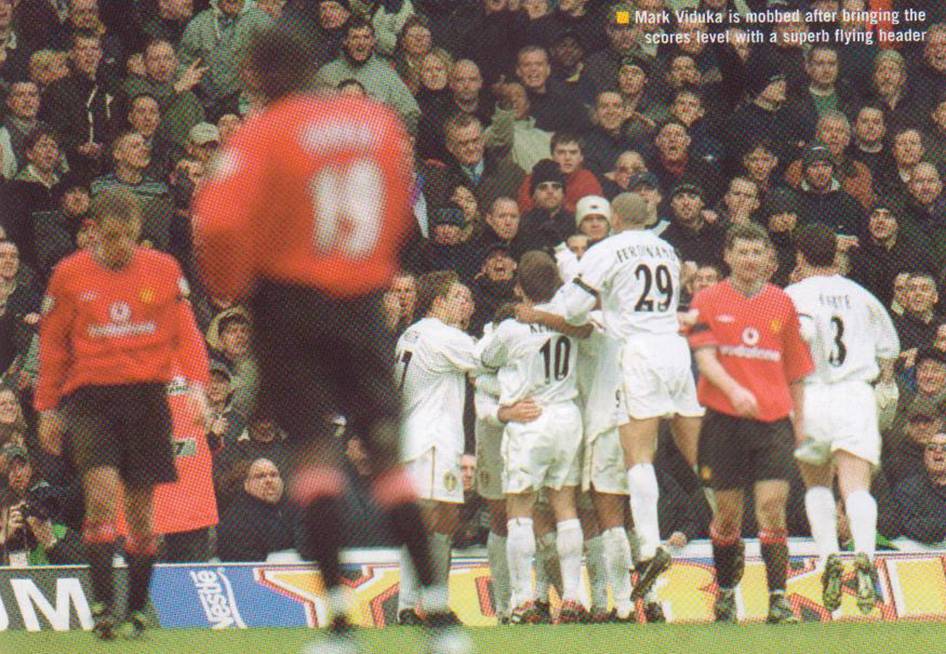 <![endif]>
<![if !vml]>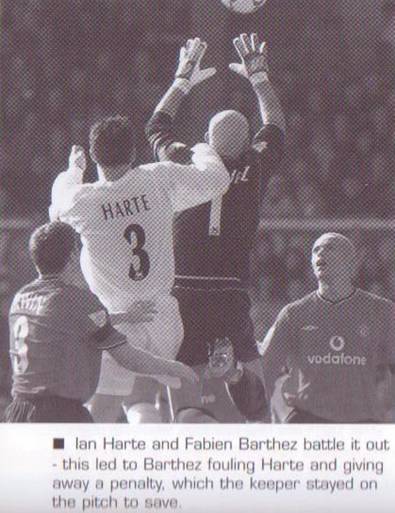 <![endif]>†<![if !vml]>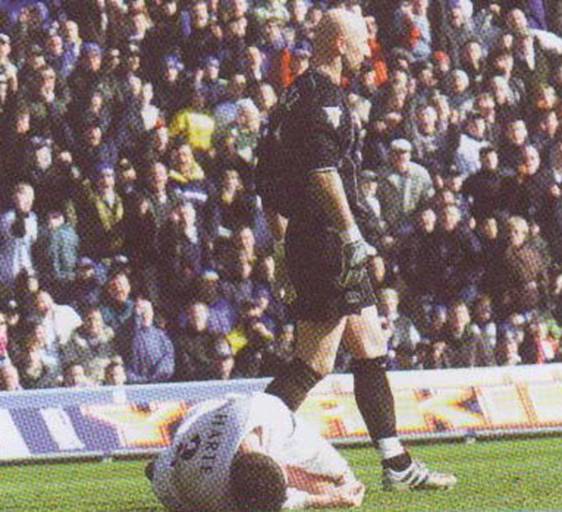 <![endif]>†
†††††††††††††††††††††††††††††††††††††††††††††††††††††††††††††††††††††††††††††††††††††††††††††††††††† Fabien Barthez leaves Ian Harte writhing and was lucky not to see red
†
<![if !vml]>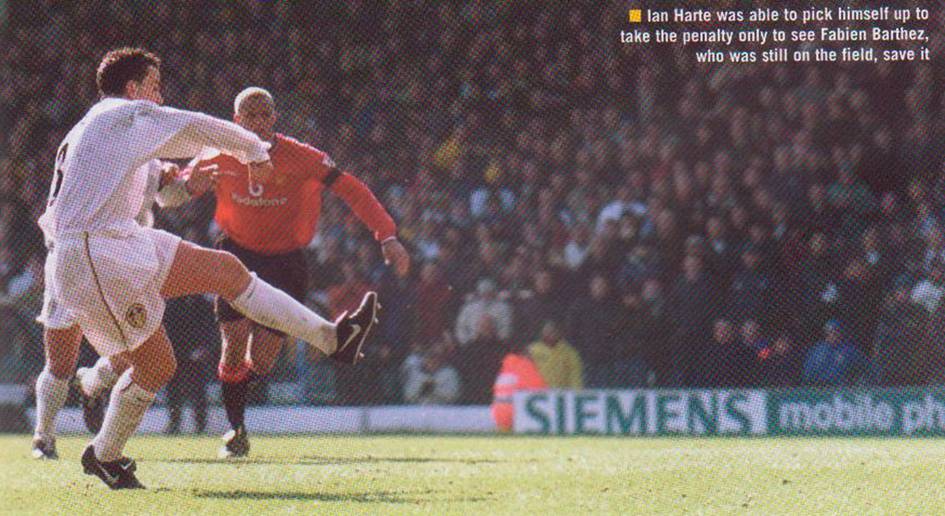 <![endif]>
††††††††††††††††††††††††††
<![if !vml]>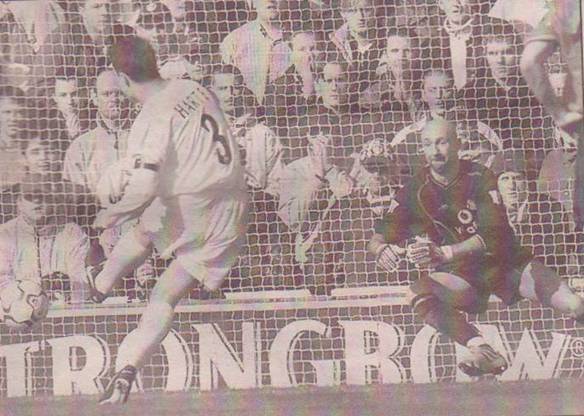 <![endif]>†† <![if !vml]>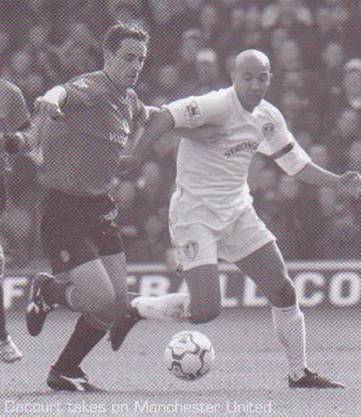 <![endif]>†
Unfortunately Ian Harte could not convert the ensuing penalty
<![if !vml]>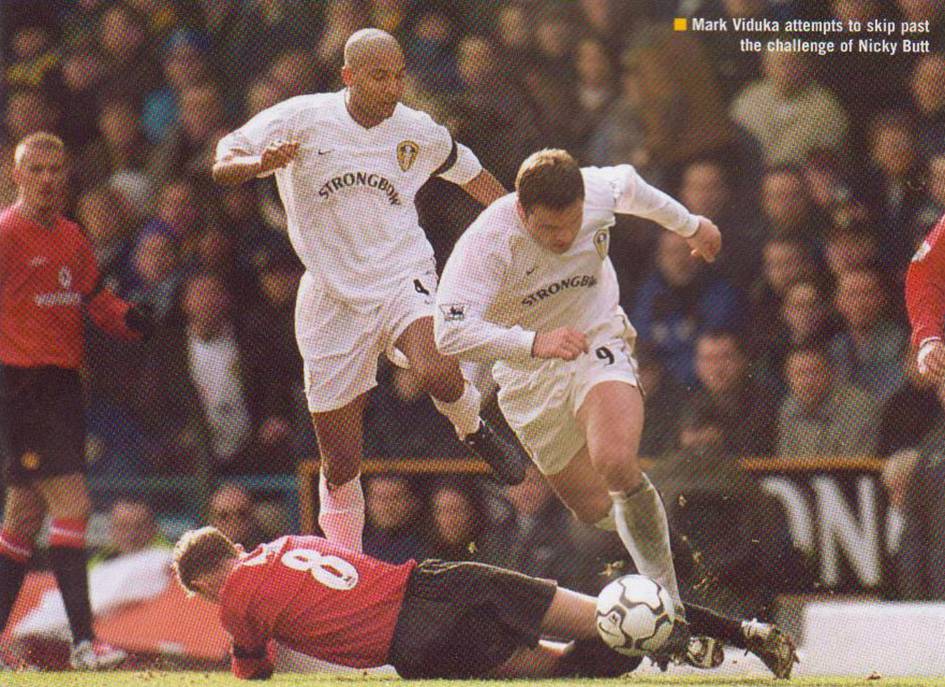 <![endif]>
<![if !vml]>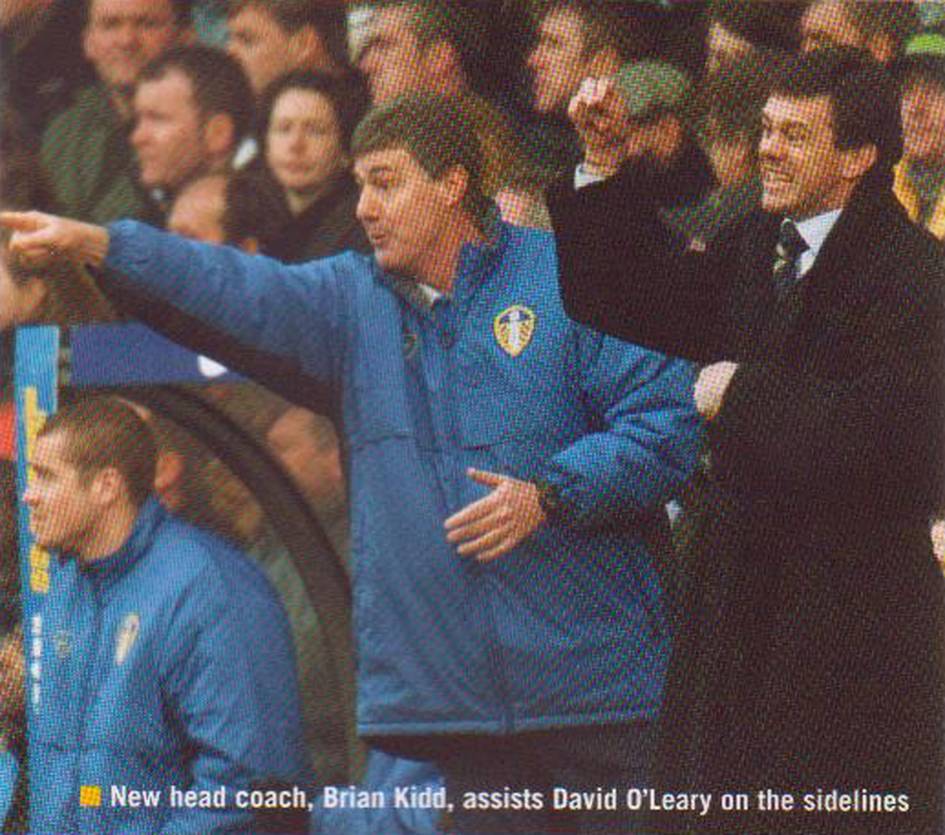 <![endif]>
Players:
<![if !vml]>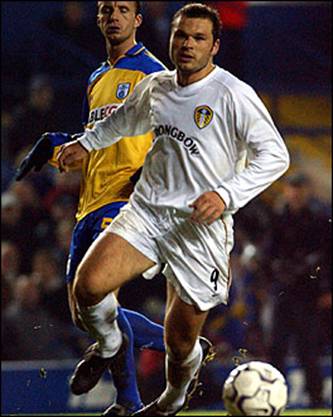 <![endif]>†† <![if !vml]>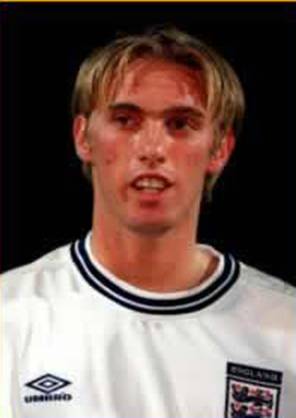 <![endif]>†††††††††††<![if !vml]>
<![endif]>†
Mark Viduka scored the Leeds goal††††††††††††††††††††††††† Substitute Luke Chadwick opened the scoring†††††††† Ian Harte missed a penalty††††††††††††
<![if !vml]>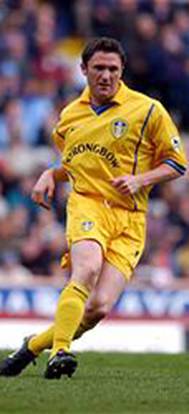 <![endif]>†<![if !vml]>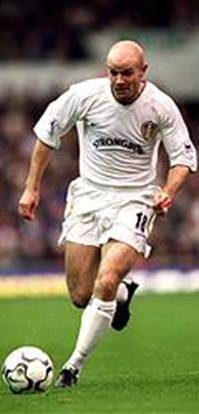 <![endif]>†<![if !vml]>
<![endif]>†<![if !vml]>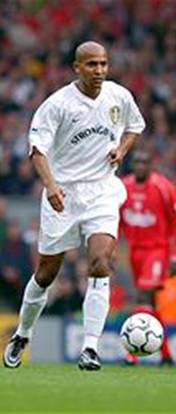 <![endif]>†<![if !vml]>

<![endif]>
Robbie Keane worked hard Danny Mills got forward††††††††††† Lee Bowyer rifled in a shot††††††††††††††† Olivier Dacourt tried to††††† Alan Smith was
††††††††††††††††††††††††††††††††††††††††††††††††††††††††††††††††† †††††††††††††††††††††††††††††††††††††††††††††††††††††††††††††††††††††††††††††††††††††††††††††††lob the keeper††††††††††††††††††† a substitute
<![if !vml]>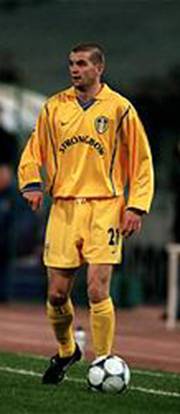 <![endif]>†<![if !vml]>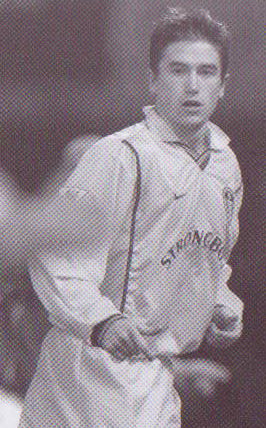 <![endif]>†† ††<![if !vml]>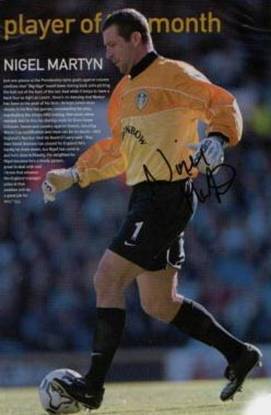 <![endif]>††††††††††††<![if !vml]>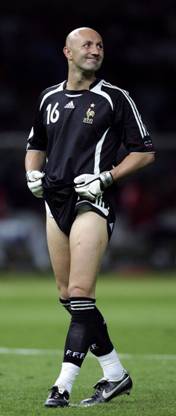 <![endif]>†
Dominic Matteo made way for Harry Kewell in the second half††††††††† ††Nigel Martyn could only parry the goal††††††† ††††††††Fabien Barthez was in goal
<![if !vml]>
<![endif]>†<![if !vml]>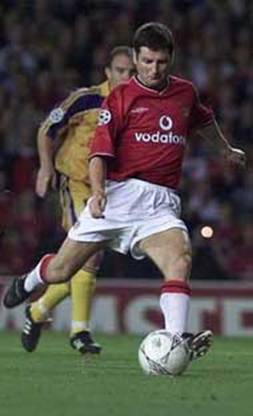 <![endif]>†† <![if !vml]>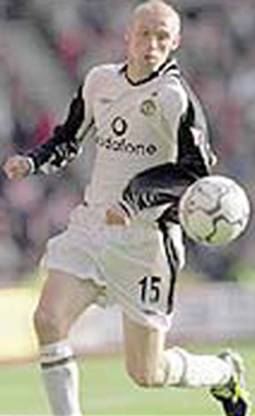 <![endif]>†<![if !vml]>
<![endif]>
Gary Neville and ex-Leeds player Denis Irwin were the full-backs†††††††††††† ††Luke Chadwick and Dwight Yorke came on as substitutes
<![if !vml]>
<![endif]>†<![if !vml]>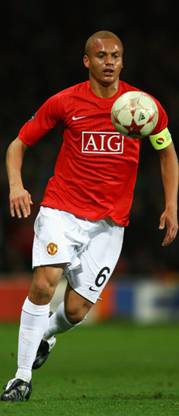 <![endif]>† ††<![if !vml]>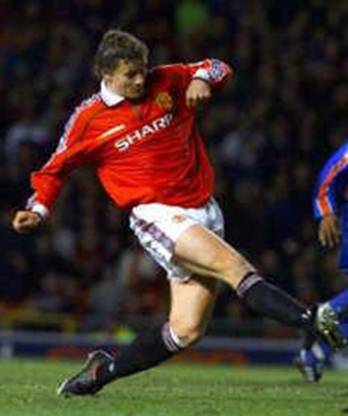 <![endif]>†<![if !vml]>
<![endif]>
Jaap Stam and Wes Brown were the central defenders†††††††† Ole-Gunnar Solskjaer and Teddy Sheringham started as the strikers
<![if !vml]>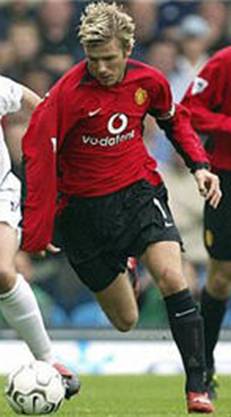 <![endif]>†<![if !vml]>
<![endif]>†<![if !vml]>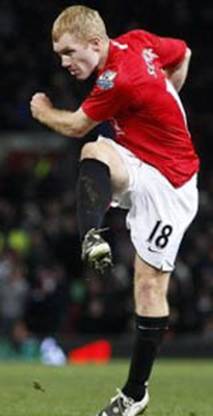 <![endif]>†<![if !vml]>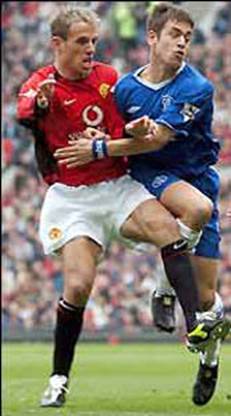 <![endif]>
David Beckham, Nicky Butt, Paul Scholes and Phil Neville were the starters in midfield
<![if !vml]>
<![endif]>†<![if !vml]>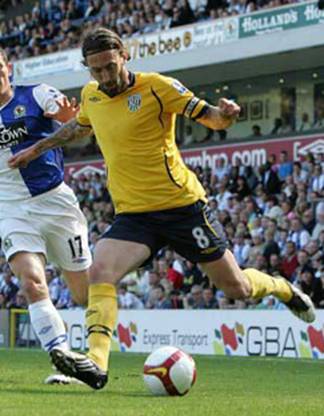 <![endif]>†<![if !vml]>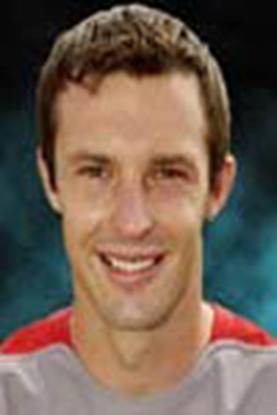 <![endif]>†
David May, Jonathan Greening and goalkeeper Paul Rachubka were the unused substitutes