<![if !vml]>
<![endif]>
Date: Wednesday, 2nd May 2001.
Venue: Elland Road, Leeds.
Competition: ECL Semi-Final, First Leg.
Score: Leeds United 0 Valencia 0
Scorers: Leeds United: Nil. Valencia: Nil.
Attendance: 36,437.                                                                                                   
Teams:
<![if !vml]>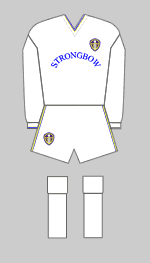 <![endif]><![if !vml]>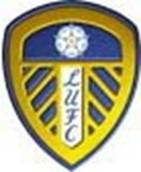 <![endif]>
Leeds United: Martyn, Mills, Ferdinand, Matteo, Harte; Bowyer, Batty, Dacourt, Kewell; Smith, Viduka. Unused Subs: Kelly, Woodgatew, McPhail, Wilcox, Bakke, Burns, Robinson.
<![if !vml]>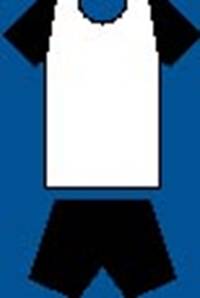 <![endif]><![if !vml]>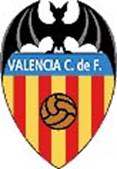 <![endif]>
Valencia: Canizares; Angloma, Pellegrino, Ayala, Carboni; Mendieta, Gonzalez (Vincenti), Albelda, Baraja; Sanchez (Zahovic), Carew. Unused Subs: Deschamps, Djukic, Fabio Aurelio, Aimar, Palop.                                                         
Referee: Pierluigi Collina (Italy).
It was back to the ECL in midweek as United were held to a goal-less draw by Valencia at Elland Road in the first leg of the Semi-Final. The result clearly benefited the visitors but could have gone either way as both teams strived for victory. The immaculate Mendieta ruled the midfield but Danny Mills and Nigel Martyn were equally impressive for United.
Respect is a quality that must be earned rather than demanded and on that night of supreme importance United earned their stripes. In a splendid match of technical excellence, United took one of European football's most experienced and formidable teams right to the wire. So evenly matched were the two teams that they could hardly be separated in a photo-finish and the goalless draw meant that everything was still to play for in the return leg in Spain with the emphasis on Valencia who would enjoy home advantage and the knowledge they had no been able to hold Leeds goalless but Leeds would have got a crumb of comfort by not having conceded an away goal.
There have been many boring scoreless draws but this game could never be placed in that category. It had offered something here and there and the sense that anything could have happened as the two teams prodded and probed for the vital breakthrough almost in turn. It was the youth of Leeds and the experience and guile of a team coached by the much respected Argentinian Hector Cuper and it made for a fascinating encounter. Valencia were unshakeable in their self-belief, but Leeds tested them to the bounds of comfort with their usual robustness and never-say-die attitude and savouring the challenge of the best Europe had to offer.
As early as the fourth minute Ian Harte surprised Canizares with the ferocity of his free-kick from out on the right and the keeper did well to nonchalantly tip it over for a corner. Then there was a glancing header from Dominic Matteo and a well-hit volley from David Batty to keep the Valencia stopper on his toes as United got off to a good start. Alan Smith had put himself about with his usual zest and the veteran Amedeo Carboni had his hands full keeping him on a tight rein. At the other end Nigel Martyn came to United's rescue after twelve minutes as Mendieta and Kily Gonzalez combined for John Carew to get in a spectacular overhead kick, which forced a diving save from the Leeds keeper. Harry Kewell cashed in on an aberration between Roberto Ayala and Albelda to skilfully set off for goal but he skied his shot. United then had another escape after eighteen minutes when Mendieta's intelligent header came back off the bar but Juan Sanchez couldn't get the rebound on target.
A Mendietta corner was headed wide by Roberto Ayala and Valencia were now getting plenty of possession and were starting to look more like the team that had gone all the way to the ECL Final the previous year. Olivier Dacourt looped his free-kick just wide and the contest was starting to become intriguing. Harry Kewell, who was getting little change out of the imposing Jocelyn Angloma switched to the right in search of more options to open up the Spaniards and United went close six minutes before the interval when Harry Kewell headed an Ian Harte free-kick back across goal towards both Alan Smith and Mark Viduka, who were both unmarked at the far post. It was a whisker too high for Smith, whose header went wide and he would have done better if he had left to for Viduka. At the other end Juan Sanchez thought himself a touch unlucky as Nigel Martyn sprawled himself to save his goal-bound shot after Rio Ferdinand had made a reckless headed half-clearance to present him with the chance and the spurned chances were starting to mount as half-time came with the game still goalless.
Mendieta set up Ruben Baraja for the first shot of the new half but he was off target. Olivier Dacourt won a corner on the left and Dominic Matteo got in a stunning header from Ian Harte's corner but the flying Canazares somehow scooped it off the line. Mendieta replied with a snapshot which Nigel Martyn caught low-down and when United replied Olivier Dacourt put a free-kick way over the bar. David Batty won another corner after sixty-five minutes and when Valencia failed to clear their lines Alan Smith got in a shot but it was too high. Olivier Dacourt had another shot blocked as United started getting on top and Ruben Baraja and Amedeo Carboni were both booked in quick succession as things got desperate and both would then miss the return leg.
On seventy minutes United went desperately close when Alan Smith spotted Canizares off his line and crossed for Lee Bowyer to head against the bar and Mark Viduka lost his balance as he tried for the rebound. Albelda wasted a shooting opportunity and Alan Smith shot straight at Canizares before David Batty came to Leeds' rescue to rob Albelda in the act of shooting. John Carew then had a golden opportunity to win the game three minutes from the end but shot tamely wide from five yards. In reply Danny Mills swept down the wing on another marauding run and cross invitingly only for Alan Smith to head over. The drama ran deep into injury time when Vincente's bouncing shot was heading for the top corner, but the alert Rio Ferdinand climbed to head clear with Nigel Martyn beaten.
<![if !vml]>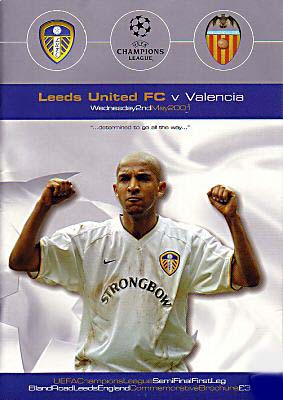 <![endif]> <![if !vml]>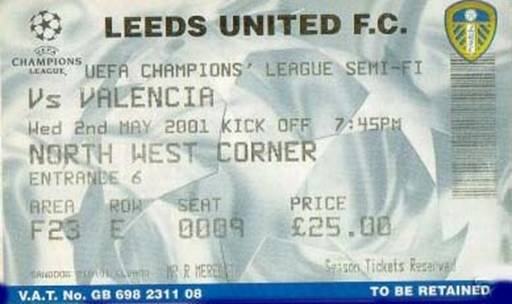 <![endif]>
Match Action:
<![if !vml]>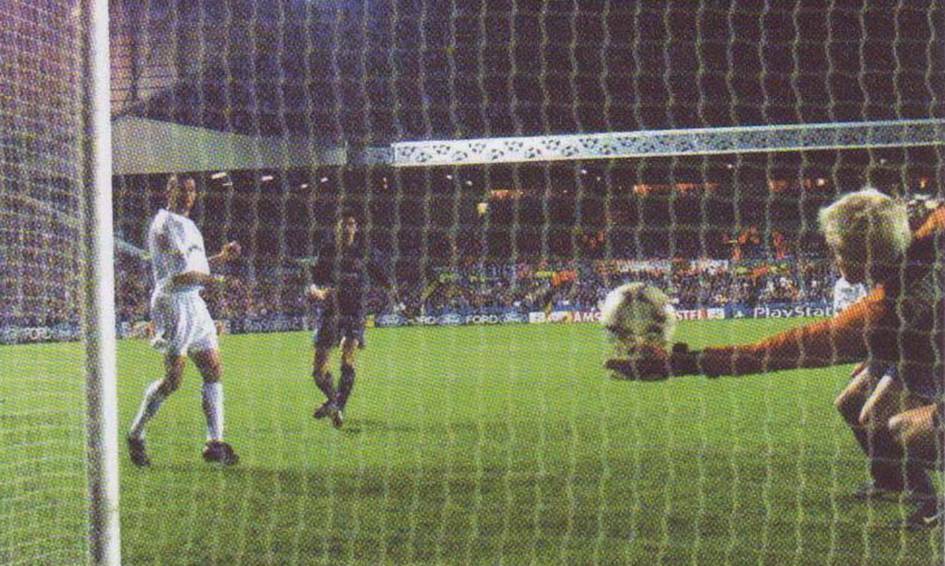 <![endif]> 
Dominic Matteo watches as Santiago Canizares pulls off a fine save
<![if !vml]>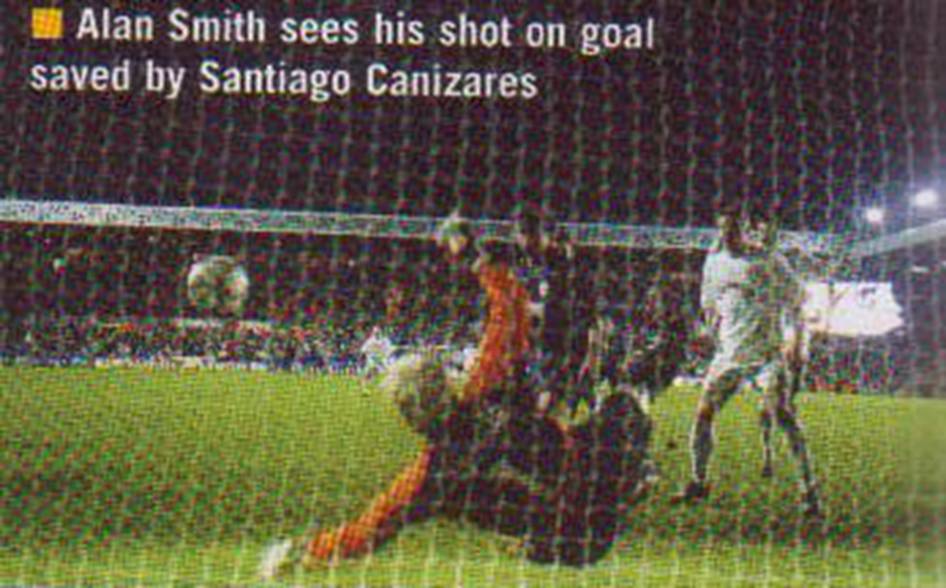 <![endif]>
<![if !vml]>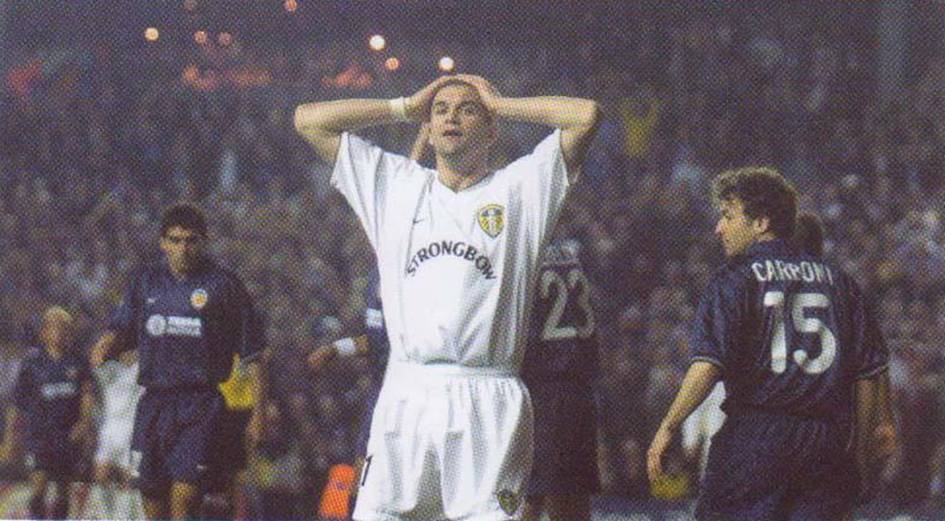 <![endif]>
Dominic Matteo holds his head in disbelief at a save by Santiago Canizares
<![if !vml]>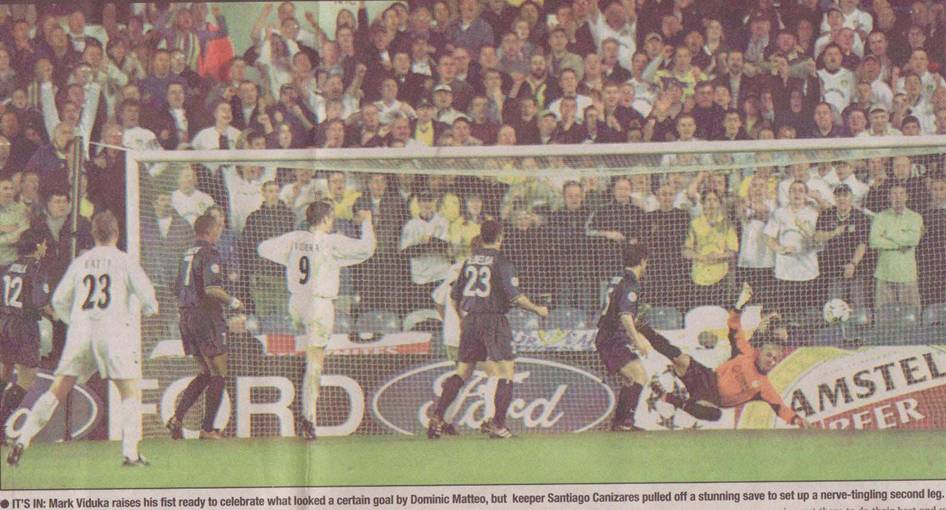 <![endif]>
<![if !vml]>
<![endif]>
<![if !vml]>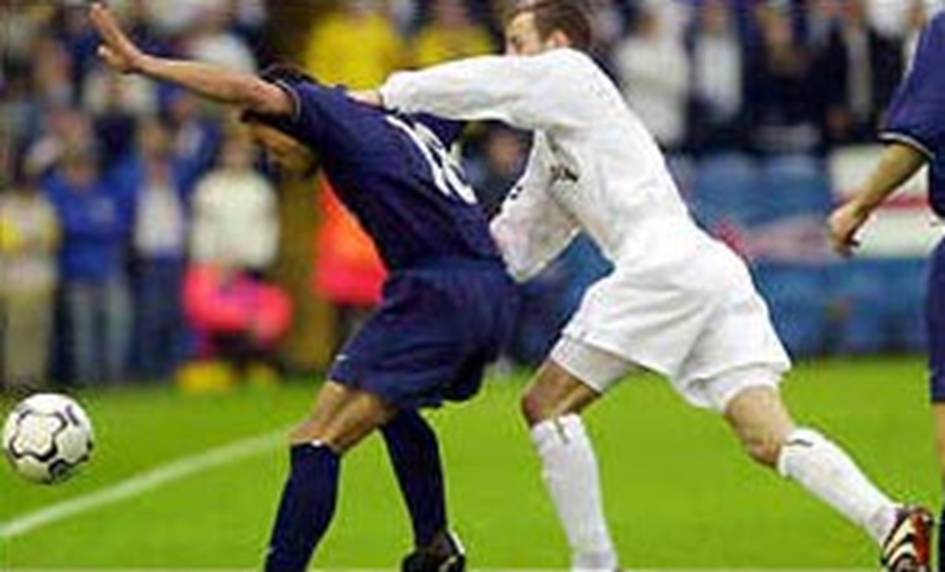 <![endif]>
Lee Bowyer tangles with Kily Gonzalez
<![if !vml]>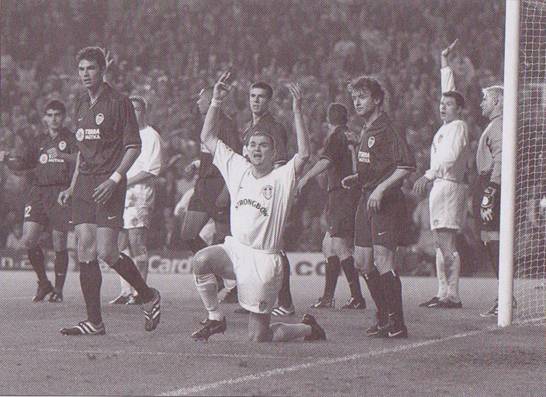 <![endif]> <![if !vml]>
<![endif]>
Dominic Matteo goes close
<![if !vml]>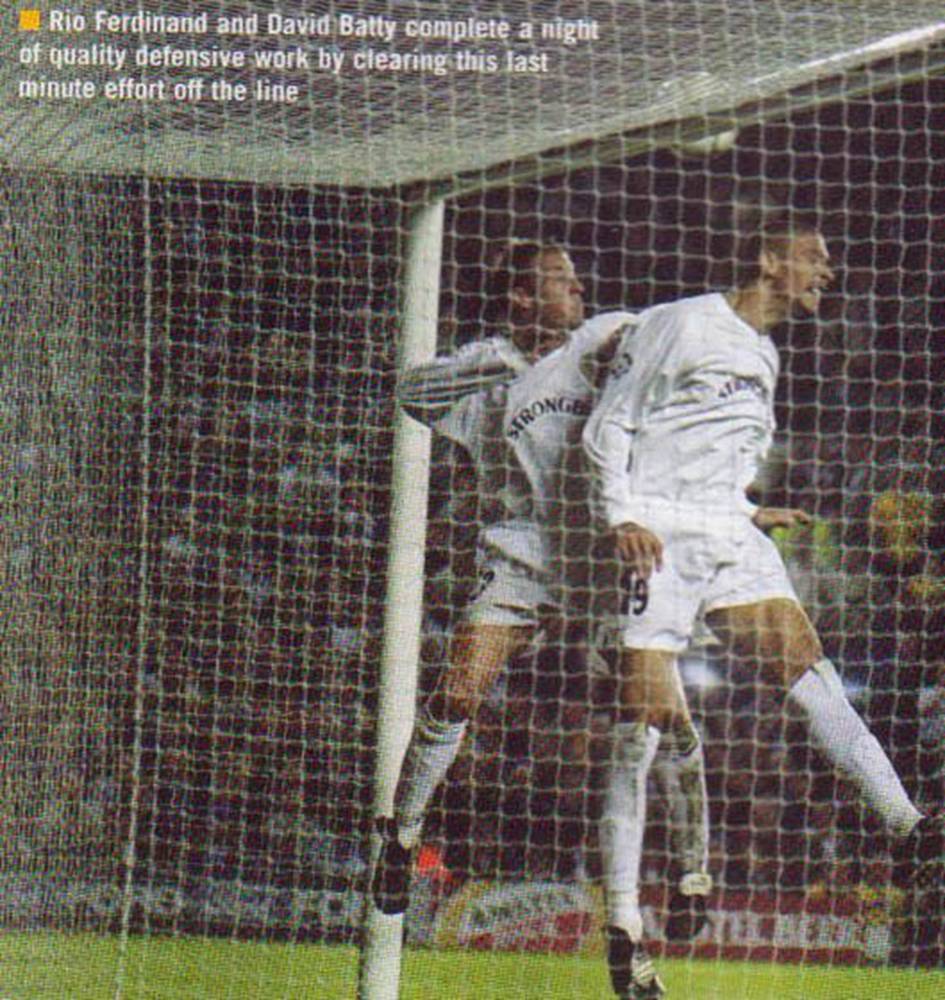 <![endif]>
<![if !vml]>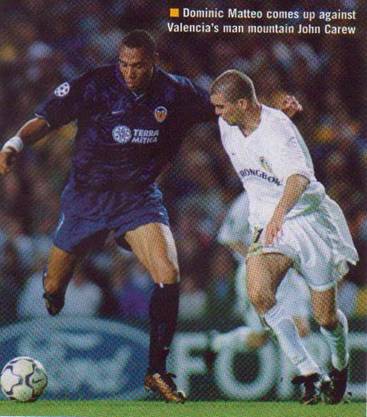 <![endif]> <![if !vml]>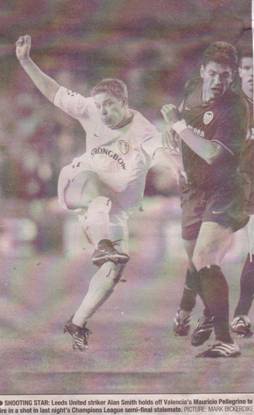 <![endif]>  <![if !vml]>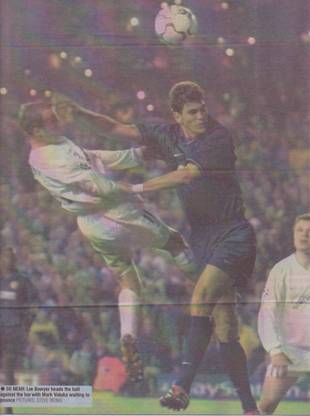 <![endif]>
<![if !vml]>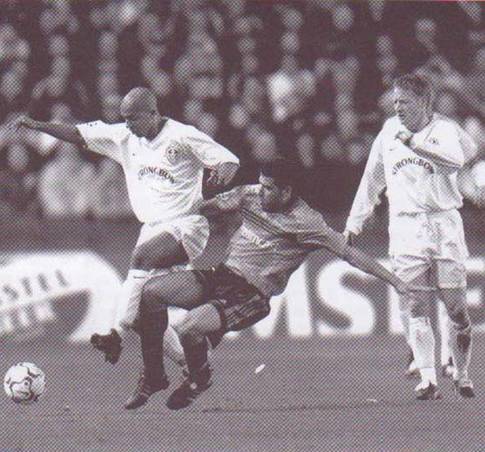 <![endif]>  <![if !vml]>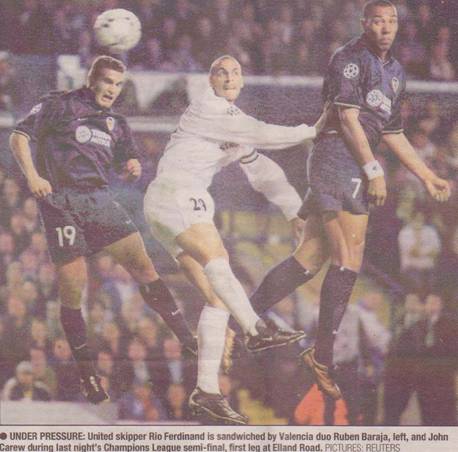 <![endif]> 
Olivier Dacourt wins a tackle from Amadeo Carboni as
David Batty looks on
<![if !vml]>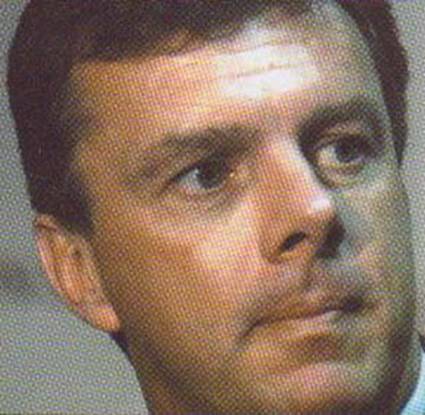 <![endif]> <![if !vml]>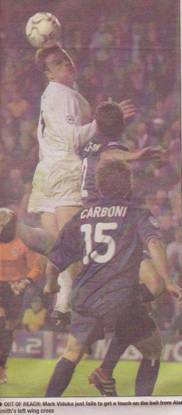 <![endif]> <![if !vml]>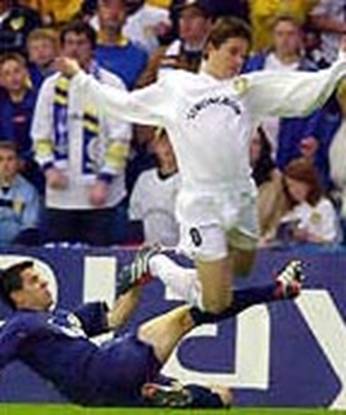 <![endif]>
United Manager David O'Leary                                                                                                      Harry Kewell is upended by David Albelda
<![if !vml]>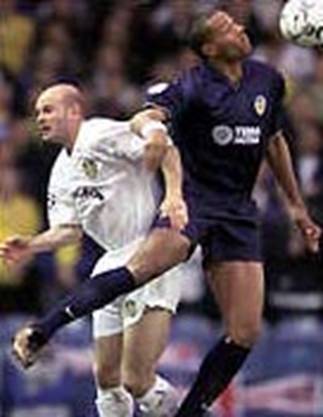 <![endif]> <![if !vml]>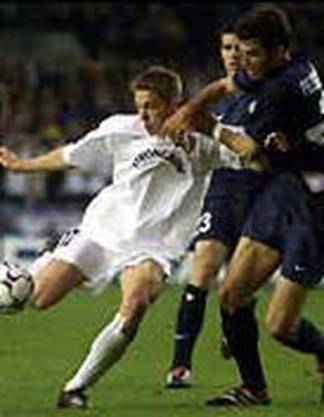 <![endif]> <![if !vml]>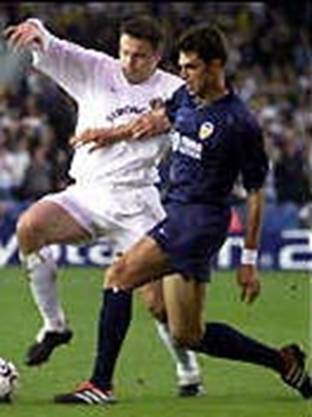 <![endif]>
Danny Mills cannot outhead beanpole                     Alan Smith fights off Mauricio Pelligrini              Mark Viduka tries to get the better of
John Carew                                                                                                                                                Mauricio Pelligrini
Team:
<![if !vml]>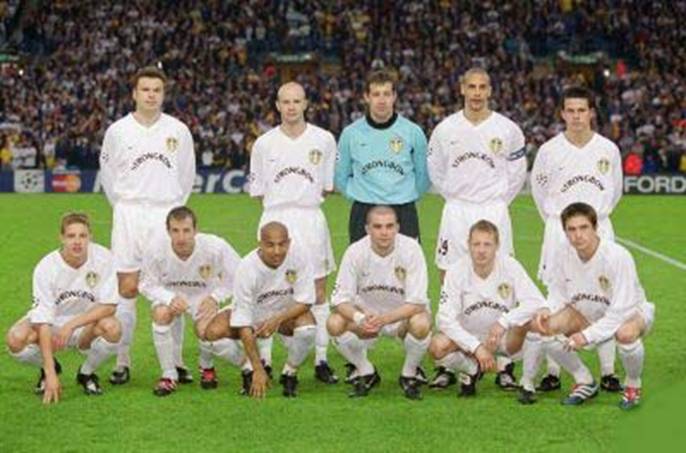 <![endif]>
Leeds United Team v Valencia in European Cup Semi-Final First Leg at Elland Road 02-05-01
Back Row: Mark Viduka, Danny Mills, Nigel Martyn, Rio Ferdinand, Ian Harte.
Front Row: Alan Smith, Lee Bowyer, Olivier Dacourt, Dominic Matteo, David Batty, Harry Kewell.
Players:
<![if !vml]>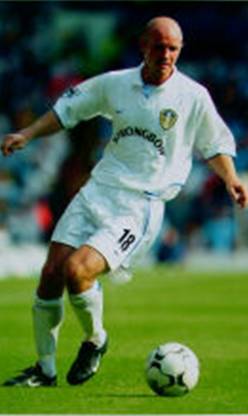 <![endif]> <![if !vml]>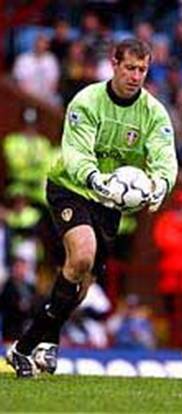 <![endif]> <![if !vml]>
<![endif]> <![if !vml]>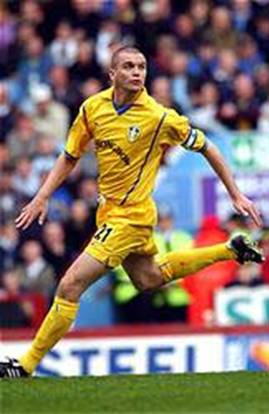 <![endif]>
Danny Mills and Nigel Martyn were outstanding                             Ian Harte surprised Canizares                  Dominic Matteo got in a glancing header
<![if !vml]>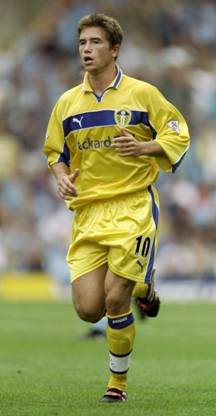 <![endif]>  <![if !vml]>
<![endif]>    <![if !vml]>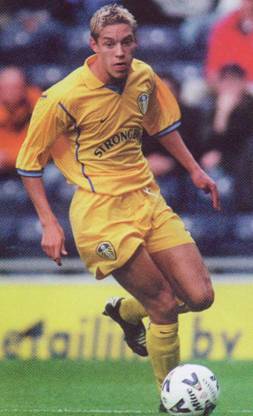 <![endif]> <![if !vml]>
<![endif]>
Harry Kewell got little                   Olivier Dacourt had a shot blocked     Alan Smith was wide with a header that he should have left for Mark Viduka
change out of Angloma                                                                 
<![if !vml]>
<![endif]>  <![if !vml]>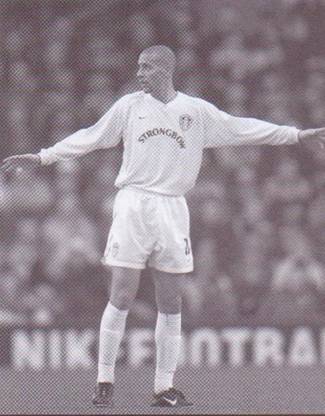 <![endif]>  <![if !vml]>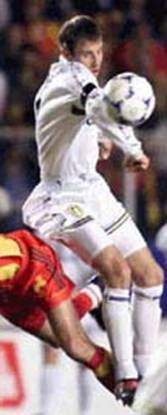 <![endif]>   <![if !vml]>
<![endif]>
David Batty came to Leeds'             Rio Ferdinand made a reckless headed clearance  Lee Bowyer headed            Santiago Canizares was in goal
rescue                                                                                                                                     against the bar
<![if !vml]>
<![endif]> <![if !vml]>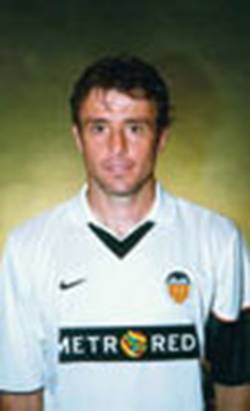 <![endif]>   <![if !vml]>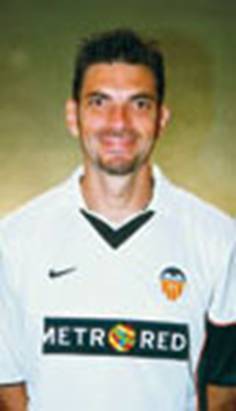 <![endif]> <![if !vml]>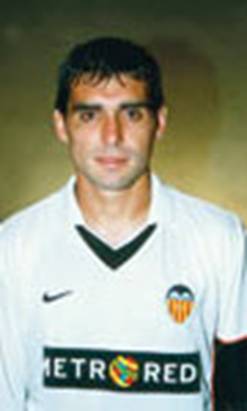 <![endif]>
Jocelyn Angloma and Amadeo Carboni were the full-backs                       Mauricio Pelligrini and Roberto Ayala were an impressive
                                                                                                                         centre-back pairing 
<![if !vml]>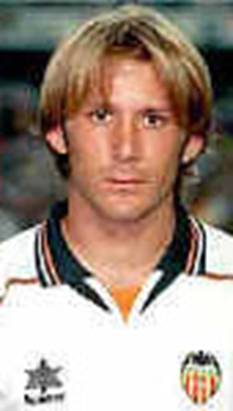 <![endif]>  <![if !vml]>
<![endif]>  <![if !vml]>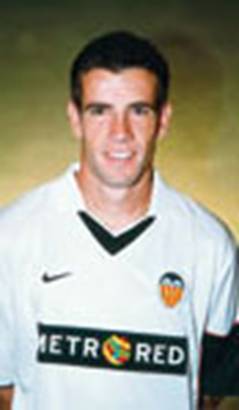 <![endif]>  <![if !vml]>
<![endif]>
                      Gaizka Mendieta, Kily Gonzalez, David Albelda and Ruben Baraja started in midfield for Valencia
<![if !vml]>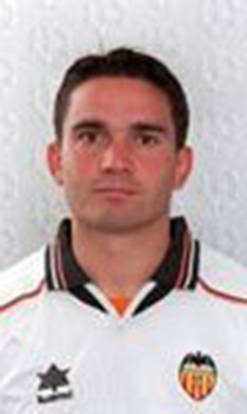 <![endif]>  <![if !vml]>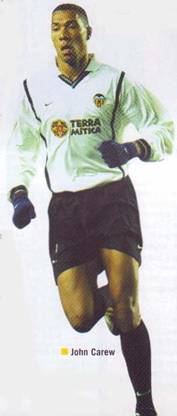 <![endif]>   <![if !vml]>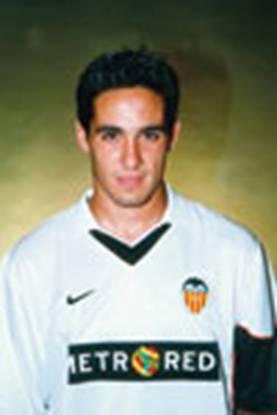 <![endif]> <![if !vml]>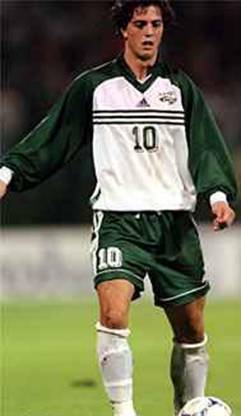 <![endif]>
   Juan Sanchez and John Carew were the strikers                             Vincente and Zlatko Zahovic were used as substitutes