<![if !vml]>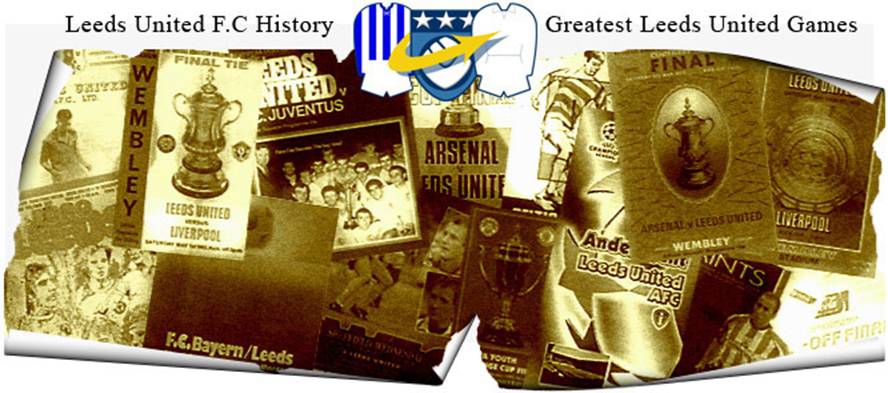 <![endif]>
Date: Saturday, 2nd May 1992.
Venue: Elland Road, Leeds.
Competition: First Division.
Score: Leeds United 1 Norwich City 0
Scorers: Leeds United: Wallace. Norwich City: Nil.
Attendance: 32,673.
Teams:
<![if !vml]>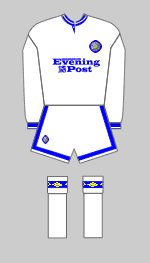 <![endif]><![if !vml]>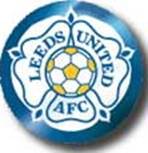 <![endif]>
Leeds United: Lukic; Newsome, Dorigo; Batty, Fairclough, Whyte; Cantona (Strachan), Rod Wallace, Chapman (Hodge), McAllister, Speed.
<![if !vml]>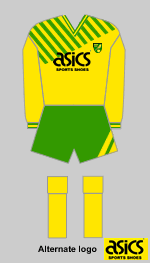 <![endif]><![if !vml]>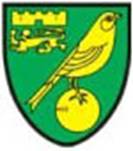 <![endif]>
Norwich City: Walton; Culverhouse, Ullathorne (Woodthorpe); Blades, Polston, Goss; Fox, Fleck, Newman, Johnson, Phillips.
Referee: Mr R. Milford (Bristol)
United signed off a memorable campaign with their twenty-second League success of the season and it mattered little that the victory over Norwich City was a comparatively low-key affair. The result and indeed the match itself were almost incidental to the celebrations that took place before and after the game. The sun shone for the big day and the noise was almost deafening, especially when skipper Gordon Strachan led his team onto the field and was handed the priceless one hundred and four-year-old trophy, which no one could deny they had won on merit, after a season long struggle to shake off the close pursuit of Manchester United to bring the most coveted of trophies back to Elland Road.
After the various presentations had taken place Gordon Strachan took a backseat and David Batty donned the captain's armband to lead United out for the last time that season. Norwich did their best to spoil the party, but United always seemed to have plenty in reserve as they cantered to victory and remained the only team in the Football League team to survive the season without a home defeat. Even though the match did not rise to any great heights, it was settled by a goal fit to win any game and worthy of the champions.
Twenty-five minutes into the game Rod Wallace cleverly flicked the ball past Jeremy Goss in the centre circle and set off on a run towards goal and soon left two other would-be tacklers in his wake before placing a low left-foot shot wide of goalkeeper Mark Walton. The £1.6m former Southampton forward wheeled away in delight to celebrate his fourteenth goal of the season and his second in successive games.
John Lukic was not exactly overworked but when Robert Fleck did threaten just before half-time the United custodian showed his class to twist and turn to save the goal-bound shot one-handed. He ended the forty-two game season with twenty clean sheets, the highest number by any United keeper since he himself in his debut season as a teenager managed the same feat eleven years previous.
Eric Cantona, who started in place of Gordon Strachan, who had a back problem, showed his now usual skilful touches in attack, but best on the field went to full-back Tony Dorigo with his usual classy performance, while in midfield Gary Speed and David Batty ruled the roost. With fifteen minutes to go Gordon Strachan and Steve Hodge took to the field in place of Eric Cantona and Lee Chapman and were given a rousing reception and the game was played to its logical conclusion to bring down the curtain on an eventful and successful season.
Alternate Report

Norwich City were guests to a party on the final day of Leeds United's championship-winning season. The Canaries became the unfortunate gooseberries on May 2, 1992 as a sell-out Elland Road crowd celebrated United's first top-flight title since 1974 and the era of Don Revie. The match had lost its relevance in a competitive sense after United sealed the title with a 3-2 win at Sheffield United a week earlier, putting Howard Wilkinson's team beyond the reach of Manchester United, but the visit of Norwich provided a memorable end to a remarkable season.
<![if !supportLineBreakNewLine]>
<![endif]>
A presentation ceremony was held before kick-off with club chairman Leslie Silver collecting Barclays' League prize money of £100,000 before United captain Gordon Strachan lifted the century-old championship trophy to the sound of "are you watching Manchester?" Norwich themselves were in celebratory mood having narrowly avoided relegation, but the script was written for a home win and United did not disappoint their capacity audience. Having raised the First Division trophy, Strachan was forced to take his place on the bench by a back problem which had troubled him increasingly during the closing weeks of the season.
<![if !supportLineBreakNewLine]>
<![endif]>
The Scot was replaced by Eric Cantona, who marked the day by signing a three-year deal at Elland Road and David Batty assumed the captain's armband. The two clubs had contested an entertaining 2-2 draw earlier in the season, but City had been poor away from home throughout the campaign and they never recovered from Rod Wallace's first-half goal. United had seen a number of chances repelled, including a powerful volley from Cantona, when Wallace's brilliant individual effort ignited Elland Road. The forward collected the ball near the halfway line and tricked his way past Jeremy Goss before bearing down on goal. Two defenders were also bypassed as the forward broke into the box and his shot slid across goalkeeper Mark Walton and into the corner of the net.
<![if !supportLineBreakNewLine]>
<![endif]>
United's supporters erupted, including those who had failed to gain entry to Elland Road and who had positioned themselves in the small gap between the West Stand and the South Stand. The atmosphere was such that United's directors were moved to include themselves in the Mexican waves which swept round the stadium. Norwich threatened to ruin the party after half-time as United's performance dwindled but City's strikers lacked the finishing touch and the visitors slipped away quietly at full-time, leaving Leeds to a final round of celebrations.
<![if !vml]>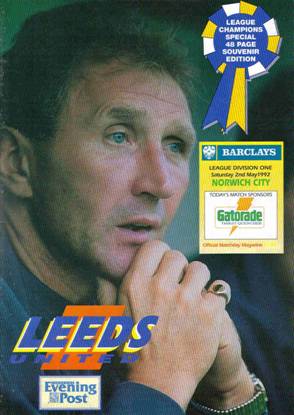 <![endif]> <![if !vml]>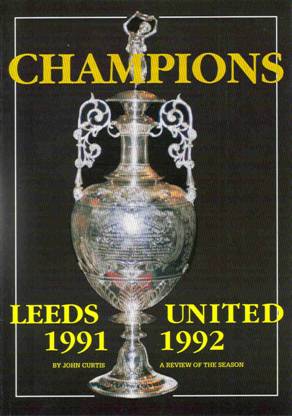 <![endif]>
Match Action:
<![if !vml]>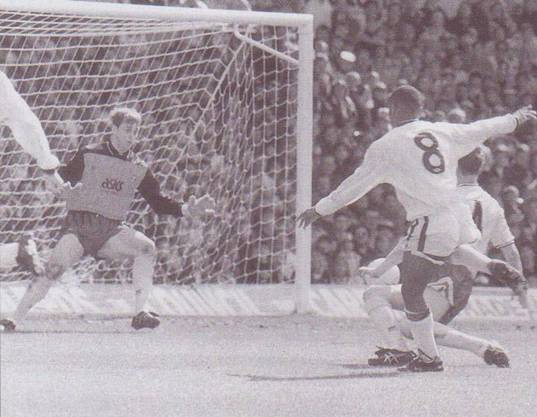 <![endif]> <![if !vml]>
<![endif]>
                                       Rod Wallace scores a fine individual goal and celebrates
<![if !vml]>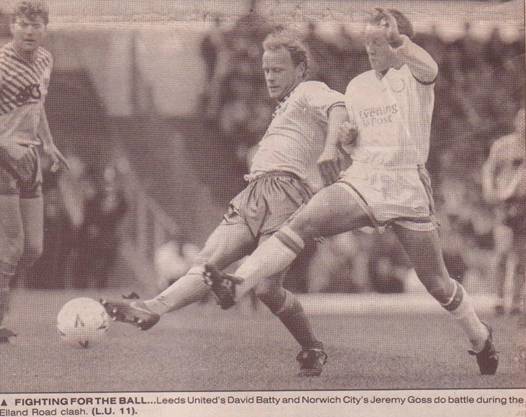 <![endif]>                               <![if !vml]>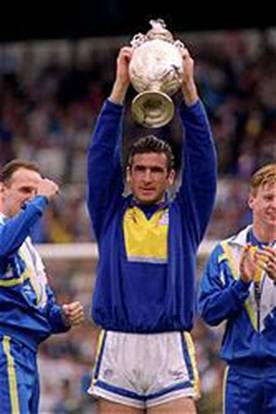 <![endif]>
   David Batty in a tussle with Jeremy Goss                                                                                             Eric Cantona lifts the Trophy
<![if !vml]>
<![endif]>
<![if !vml]>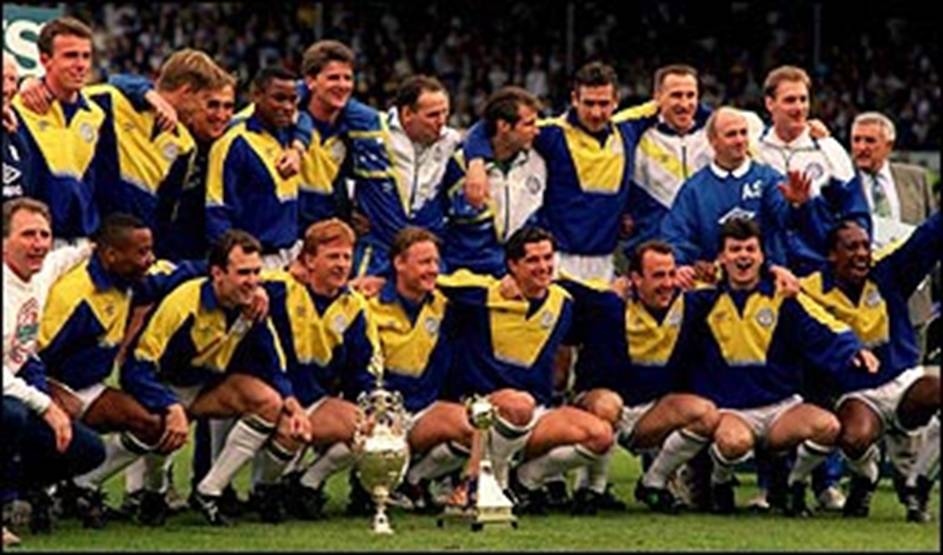 <![endif]> 
Leeds United 1991-92: The Champions!
Back Row: Mick Hannigan (Coach), Jon Newsome, Lee Chapman, Sean Hardy (Kit Manager), Chris Fairclough, John Lukic, Mel Sterland, Carl Shutt, Eric Cantona, John McClelland, Alan Sutton (Physio), Peter Haddock, Les Silver (Chairman).
Front Row: Howard Wilkinson (Manager), Rod Wallace, Tony Dorigo, Gordon Strachan, David Batty, Gary Speed, Gary McAllister, Steve Hodge, Chris Whyte.
Players:
<![if !vml]>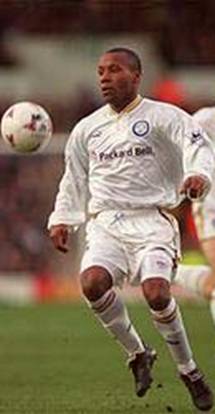 <![endif]> <![if !vml]>
<![endif]> <![if !vml]>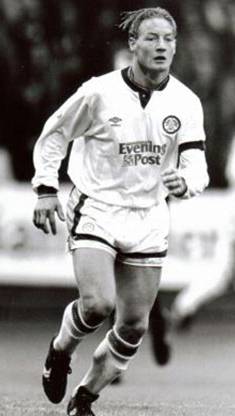 <![endif]> <![if !vml]>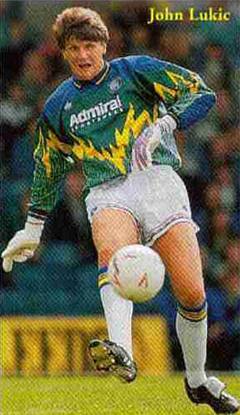 <![endif]>
Rod Wallace won the game         Gordon Strachan led the team but                David Batty captained the team   John Lukic made vital saves              
with a solo effort                           stayed on the bench.
<![if !vml]>

<![endif]>   <![if !vml]>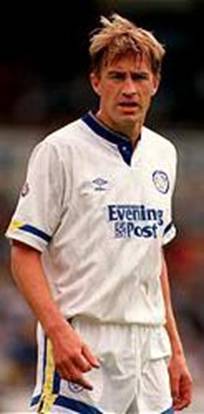 <![endif]> <![if !vml]>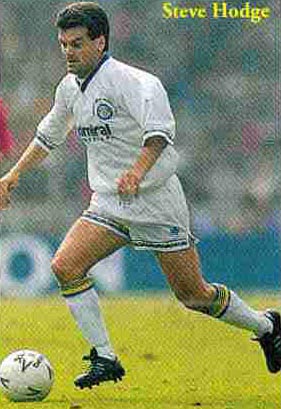 <![endif]>    <![if !vml]>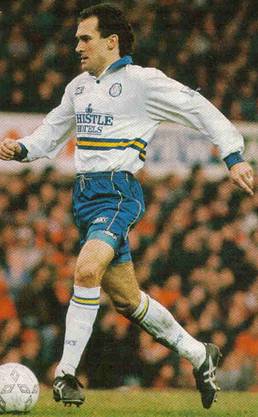 <![endif]> 
Eric Cantona signed                     Lee Chapman made way for Steve Hodge                                              Tony Dorigo was best on the field  
three year contract                                                                                                                                                                             
<![if !vml]>

<![endif]>   <![if !vml]>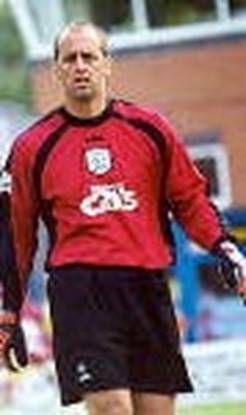 <![endif]>   <![if !vml]>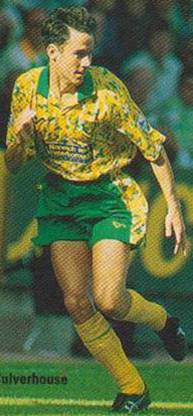 <![endif]> <![if !vml]>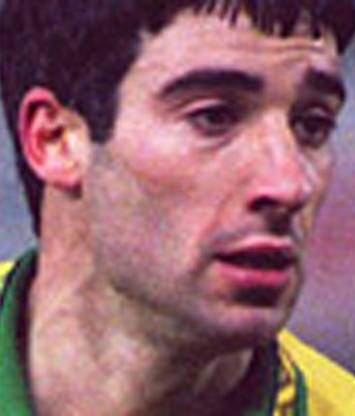 <![endif]>  
Gary Speed helped run    Mark Walton was in goal                                      Ian Culverhouse and Robert Ullathorne were the full-backs         
the midfield
<![if !vml]>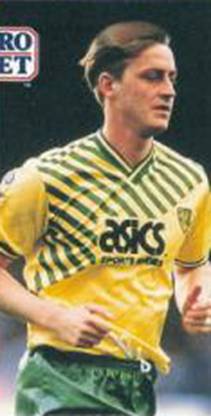 <![endif]> <![if !vml]>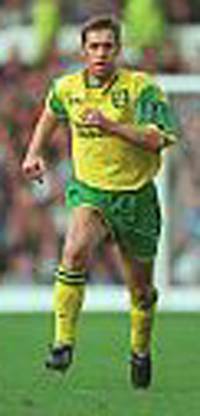 <![endif]>   <![if !vml]>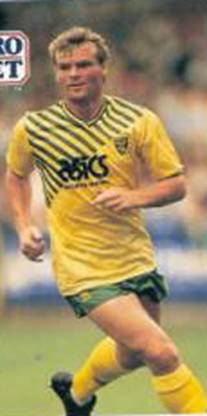 <![endif]> <![if !vml]>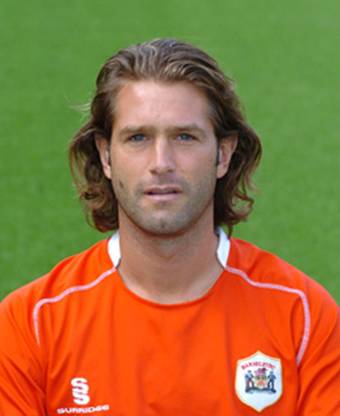 <![endif]>
Paul Blades and John Polston were in central defence                  Robert Fleck and Andy Johnson were the strikers 
<![if !vml]>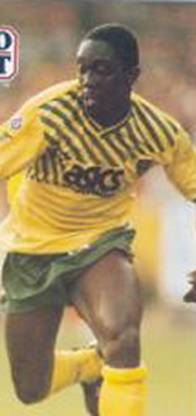 <![endif]>   <![if !vml]>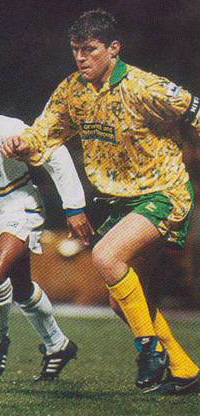 <![endif]>   <![if !vml]>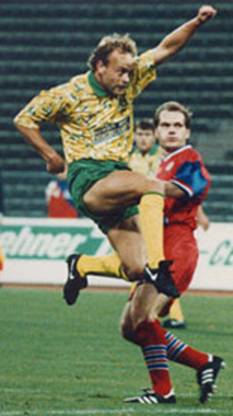 <![endif]>   <![if !vml]>
<![endif]>
                            The Norwich midfield was Ruel Fox, Rob Newman, Jeremy Goss and David Phillips
<![if !vml]>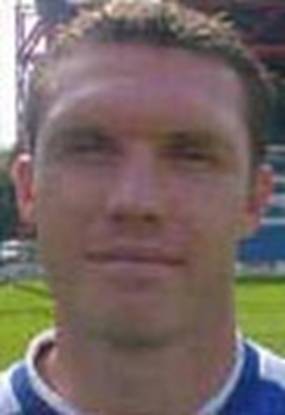 <![endif]>
    Colin Woodthorpe was the substitute