<![if !vml]>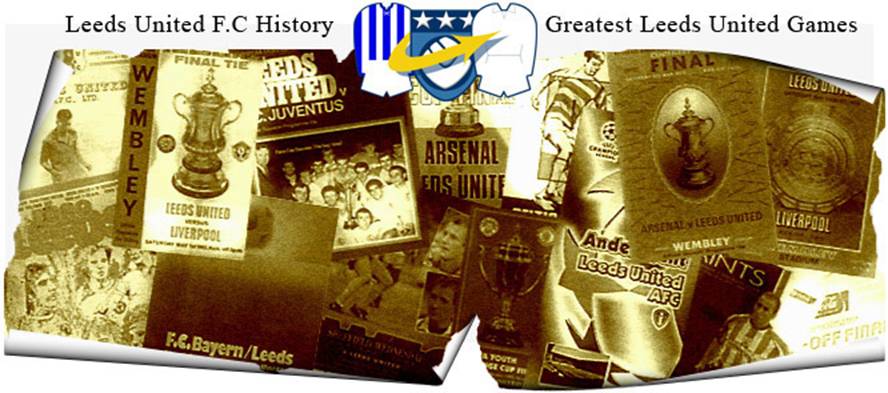 <![endif]>
Date: Saturday 2nd April 1983.
Venue: Burnden Park, Bolton.
Competition: Second Division.
Score: Bolton Wanderers 1 Leeds United 2
Scorers: Bolton Wanderers: Rudge. Leeds United: Butterworth, Hart.
Attendance: 10,784.
Teams:
<![if !vml]>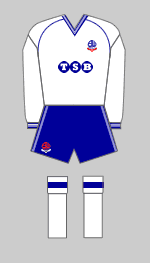 <![endif]><![if !vml]>

<![endif]>
Bolton Wanderers: McDonagh; Whitworth, Borrows; Redfearn, Berry, Doyle; Chandler, Rudge, Moores, S. Gray, Hoggan.
<![if !vml]>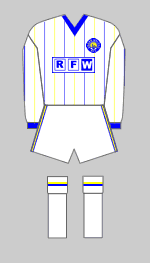 <![endif]><![if !vml]>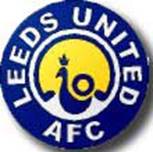 <![endif]>
Leeds United: Harvey; Thomas, F. Gray; Sheridan, Hart, Dickinson; Hird, Ritchie, Butterworth, Donnelly, Graham.
Referee: Mr M. Scott (Nottingham).
With a hard fought victory over Bolton Wanderers at Burnden Park in April 1983, United moved up into fifth place in the Second Division, to keep their slim chances of promotion alive. It was a very slim chance, as if United were to win all nine remaining matches, they might still not gain promotion. Although it was only a faint mathematical possibility, it gave manager Eddie Gray and his men a motive to do themselves justice on the run-in to the end of the campaign. The win at Bolton left United with fifty-one points, seventeen fewer than leaders Queens Park Rangers but only eight points less than third placed Fulham. With nine games still left, Gray had not given up the ghost and enthused about United's performance and the particularly outstanding contribution of central defender Paul Hart.
Hart had been superb against Bolton, as had eighteen-year-old John Sheridan, as United had done well to resist a gale-force wind in the first-half and had turned round a goal ahead, scored by the pugnacious Aidan Butterworth after twenty-one minutes. The young striker had chased and harried though oddly, United's leading goal-scorer still looked strangely short of confidence in himself.
Bolton, however, fought back to draw level after fifty-eight minutes when Simon Rudge latched onto an inevitably swirling ball to drill in an equaliser and many thought that could be the turning point and that United would buckle, but that was not to be the case. Eddie Gray's men gritted their teeth and were forced to battle hard. John Sheridan remained in good form and United were also well served by the selfless running of striker Andy Ritchie. It was Paul Hart, however, who proved to be the match-winner with a goal fifteen minutes from the end. Sheridan drove in a corner hard from the left and Hart ran forward, jumped above everyone else and powered a splendid header into the far corner.
Unfortunately the win at Bolton was to be a precursor to just one win in the last nine games, also away, this time at Burnley and while they only lost two further games, at Queens Park Rangers and at home to Sheffield Wednesday, all the other six games were drawn and the campaign finished with United in eighth place.
Alternate Report from YEP (Courtesy Mark Ledgard)
Leeds United could win every match between this game and the end of the season and stay in the Second Division. That is a thought that might gall their Manager, Eddie Gray It is also a challenge and an offer which Leeds could not afford to refuse. Because by winning their remaining nine matches, or at least by busting every nerve and sinew in the attempt, Leeds could create a meaningful next season out of a significant end to this. Eddie Gray could not rule out promotion until decimal points did. But his more realistic preoccupation was that Leeds should do themselves justice. And Burnden Park suggested that the last twenty-seven points could be worth watching and waiting for. "It's not a lost cause," said Eddie Gray, after an impressive fund of determination and a big Hart had overcome a robust and often-barnstorming Bolton." We have to hope that teams above us slip up, while we win all our matches from now on." "But let's face it," he added with telling realism, "they haven't been slipping up a lot. Have they?"
Leeds at Bolton were probably representative of their best and most irritatingly fallible. They won the ball well, then gave it away recklessly, often in the space of six strides. They defended splendidly and then left the sort of hair-raising gaps in defence which threatened to prise one N. Lofthouse out of his seat and retirement, and they created chances in attack many times better than the ones which finally brought goals and a victory they deserved. When Leeds put it together, which may well be when fledglings like Martin Dickinson and John Sheridan mature, they could be a promotion side. And that had to be at least another full season away. The key to this match lay in the confrontation between Paul Hart and Ian Moores. Old fashioned in its way, full of guts, knees and elbows, if they had put on gloves and gone ninety minutes together it would have been worth the money. Ian Moores feinted and fashioned cute little flicks which were often unused, a big man who always seemed to play in the plural, impossible to intimidate and fearfully difficult to check. Paul Hart did that job superbly, not least in those long periods of penalty-area pressure, when his feet seemed to leave the ground for five minutes on end. Making Paul Hart Captain may be the making of him, and making him this game's imposing figure may be fundamental to the making of Leeds. When looking after Moores should have been a day's work in its self, Hart had the head and heart to inspire both Leeds goals, and that spoke volumes for his attitude and the mood of the team.
Bolton's Manager John McGovern was delighted with their application, which is a posh way of saying they fought for every yard of ground and every ball. Leeds matched that, had they wilted they would have lost, and still cleared their heads often enough to create moves under pressure, which Bolton could not match or resist. Aidan Butterworth chased and chivvied. It is an odd thought that Leeds' leading still looks strangely short of confidence in himself. Kevin Hird and Gwyn Thomas more than made up in sheer determination what they lacked in finesse. John Sheridan was superb. Once he beat two men with a turn in midfield, left two more behind and then set Kevin Hird free with a magnificent pass. Once he took half a pace because there was no room for a full one and found Andy Ritchie with a superlative pas over all of forty yards. Nobody else on the field aspired to that and John Sheridan was only eighteen!
Leeds did well to resist a gale-force wind and turn round a goal ahead, scored by the pugnacious Aidan Butterworth after twenty-one minutes, when Paul Hart's header panicked the Bolton defence. Bolton were bound to use the wind and Ian Moores' awkward abrasiveness in the second half even those who could not pick the winner of the boat race in two guesses had worked that one out. And when Simon Rudge latched on to an inevitably swirling ball to drill in an equaliser after fifty-eight minutes, Leeds might have been over-run. But they battled hard because they had to and broke intelligently because they had the experience and the selfless running of Andy Ritchie to feed on. John Sheridan drove a corner hard from the left, Paul Hart ran, jumped and powered a splendid header into the far corner after seventy-five minutes. On the way there he flattened a formidable obstacle subsequently identified as Ian Moores, which left no argument as to who won the fist fight on the day. Moores might even have atoned, but with two minutes left and from no more than five yards, he managed to trickle a shot wide of the post.
<![if !vml]>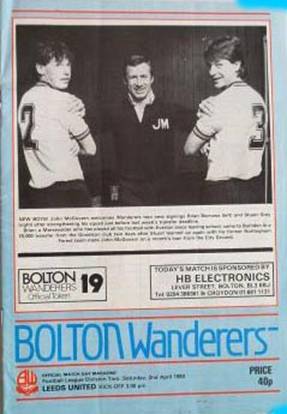 <![endif]>
Players:
<![if !vml]>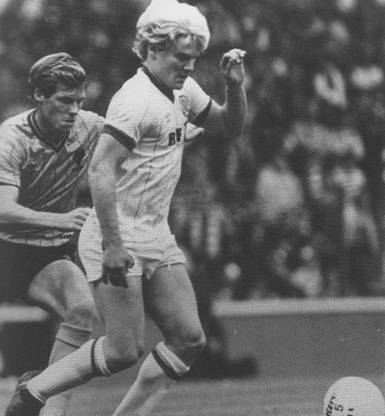 <![endif]> <![if !vml]>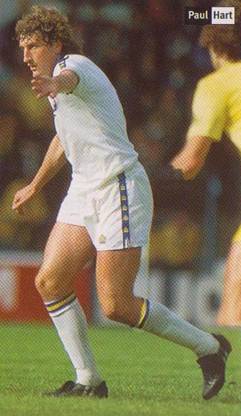 <![endif]> <![if !vml]>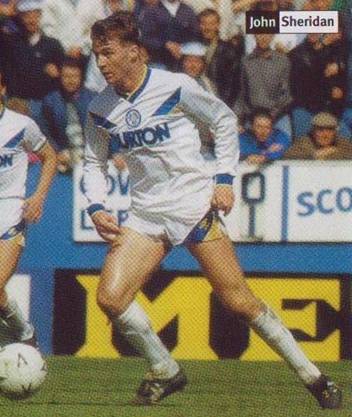 <![endif]>
 Aidan Butterworth and Paul Hart scored the United goals                                                                John Sheridan crossed for Paul Hart to score