<![if !vml]>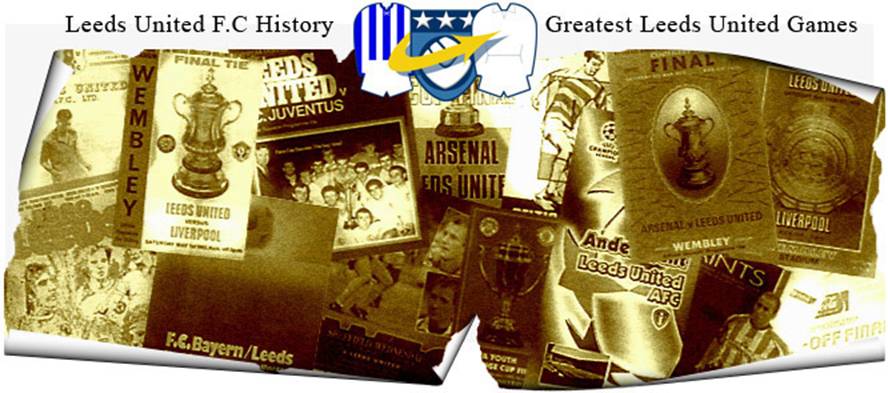 <![endif]>
Date: Saturday, 2nd February 1974.
Venue: Elland Road, Leeds.
Competition: First Division.
Score: Leeds United 1 Chelsea 1
Scorers: Leeds United: Cherry. Chelsea: Garner.
Attendance: 41,510.
Teams:
<![if !vml]>
<![endif]>†<![if !vml]>
<![endif]>
Leeds United: Harvey; Reaney, Cherry; Bremner, McQueen, Hunter; Lorimer, Clarke, Jordan, Cooper (Yorath), Madeley.
<![if !vml]>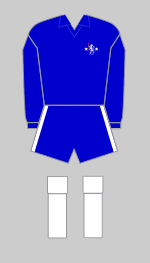 <![endif]><![if !vml]>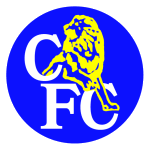 <![endif]>
Chelsea: Phillips; Locke, Harris; Hollins, Droy, Webb; Britton, Garland, Kember, Garner, Cooke.
Referee: P. Reeves (Leicester).
During his early career with Leeds United Trevor Cherry had been the only senior player who was not an international, but he was the record-saving hero when Chelsea threatened to smash Unitedís impressive unbeaten record. As usual Don Revieís men were chasing hard in pursuit of the League Championship and after kicking off the season with seven straight wins, including wins at Arsenal and Tottenham, they had remained unbeaten in twenty-six League games when Chelsea were the visitors to Elland Road in February 1974
United welcomed back Terry Cooper for his first League match since breaking his leg at Stoke City twenty-two months previously. He had done so well in the away FA Cup-tie at Peterborough, after only two reserve games, that Don Revie had little hesitation in including him in the side to face Chelsea. It had been a long road back to fitness for the Yorhshireman and his inclusion was the moment he had long been waiting for. Cherry however retained the left-back duties while the ex-England World Cup star was given the left-wing role. Striker Allan Clarke was also back after a lengthy absence but leading scorer Mick Jones and schemer Johnny Giles were missing due to injury and illness respectively.
Chelsea, now managed by Dave Sexton, had been one of the divisionís most inconsistent sides and had fallen to the fringe of the relegation zone. They were battling hard to pull clear and with giant central defender Mickey Droy and David Webb imposing figures at the heart of the Chelsea rearguard, United found it difficult to get going. Indeed, in the first half Chelsea were the more fluent footballing side and reaped their reward five minutes before half-time when they shocked United by taking the lead.
The goal, a header, was scored by Bill Garner, the former Southend United striker signed by Chelsea for £100,000 the previous year. At that stage, Unitedís long unbeaten run looked to be in jeopardy but Garnerís goal provided the League leaders with just the jolt their rather leisurely start to the game needed and for the last five minutes of the first half Revieís men gave Chelsea a taste of what was to come after the interval. Urged on by the hard working Norman Hunter, United launched a determined assault on the Chelsea goal and they attacked for the vast majority of the second half. But Chelseaís resolute defence was in no mood to give much away and Unitedís effort brought only one goal, a brave and courageous header from full-back Trevor Cherry, who dived to meet a right wing cross from Billy Bremner after sixty-seven minutes.
Cherry had to stoop so low to accomplish the header that he was prostrate and munching a mouthful of grass as the ball glanced off the inside of the near post and into the net. Cherryís defensive play over the previous few months had been better than at any time since he had joined United for £100,000 from his home club, Huddersfield Town, but he could hardly have picked a more opportune time in which to open his league goal tally for the season. His goal breathed life into United and only a fine save from Welsh international goalkeeper John Phillips, who was keeping the experienced Peter Bonetti out of the Chelsea side, prevented Peter Lorimer from putting United ahead.
Cooper marked his return to league football by showing plenty of skilful touches as he re-adjusted to the tempo of First Division football, but not even his tricky ball control could get much change from the Chelsea defence. Despite the heavy rain, a bitter swirling wind and the general unpleasantness of a February afternoon, more than 41,500 spectators were at Elland Road to see United draw 1-1. It was proof that if a team is producing the goods spectators will be there to savour the enjoyment no matter what be the weather.
It was ironic that on the day when they attracted the biggest crowd in the Football League, United should have had an off-day. At least their unbeaten record was still intact after twenty-seven games and it remained so for another two games before it was broken in a 3-2 defeat at Stoke City. United went on to win the championship, having won twenty-four, drawn fourteen and lost only four of their forty-two fixtures. Trevor Cherry eventually became a full international and made twenty-seven appearances for England, some as Captain.
<![if !vml]>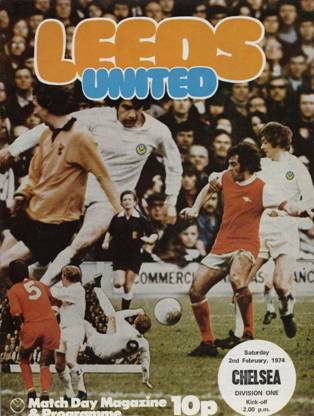 <![endif]>
Match Action:
<![if !vml]>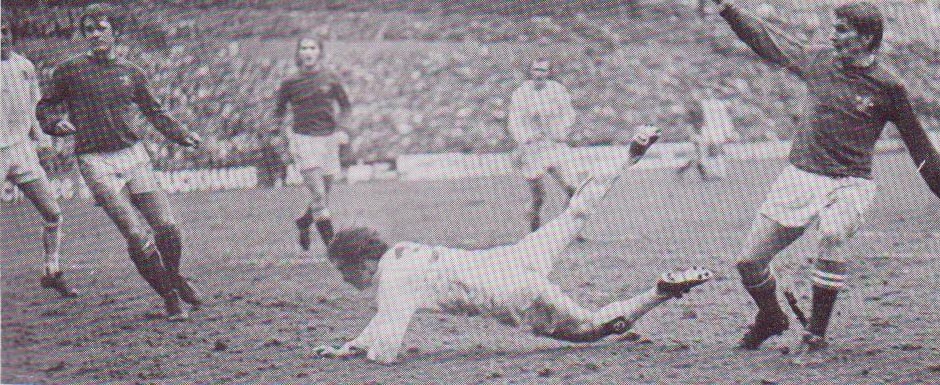 <![endif]>
Trevor Cherry dives in to score the United equaliser
<![if !vml]>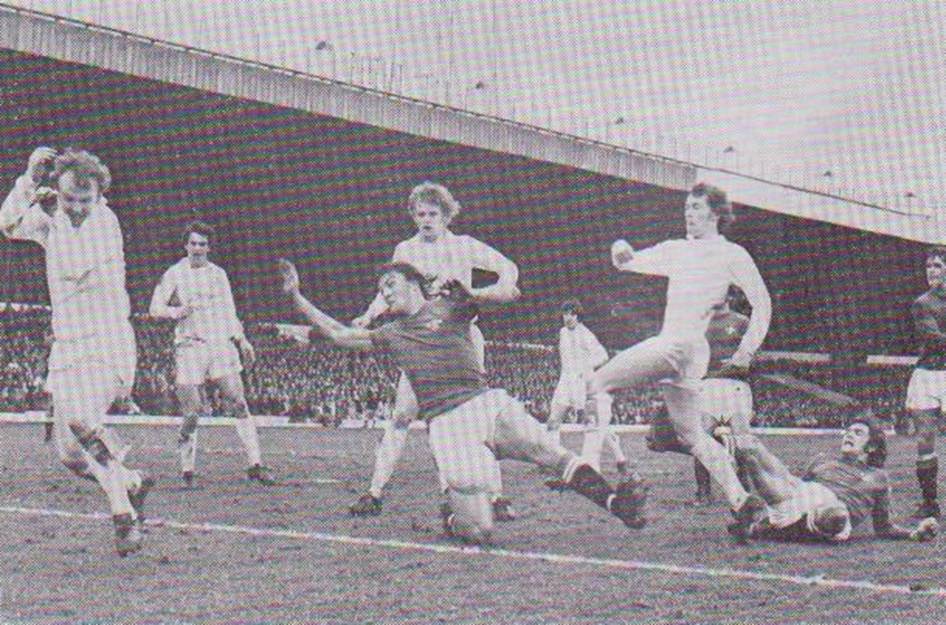 <![endif]>
Billy Bremner takes evasive action as Trevor Cherry shoots for goal
Teams:
<![if !vml]>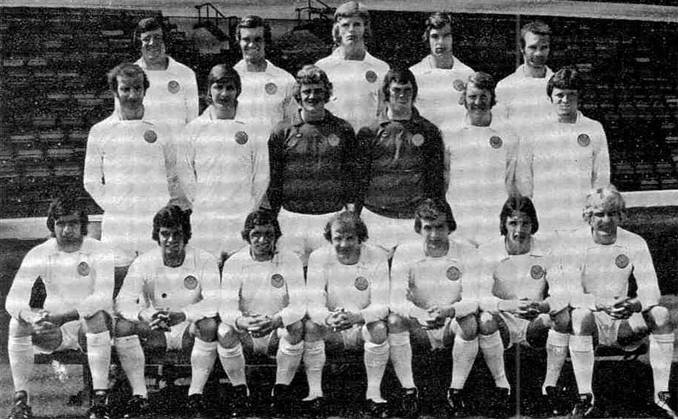 <![endif]>
Leeds United 1973-74:
Back Row: Norman Hunter, Paul Madeley, Gordon McQueen, Joe Jordan, Paul Reaney.
Middle Row: Roy Ellam, Allan Clarke, Gary Sprake, David Harvey, Mick Jones, Eddie Gray.
Front Row: Peter Lorimer, Alan Bates, Johnny Giles, Billy Bremner, Trevor Cherry, Frank Gray,
Terry Yorath.
<![if !vml]>
<![endif]>
Players:
<![if !vml]>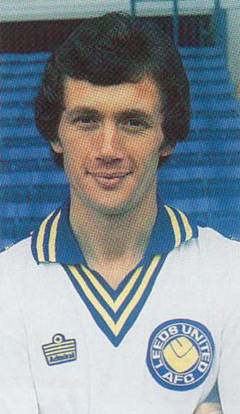 <![endif]>† <![if !vml]>

<![endif]>†<![if !vml]>
<![endif]>†<![if !vml]>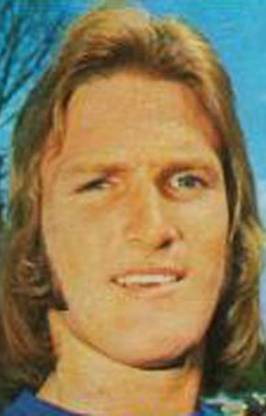 <![endif]>†<![if !vml]>
<![endif]>
Trevor Cherry got the Leeds Goal† Terry Cooper was back John Phillips†††† Gary Locke and Ron Harris were the full-backs
††††††††††††††††††††††††††††† †††††††††††††††††††††††††after a broken leg††††††† †was in goal
<![if !vml]>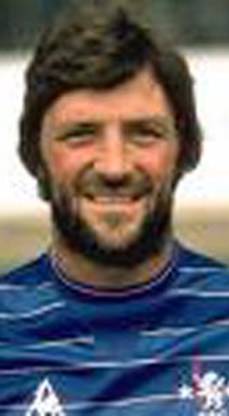 <![endif]>†<![if !vml]>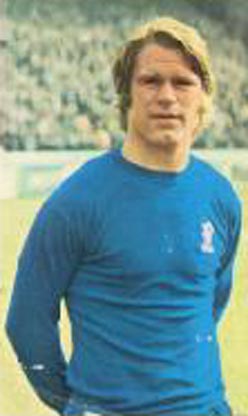 <![endif]>†<![if !vml]>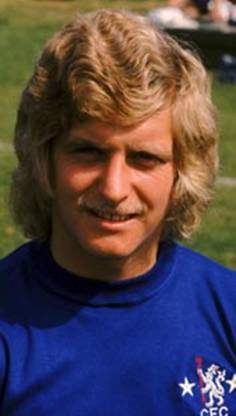 <![endif]>†<![if !vml]>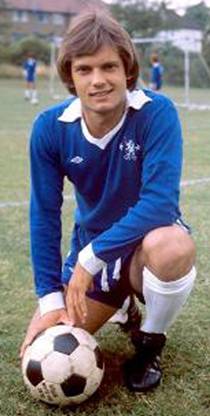 <![endif]>
Micky Droy and David Webb were the central defenders.† Chris Garland and Bill Garner, the Chelsea scorer, were the strikers
<![if !vml]>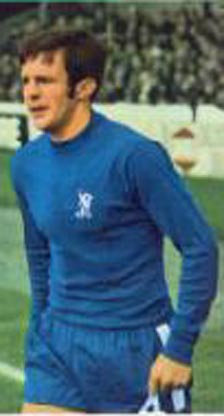 <![endif]>†<![if !vml]>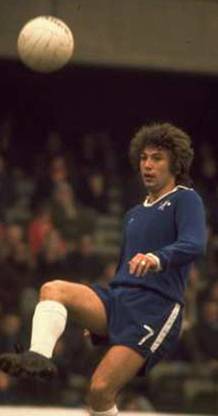 <![endif]>†<![if !vml]>
<![endif]>†<![if !vml]>
<![endif]>
John Hollins, Ian Britton, Steve Kember and Charlie Cooke were the Chelsea midfield