<![if !vml]>
<![endif]>
Date: Wednesday, 2nd February 1966.
Venue: Elland Road, Leeds.
Competition: Inter-Cities Fairs Cup, Third Round, First Leg.
Score: Leeds United 1 Valencia 1.
Scorers: Leeds United: Lorimer. Valencia: Munoz.
Attendance: 34,414.
Teams:
<![if !vml]>
<![endif]><![if !vml]>
<![endif]>
Leeds United: Sprake; Reaney, Bell; Bremner, Charlton, Hunter; Storrie, Lorimer, Belfitt, Giles, O'Grady.
<![if !vml]>
<![endif]> <![if !vml]>
<![endif]>
Valencia: Nito; Arnal, Vidagany; Roberto, Mestre, Paquito; Guillot, Palau, Toto, Lage, Munoz.
Referee: Leo Horn (Holland).
United knew that they were up against stern opposition in the form of top Spanish club Valencia, a club with a long and successful history and renowned Inter-Cities Fairs Cup fighters.
In the 1961-62 season, Valencia beat Spanish club FC Barcelona in the final 7-3 on aggregate with a 6-2 victory at home and an away draw 1-1. The 1962-63 final of the Inter-Cities Fairs Cup final, pitted Valencia CF against Croatian club Dinamo Zagreb, which the Valencians also won, 4-1 on aggregate, with wins both at home and away. Valencia CF was again present in the Inter-Cities Fairs Cup final in the 1963-64 season, but was defeated 2-1 by Real Zaragoza from Spain.
United were without Alan Peacock with twisted knee ligaments and Revie had little option but to give the nineteen-year-old Rod Belfitt his European debut. He could not have asked for a more gruelling start to his European career and it was a credit to him that he did not retaliate to the physical battering the Spanish defence gave to him. It was not all one way traffic in the fouls department as Norman Hunter got the game off to a bruising start as he brought down Valencian inside-left Jose-Maria Sanchez-Lage in the first minute and that set the tone for the Spaniards to take retribution with a stream of fouls, shirt-pulling and any kind of niggles. Unfortunately most of this went unchecked by ace referee Leo Horn who was too lenient to both sides.
Valencia took an aggressive stance from the first whistle, leaving only Vincente Guillot and Jose Palau up front, and their defensive style of play soon frustrated an attack-minded Leeds side. Johnny Giles, Peter Lorimer and Billy Bremner all showed their pace and skill down the flanks, but it was Valencia who took the lead after seventeen minutes. Juan Muñoz ran from the halfway line, and after both Norman Hunter and Paul Reaney had hesitated and let him in, he rounded Gary Sprake before tapping the ball into the net. This caused Valencia to go into their shell constructing a nine-man barrier of red shirts in their area with the aim of keeping United out at any cost. United went close on several occasions with Mike O'Grady hitting the woodwork, Rivero Nito saved superbly from Peter Lorimer, and a Jim Storrie header was cleared off the line. United threw everything at the Spaniards while the visitors tried to hang on desperately to their slim lead.
In between the skirmishes both sides had shown they could play good football. Chances came and went for Leeds, with Johnny Giles sending his powerful shot from Billy Bremner's indirect free-kick just wide of the post. Johnny Giles then shot over after a defensive error by Roberto and Leeds finally equalised in the 64th minute when Peter Lorimer reacted first to Johnny Giles' cross and rushed in to slam the ball home with ease.
With just fifteen minutes left the game erupted. United had been employing their usual tactic of Jack Charlton standing on the goal-line for corner kicks, which were usually delivered as inswingers and this was obviously not to the liking of the Valencia keeper and pushing and shoving occurred. There was a corner at the Scratching Shed end and the usual jostling took place and then, according to Peter Lorimer, the keeper spat at Charlton and then took off in the general direction of the corner flag, or maybe he thought he had spied the exit, with big Jack in hot pursuit. On seeing there was no exit the unfortunate keeper had two choices, either jump into the crowd and face their wrath no doubt with Charlton joining in, or face the incandescent Charlton. He chose the latter and was promptly given a couple of hefty haymakers for his troubles. Other players joined in and the police were called on to restore order.
Pandemonium reigned and revered referee Leo Horn of Holland took the players from the pitch for eleven minutes, to calm down. When the teams re-emerged the game resumed without Jack Charlton and Valencia full-back Francisco Vidagany. Jose Maria Sanchez-Lage soon joined them in the dressing-rooms after he had scythed down Jim Storrie.
So it was a Peter Lorimer trade-mark thunderous shot, a feat that he was to repeat many times in the years ahead, that drew the game for United, but at the other end Gary Sprake had to dive full length to save the game for Leeds in the dying minutes to stop the Spaniard's taking the lead.
<![if !vml]>
<![endif]>
Match Action:
<![if !vml]>
<![endif]>
Police break-up the free-for-all and restrain Jack Charlton
Players:
<![if !vml]>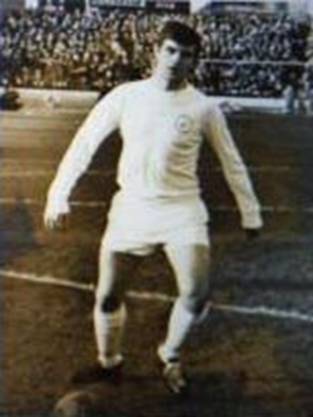 <![endif]> 
Peter Lorimer scored for Leeds