<![if !vml]>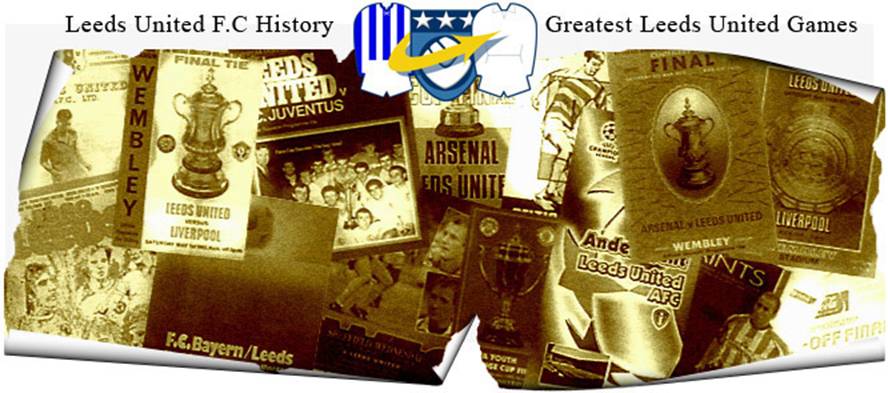 <![endif]>
Date: Saturday 2nd January 1982.
Venue: Molineux, Wolverhampton.
Competition: FA Cup Third Round.
Score: Wolverhampton Wanderers 1 Leeds United 3
Scorers: Wolverhampton Wanderers: Gray. Leeds United: Hamson, Hird, E. Gray.
Attendance: 20,923.
Teams:
<![if !vml]>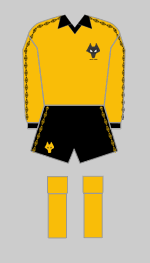 <![endif]> <![if !vml]>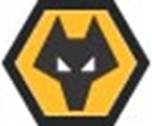 <![endif]>
Wolverhampton Wanderers: Bradshaw; Palmer, Parkin; Daniel, Gallagher, Berry; Birch, Eves, A. Gray, Richards, Brazier.
<![if !vml]>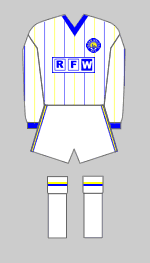 <![endif]><![if !vml]>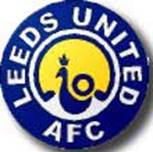 <![endif]>
Leeds United: Lukic; Cherry, F. Gray; Stevenson, Hart, Burns; E. Gray, Graham, Butterworth, Hamson, Hird.
Referee: C. Thomas (Treorchy, Mid-Glamorgan)
An infected chest which made breathing an exhausting exercise could not prevent Eddie Gray celebrating the sixteenth anniversary of his first team debut with Leeds in the best possible way at Molineux. The thirty-three-year-old Scot proved to be the key figure in United's welcome but surprising 3-1 success in their FA Cup third round battle with Wolverhampton Wanderers in January 1982.
Manager Allan Clarke believed that Eddie Gray would do exactly that when he took the decision, only a few hours before the kick-off, to risk playing the far from fit Scottish international. "It was touch and go whether Eddie played," admitted Clarke's deputy, Martin Wilkinson. "Eddie had spent a couple of days in bed during the week and he was still troubled by a chest infection but his skill and experience is invaluable so we took the decision to play him. He was having difficulty in breathing by half-time, but I am glad we agreed to include him," he added.
Eddie Gray's experience and ability on the ball made him a difficult opponent, even in the first half-hour when United, playing their first competitive match in three weeks, struggled to come to terms with Wolves. The home side cashed in on their early advantage when Scottish striker Andy Gray, who had been a transfer target for United, scored a brilliant opportunist goal in the thirteenth minute, turning to fire home an angled shot, despite John Lukic managing to get a touch to the ball.
United defender Kenny Burns shouldered the blame for the goal. "I allowed Gray space to get in his shot but all credit to the lads who kept on battling and proved there is a lot of character in our side," Burns said. United should have been on level terms two minutes later, though, when referee Clive Thomas ruled that George Berry had handled when Arthur Graham drove the ball into the Wolves penalty area, but there were groans from the United fans as Kevin Hird slammed his spot-kick against the woodwork.
Any fears that his miss might prove to be very costly were eased in the thirty-ninth minute when Gary Hamson blasted the ball past goalkeeper Paul Bradshaw from Hird's corner kick. Kevin Hird must have been overjoyed in the eighty-fifth minute when he finished off a superb attacking move which put United 2-1 up. Hird began the move, Trevor Cherry took up the running to hit the ball into the penalty area, Eddie Gray helped it on to Aidan Butterworth, who laid the ball off for the supporting Hird to score. Two minutes later United, their confidence high, made it 3-1 when Eddie Gray demonstrated his skills to beat Bradshaw with graceful ease.
Alternate Reports (Courtesy Mark Ledgard)
From Terry Brindle:
Had Eddie Gray been a little more hoarse, somebody would have had him shot several years ago. Yet in sickness as in health, Gray continued to add immeasurably to Leeds United's prospects of winning at least their self-respect and arguably more than that. Gray tottered through the FA Cup tie at Wolverhampton on legs which looked a little bandier than usual, suffering grievously from the lingering effects of a chest infection and scarcely able to draw breathe. By half-time his contribution to the Leeds cause was based largely on will-power and decisively on the fund of experience and pure skill which still makes him the most valuable player in the side. That says a great deal for him and brutally little for the rest, except his presence had such a galvanising effect it might argue that Leeds were closer to being an effective side than they imagined. One strikingly good player makes a world of difference only if others are good enough to respond. Nobody responded better in this match than big little Aidan Butterworth, who energetically refused to melt in George Berry's mouth despite the sort of physical going over that might have intimidated a lesser character. Aidan Butterworth was still learning, but fast. And sharing a pitch with Gray could only speed up his education. Confronting a player like Berry helped too, in a bruising sort of way.
Confidence was not Leeds' strong suit, least of all away from home, and it looked for half-an-hour as though they would be brushed aside. By then Andy Gray had put Wolves in front with a splendid opportunist's goal and Kevin Hird had missed a penalty, which does for confidence what ten degrees does for winter snow. Leeds were lucky to win the penalty since George Berry seemed to have little hope of avoiding Arthur Graham's shot, but the Graham was sent sprawling by Colin Brazier ten minutes later and the referee disallowed a much more obvious claim. Either way, Kevin Hird raked his shot high against a post and Leeds fretted until Wolves let them off the hook. "I gave them a going over at half-time because after Leeds missed the penalty we stopped playing," said the Wolves Manager John Barnwell. "It looked as though we were going to win it comfortably and that seemed to communicate itself to our players, they never got close to doing the job. What I say to them is private, but it won't be pretty."
At least Leeds had the character to take advantage of Wolves' surprising lack of killer instinct. And none more than Kevin Hird, who made up for his penalty miss with rare determination. Leeds acknowledged their disadvantage in height at corner kicks and Kevin Hird belted a cross low and accurately after forty minutes, Eddie Gray skipped out of the way and Gary Hamson powered in a splendid shot from the edge of the penalty area. The fact that Hird marginally miskicked the cross was by then no more than Leeds deserved. The tie threatened to die, with Leeds fashioning more in midfield and Wolves forced to loft long, hopeful passes in the general direction of Andy Gray and John Richards. "I don't blame the front-runners, the service to them was diabolical" intoned Barnwell, and since the ball was rarely held in attack for any length of time, Wolves were increasingly under pressure. Leeds without Gray suffered the same problem. Arthur Graham and Kevin Hird panicked the Wolves defence, Gray oiled along on boots which might have been made by Gucci, Aidan Butterworth ran enterprisingly and Leeds at last looked as if they had the self-belief to win.
It took two splendid goals to clinch it and Leeds will play many a match to better the one which Kevin Hird raked home after eighty-fifth minutes. Trevor Cherry overlapped on the right, took Hird's pass and flung it dangerously into the penalty area. Eddie Gray helped it on, Aidan Butterworth laid it off and Kevin Hird raced across the face of the goal, keeping his balance and his head admirably before beating Paul Bradshaw. A minute later Eddie Gray shuffled clear, bore down on Bradshaw and beat him with the easy grace of a man who had neither the inclination nor the breath in his body to make simple skill look difficult.
From Bill Mallinson:
Kenny Burns wanted an FA Cup winner's medal to complete his collection of honours and the Leeds skipper believed it wais waiting for him that season. Burns, a £400,000 signing from Nottingham Forest only three months previous, said "We're good enough to get to Wembley. We're playing more as a team and less as individuals. "It would be nice to get a Cup medal because it would help me establish myself in the Scotland team." Burns blamed himself for Wolves taking the lead through Andy Gray's superbly struck shot. "I allowed him space to get a shot in, but the team just got on with the job".
Wolves had never beaten Leeds in their five FA Cup clashes and Manager John Barnwell said. "It is the first time we have been dumped out at the first hurdle in my three years here, after reaching the sixth round and two semi-finals. We have had two months of uncertainty about my position here which has led to a lot of passion in the team's performances. But that has worn thin and the reverse of that passion showed today." Skipper Joe Gallagher said. "We played too many aimless long balls. We could have been two up if Andy Gray had taken his chance to stick another one in. But we played badly and got what we deserved."
From Don Smith:
Leeds made it look easy in the end but for eighty-four minutes they were just about worth a replay. Then they blasted Wolves out of the Cup with two goals in a minute. First Kevin Hird, who had earlier missed a penalty, made glorious amends by racing on to Aidan Butterworth's pass and steering the ball wide of Paul Bradshaw. Then man of the match Eddie Gray left the Wolves defence looking like a fractured conga dance line to score a killer third. Gray was among the action from the start. He set up an early chance for Byron Stevenson, whose shot was clawed away by Paul Bradshaw.
But in the thirteenth minute Andy Gray gave Wolves the lead, collecting a clearance and thumping it straight past John Lukic from well outside the box. Leeds should have equalised from the penalty spot, after Joe Gallagher was adjudged to have handled an Eddie Gray drive, but Kevin Hird's kick hit the bar. Wolves missed several chances before Leeds equalised when Kevin Hird's corner was volleyed home by Gary Hamson. Gary Hamson and Wolves George Berry were booked in the second half before Leeds booked themselves a fourth round place.
<![if !vml]>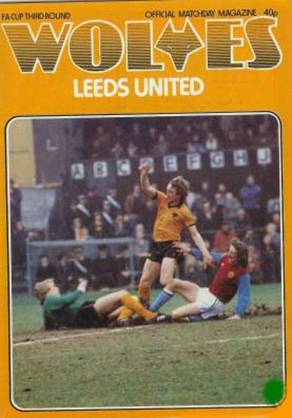 <![endif]>
Match Action:
<![if !vml]>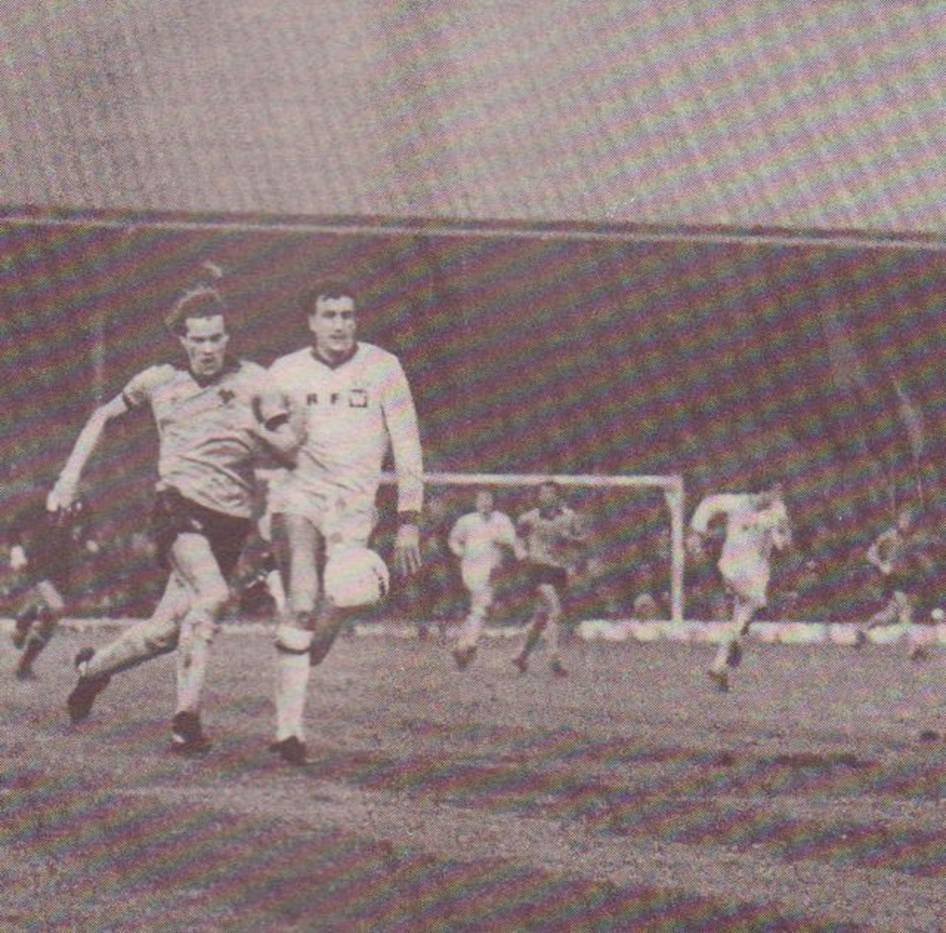 <![endif]>
Paul Hart and Andy Gray in a chase for the ball
<![if !vml]>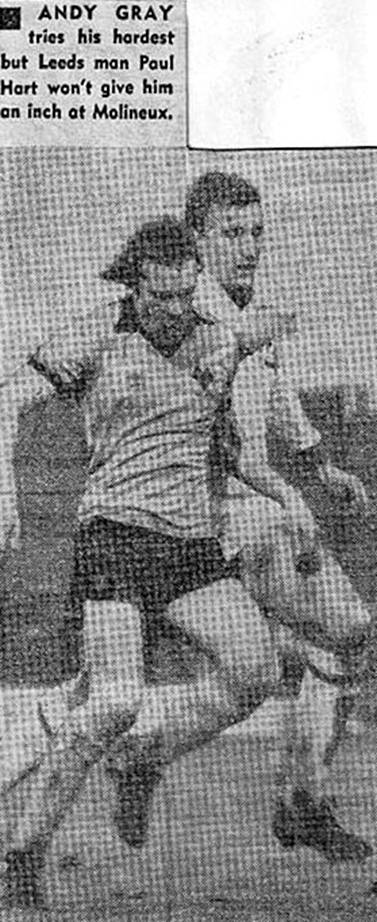 <![endif]>
(Courtesy Mark Ledgard)
Teams:
<![if !vml]>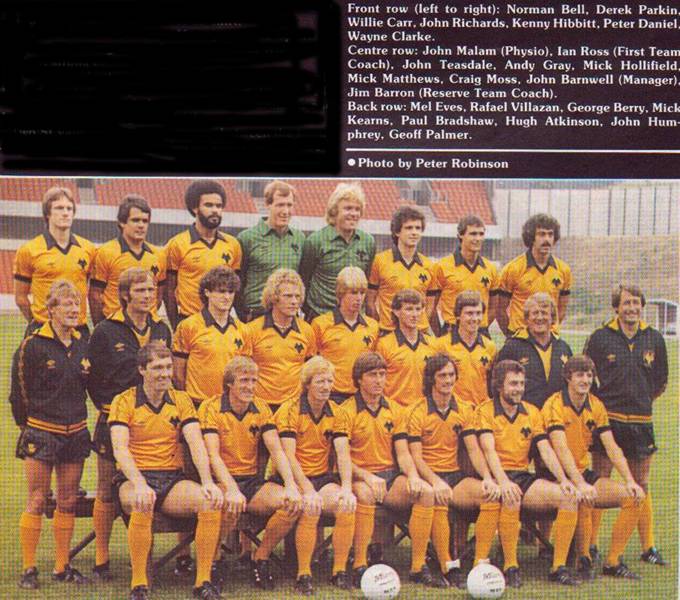 <![endif]>
<![if !vml]>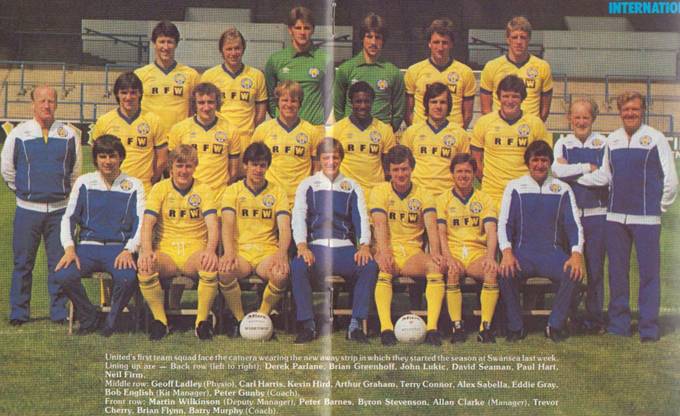 <![endif]>
Players:
<![if !vml]>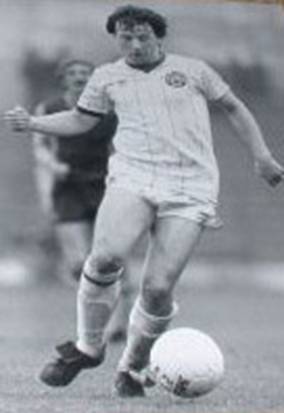 <![endif]>  <![if !vml]>

<![endif]>  <![if !vml]>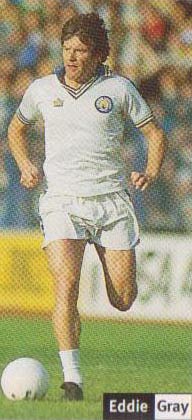 <![endif]>      <![if !vml]>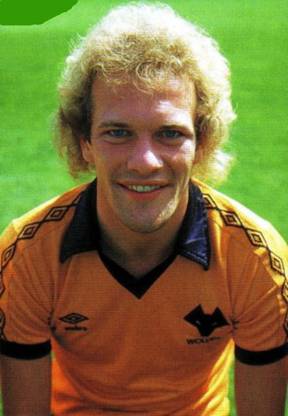 <![endif]> 
Gary Hamson, Kevin Hird and  Eddie Gray scored for Leeds. Hird also hit the post from the spot.              Andy Gray scored for Wolves 
<![if !vml]>
<![endif]>  <![if !vml]>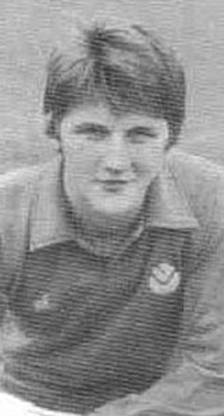 <![endif]>      <![if !vml]>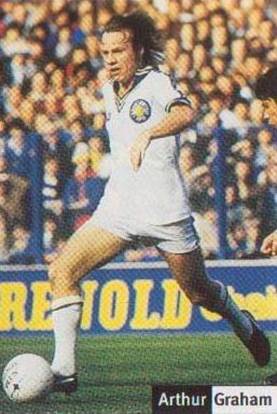 <![endif]> <![if !vml]>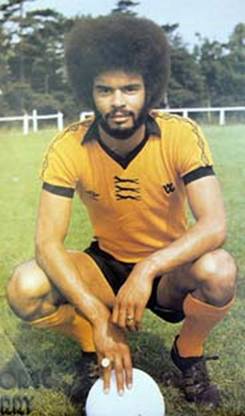 <![endif]>  
Kenny Burns at fault            John Lukic got his hand to the goal.       Arthur Graham's cross was handled by George Berry.                 
for the goal
<![if !vml]>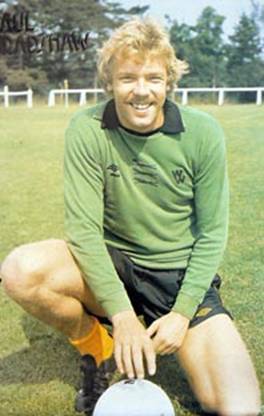 <![endif]>            <![if !vml]>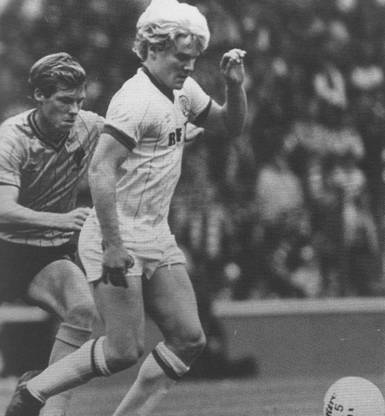 <![endif]>
Paul Bradshaw had no chance.                            Aidan Butterworth helped with the third