<![if !vml]>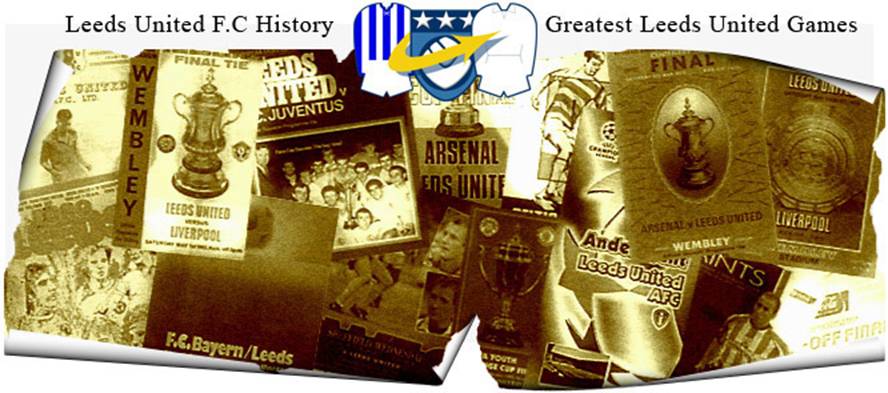 <![endif]>
Date: Thursday, 1st November 2001.
Venue: Stade de l'Aube, Troyes, France.
Competition: UEFA Cup, Second Round, Second Leg.
Score: Troyes 3 Leeds United 2.
Scorers: Troyes: Amzine, Matteo (o.g.), Rothen. Leeds United: Viduka, Keane.
Attendance: 15,079.                                                                                                   
Teams:
<![if !vml]>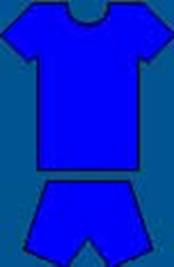 <![endif]> <![if !vml]>

<![endif]>
Troyes: Huertebis; Danjou, Bradja (Adam), Thomas, Hamed; Tourenne, Amzine, Boutal; Loko (Djukic), Rothon, Saifi (Gousse). Unused Subs: Jbari, Leroy, Niang, Sekli.                                                         
<![if !vml]>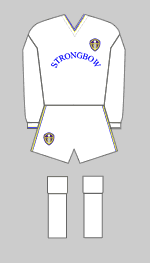 <![endif]><![if !vml]>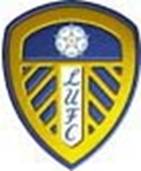 <![endif]>
Leeds United: Martyn, Mills, Duberry, Matteo, Harte; Batty, Bakke, Dacourt, Kewell (Wilcox); Keane, Viduka. Unused Subs:  Kelly, McPhail, Smith, Butrns, Robinson.                                                                    
Referee: Massimo de Santis (Italy).
Robbed of Rio Ferdinand by injury and Jonathan Woodgate and Lee Bowyer by the on-going court case United travelled to France to play the second leg of their UEFA Cup tie against Troyes, who were urged on by their fanatical supporters to an almost famous victory. United had spurned so many chances in the first leg, conceded a vital late goal, and they were almost left to rue their generousity. Luckily they survived after almost going out on the away goal rule. An early goal had the home fans believing a shock victory was a strong possibility. Mark Viduka kept up his recent goal-scoring form to equalize on the night and then United had a period of dominance without being able to take the lead, as Harry Kewell volleyed a screamer, only for the referee to disallow it for an infringement by Robbie Keane in the build up. It was Troyes who took the lead after just seven minutes as the ball was deflected into his own net by Dominic Matteo following a free-kick from forty yards out. The out of touch Harry Kewell was substituted after picking up a calf injury and now United were lacking both first choice central defenders and wingers. Their plight was obvious as Michael Duberry was left pedestrian as Troyes got their third on the night and went in front, on away goals, on aggregate. Troyes showed they were just as generous as United and fluffed several chances to go 4-1 up. United thanked their luck and produced a perfectly executed goal which David Batty started forty yards out with a perfect through ball for Mark Viduka, who sent another perfect left-foot cross for Robbie Keane to head into an empty net. There was a brilliant save by Nigel Martyn as he risked life and limb to smother the ball at the feet of an onrushing Troyes attacker. Thankfully no extra-time was needed and United progressed to the next round, albeit very fortunately.
Every good side needs a bit of luck and god knows Leeds were handed their fair share in their visit to Troyes. Manager David O'Leary had warned until he was blue in the face that this tie was not going to be easy, yet there was doubt that even he expected his side to go quite so close to being knocked out. French side Troyes could have been finished off a fortnight previous when a rampant Leeds banged in four at Elland Road that should have had more. They were almost made to pay for their missed chances as Troyes, backed by a fanatical French crowd, went in search of a glorious victory. Patrice Loko's double strike in the Elland Road leg had given them hope a real shock was on the cards and until Robbie Keane nodded home a late second goal for the visitors it looked very much like United's European excursions had been over for another year.
To their credit, Leeds were a side who would never lay down and they summoned up all that battling spirit just when it was required to pull the game out of the fire. Without Rio Ferdinand, Jonathan Woodgate and Lee Bowyer, it was a seriously depleted Leeds side that took the field. United never seemed to play well without Lee Bowyer, he was such an integral part of their game plan, and once again he was sorely missed on the night. Eirik Bakke did recover well enough from a knee injury, but it was touch and go as both he and Rio Ferdinand's replacement, Michael Duberry, had to pass late fitness tests.
Troyes manager Alain Perrin had described the match in his programme notes as his team's Everest, and the players almost responded in the perfect way by scaling the mountain they had left themselves to climb. They may have not been one of the bigger French clubs, they were only formed in 1986, but they had heart and enough quality to give United a real heart-stopping night. The first palpitations were felt as early as the seventh minute when Patrice Loko's short corner found Gharib Amzine twenty-five yards from goal and he struck a pearler which swerved away from Nigel Martyn's left hand and into the top corner. It was a stunning effort from the Moroccan, sending the home fans into a frenzy and giving the Troyes players a belief Leeds could in fact be beat.
Nigel Martyn then had to be alert to save an effort from Jerome Rothen before Gharib Amzine again tried his luck from range only to see the effort flash wide. United, as in their ill-fated trip to Maritimo in the opening round, had started slowly, but the travel-sickness soon wore off and they were on level terms again within minutes. Ian Harte saw a twenty-five-yard free-kick saved by Troyes keeper Tony Heurtebis before swinging in a corner that the keeper flapped at. Eirik Bakke touched the ball back to David Batty and he clipped the ball over for Mark Viduka to head in, after fifteen minutes. The Aussie certainly loved European competition and was on fire at that moment, it was his fifth goal in six games.
Mark Viduka almost earned United the lead with twenty-four minutes on the clock as he charged down a clearance from Olivier Thomas and managed to get a decent cross to the far post only for Mahamed Bradja to jump in ahead of Robbie Keane and bundle the ball against the post. A minute later Robbie Keane again had the chance to net, but this time his low curling effort was frantically palmed away by the home keeper. It was United's best spell of the match and when Harry Kewell fired in a volley off the underside of the crossbar it seemed as though it would have reaped its reward. However, referee Massimo de Santis made the first of many odd decisions by ruling it out and judging Robbie Keane had fouled Carl Tourenne in the build-up.
The official was hardly popular with the Leeds contingent when he then awarded a free-kick against stand-in skipper Olivier Dacourt when he had seemingly tackled Patrice Loko fairly. The decision was a crucial one as on the thirty-eight minute mark David Hamed then delivered another thunderbolt out of the blue for the home side. From fully forty yards his shot seemed to be causing little harm as it scuttled towards goal, but it took a wicked deflection off Dominic Matteo's shin and nestled into the bottom corner. The home tails were pricked once again and Samuel Boutal tested Nigel Martyn with a good effort the England stopper managed to tip over the bar. United's problems continued as calf-injury victim Harry Kewell was replaced by Jason Wilcox at the break. It meant O'Leary's men were now without their choice wingers or central defender and Troyes were intent on making the most of their chance.
Danny Mills almost put the ball into his own net shortly after the restart as Patrice Loko's fierce drive across goal deflected off his knee and dropped just wide. But the host's third goal was expected and it came just before the hour as Rafik Saifi's trickery was far too good for Michael Duberry on the left byline and his pull back was met by Jerome Rothen's sweet left foot drive. It should have been 4-1 minutes later as a devastatingly quick break from the home side caught United cold. David Hamed fed Jerome Rothen out on the left and as he played the ball into Patrice Loko, the former French international was all alone with only Nigel Martyn to beat. However, he took too long in his deliberations and when he did finally pull the trigger he ballooned the chance over the bar. It was a huge let-off for United and they are experienced enough in Europe to know such chances do not come along often.
Irish sharp-shooter Robbie Keane spared United's blushes with a goal he did not realize his team urgently needed. United were trailing 3-1 with just fourteen minutes left to go, which made the aggregate 5-5, but Troyes had the advantage because of their two away goals. Just before his priceless strike he had asked his midfield man Eirik Bakke, "Do we need another one?"  Fortunately the Norwegians mathematics were more attuned to the situation and the twenty-one year-old Irishman duly obliged when he timed his run to perfection to nip behind the Troyes defence and head the ball home. "I looked at the linesman straight away to make sure I was not off-side, and luckily the flag stayed down." said Keane, of his most important strike since arriving from Inter-Milan.
David Batty it was who seized on it, picking up a rogue clearance forty yards from goal and clipping it into the path of Mark Viduka. The Aussie guided the ball across goal for Robbie Keane to nod into an empty net in the seventy-seventh minute. Even then it was not finished as Gharib Amzine again crashed an effort just wide and Nigel Martyn needed to pull off the save of the night, diving at the feet of Nicolas Gousse in the closing minutes. Extra-time would have been too much to bear, as it was the 6-5 aggregate victory was enough excitement for one round.
<![if !vml]>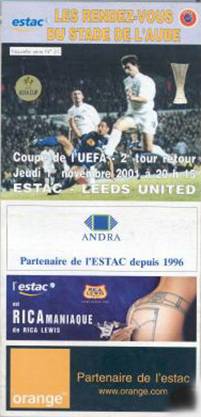 <![endif]> <![if !vml]>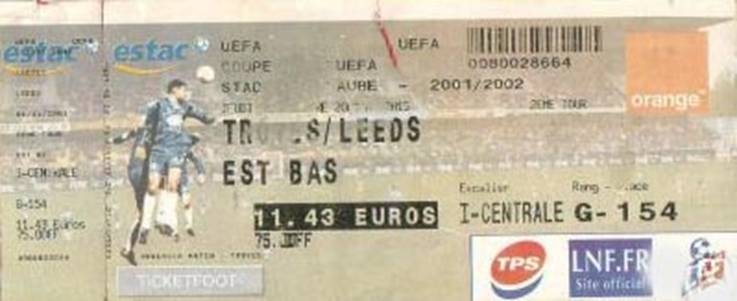 <![endif]>
Match Action:
<![if !vml]>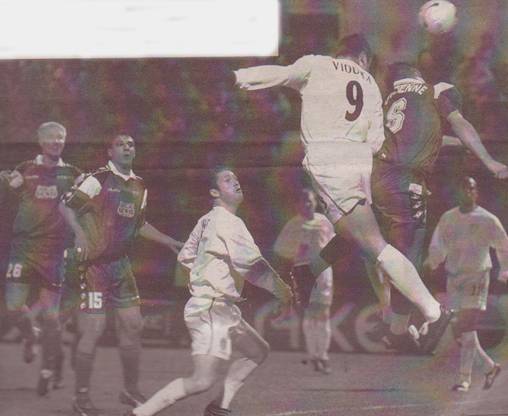 <![endif]> <![if !vml]>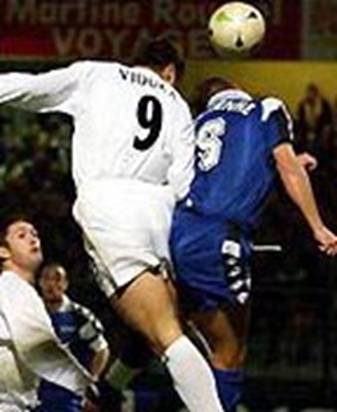 <![endif]> <![if !vml]>

<![endif]> 
Mark Viduka climbs to head the first goal and applauds the Leeds fans
<![if !vml]>

<![endif]>
<![if !vml]>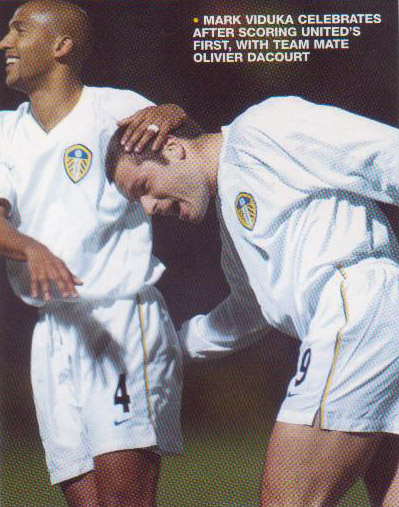 <![endif]> <![if !vml]>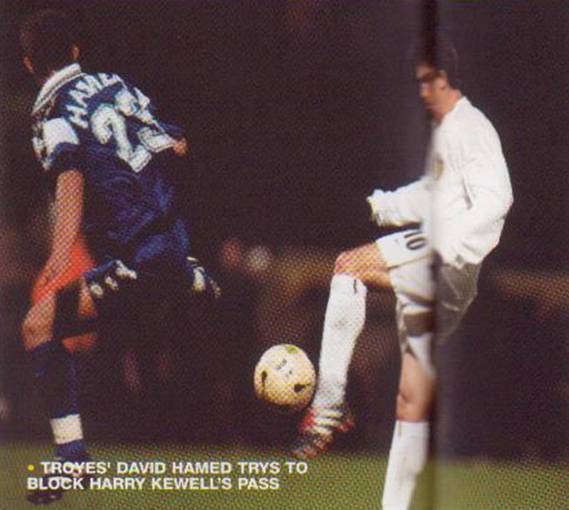 <![endif]>
<![if !vml]>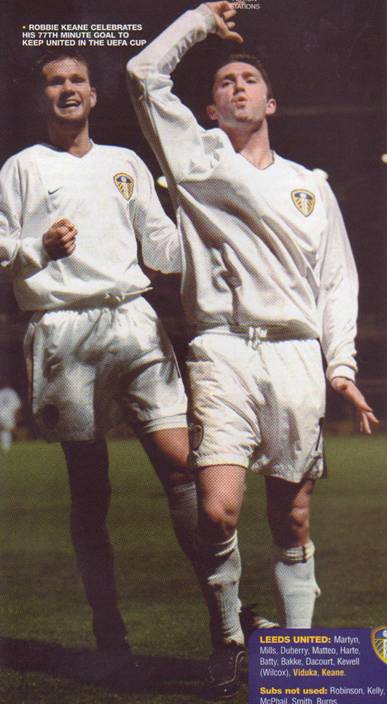 <![endif]> <![if !vml]>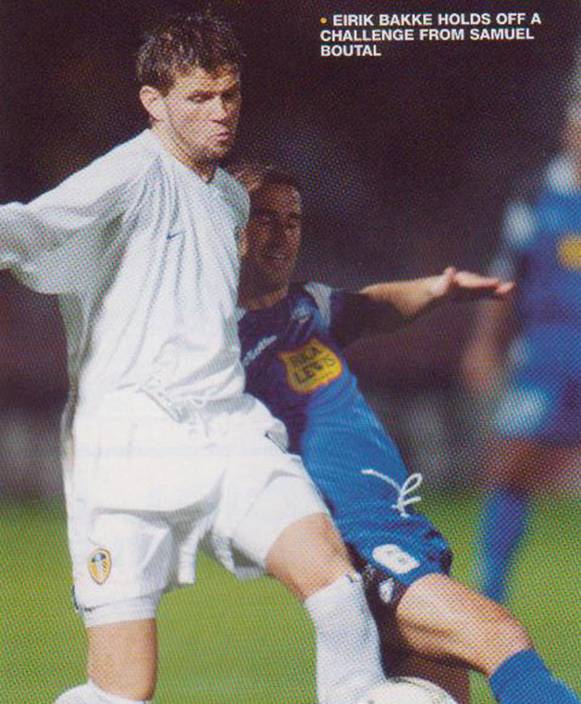 <![endif]>
<![if !vml]>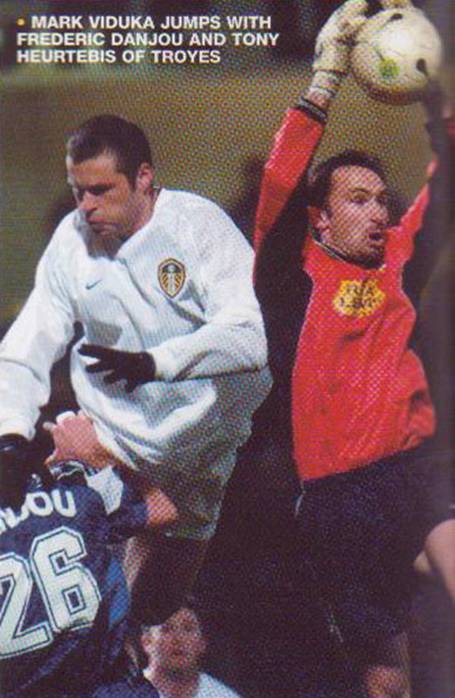 <![endif]> <![if !vml]>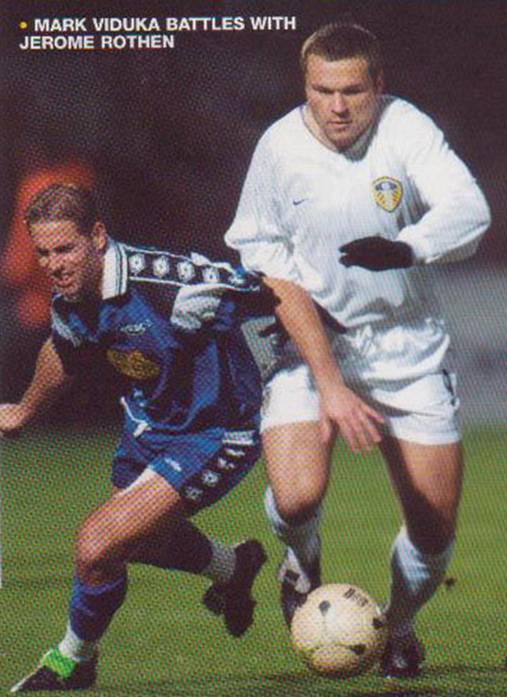 <![endif]>
<![if !vml]>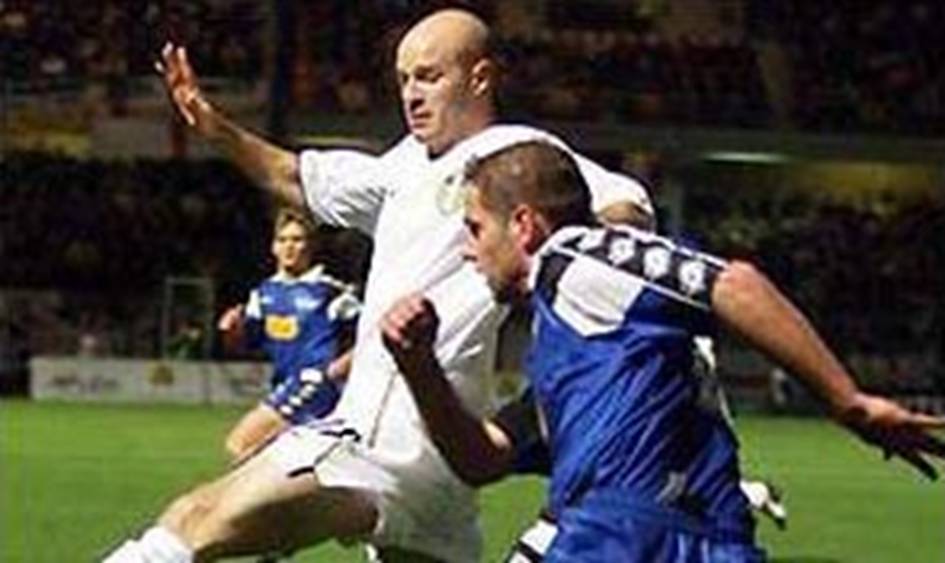 <![endif]>
Danny Mills beats Carl Tourenne to the ball
<![if !vml]>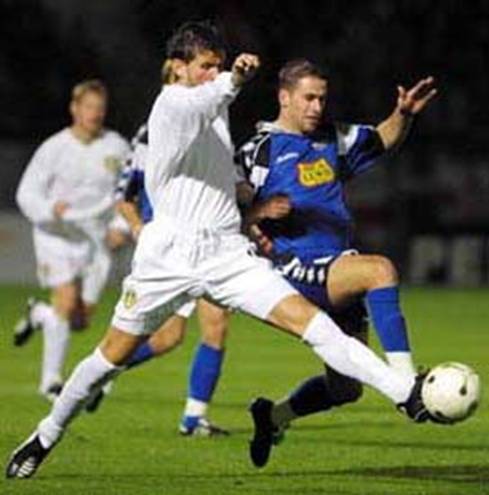 <![endif]>   <![if !vml]>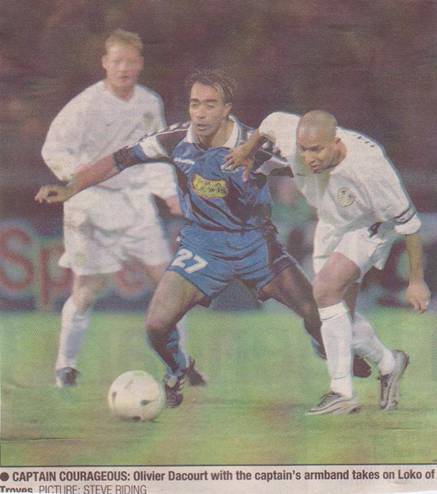 <![endif]>
Eirik Bakke fights for the ball
<![if !vml]>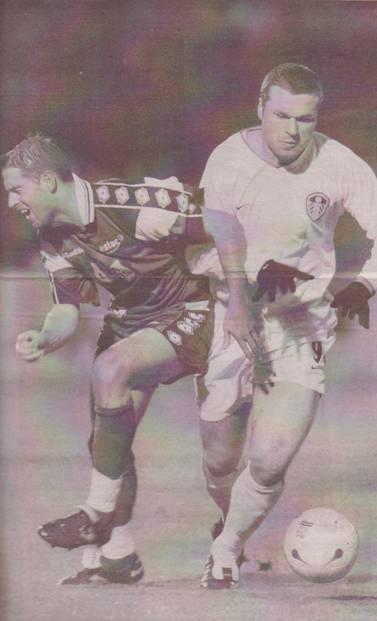 <![endif]>  <![if !vml]>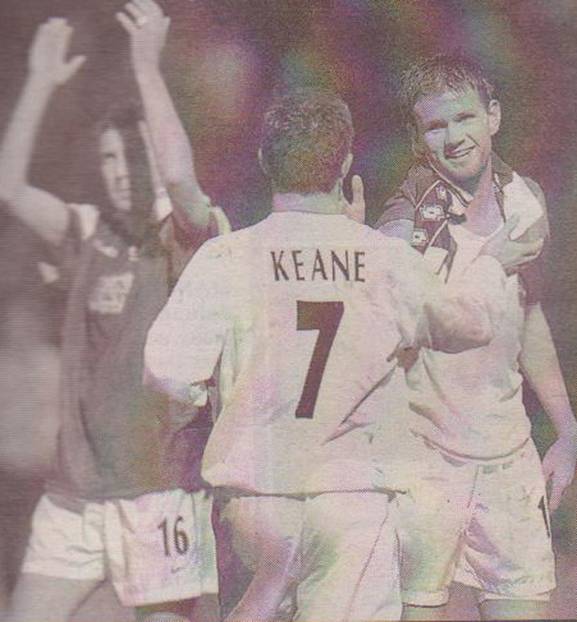 <![endif]> 
Mark Viduka brushes aside Carl Tourenne                         Jason Wilcox, Eirik Bakke and Robbie Keane celebrate victory
<![if !vml]>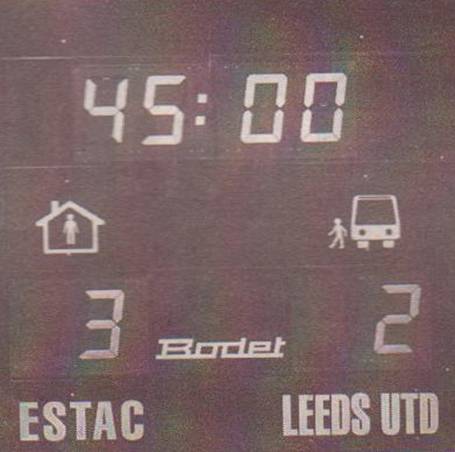 <![endif]> <![if !vml]>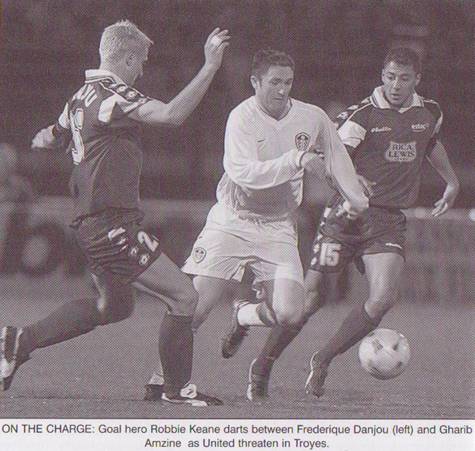 <![endif]>
Players:
<![if !vml]>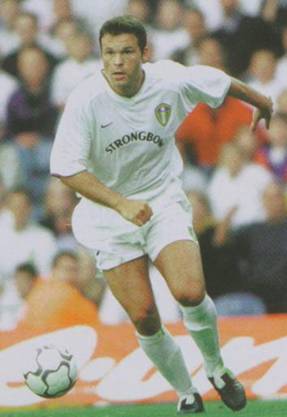 <![endif]> <![if !vml]>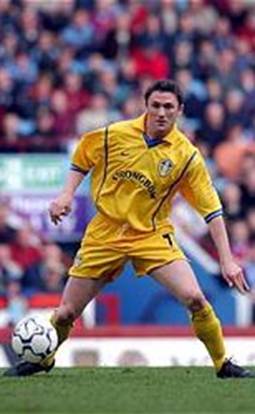 <![endif]>       <![if !vml]>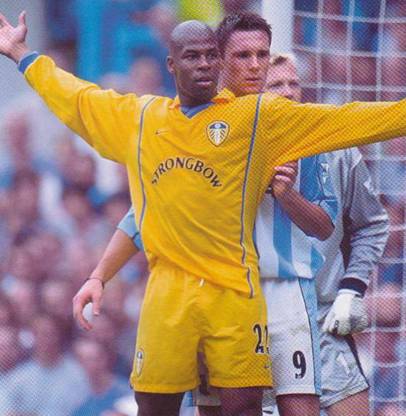 <![endif]>
Mark Viduka and Robbie Keane scored for Leeds                                                           Michael Duberry was pressed into service after a late test
<![if !vml]>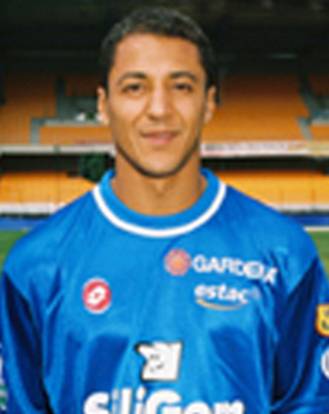 <![endif]> <![if !vml]>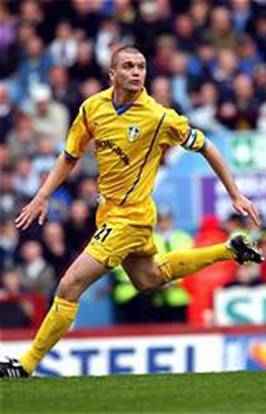 <![endif]> <![if !vml]>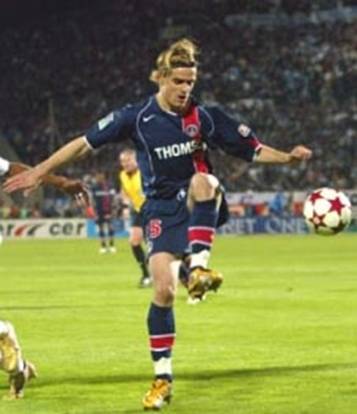 <![endif]>
                  Gharib Amzine, a Dominic Matteo own goal and Jerome Rothen scored for Troyes
<![if !vml]>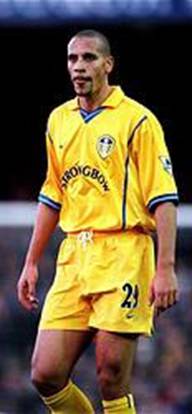 <![endif]>  <![if !vml]>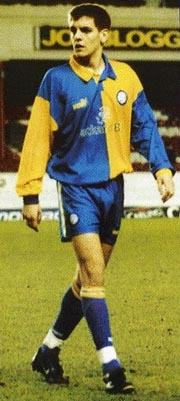 <![endif]>  <![if !vml]>

<![endif]>     <![if !vml]>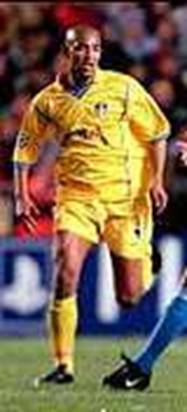 <![endif]>     <![if !vml]>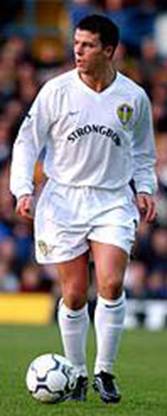 <![endif]>
Rio Ferdinand, Jonathan Woodgate and Lee Bowyer were all missing                             Olivier Dacourt was                  Ian Harte's freekick
                                                                                                                                                stand-in skipper                        was  saved
<![if !vml]>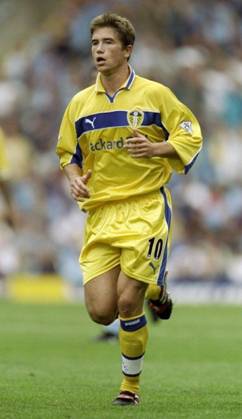 <![endif]> <![if !vml]>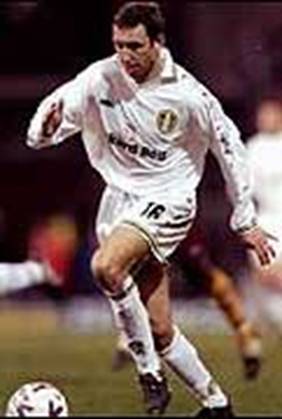 <![endif]>            <![if !vml]>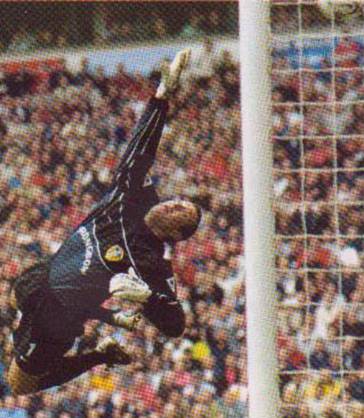 <![endif]>
Harry Kewell hit the bar but was replaced by Jason Wilcox                                               Nigel Martyn made several fine saves
<![if !vml]>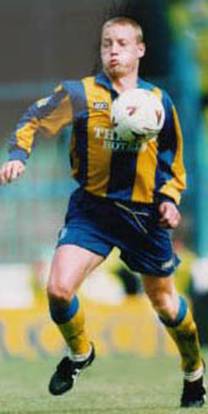 <![endif]> <![if !vml]>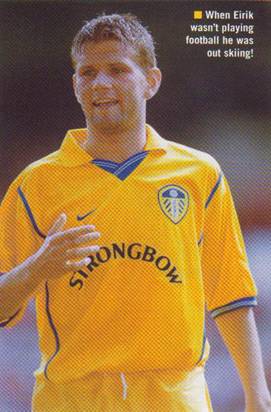 <![endif]> <![if !vml]>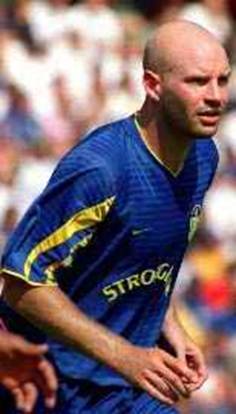 <![endif]> <![if !vml]>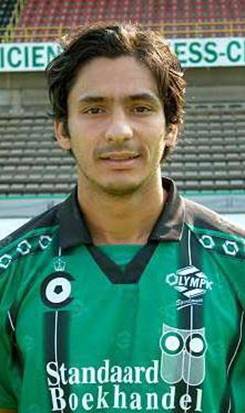 <![endif]>
David Batty found Mark            Eirik Bakke played after a late test          Danny Mills almost own goaled        Nordin Jbari was an unused
Viduka to start the move                                                                                                                                              substitute
for the second goal
<![if !vml]>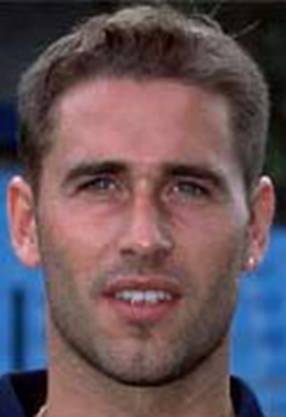 <![endif]> <![if !vml]>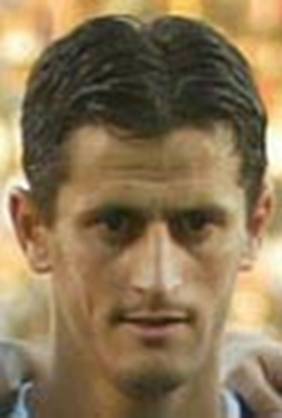 <![endif]>             <![if !vml]>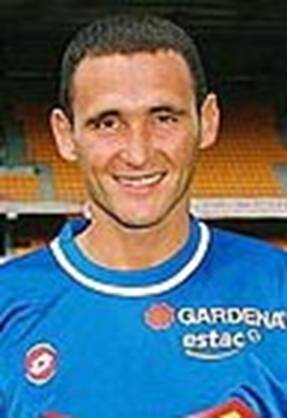 <![endif]> 
Carl Tourenne and Rafik Saifi came into the starting team                                                              Frederic Adam came on as a substitute