<![if !vml]>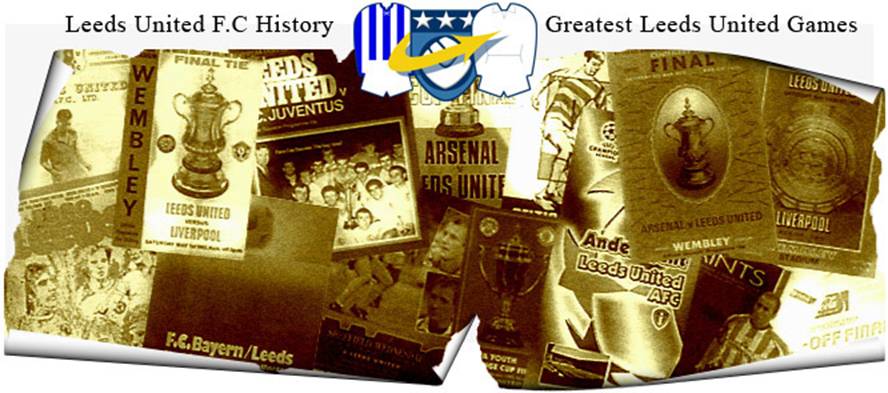 <![endif]>
Date: Saturday, 1st May 1965.
Venue: Wembley Stadium, London.
Competition: FA Cup Final.
Score: Leeds United 1 Liverpool 2 (after extra-time)
Scorers: Leeds United: Bremner. Liverpool Hunt, St John.
Attendance: 100,000 (Receipts £89,103).
Teams:
<![if !vml]>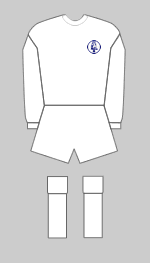 <![endif]>†<![if !vml]>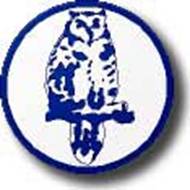 <![endif]>
Leeds United: Sprake; Reaney, Bell; Bremner, Charlton, Hunter; Giles, Storrie, Peacock, Collins, Johanneson.
<![if !vml]>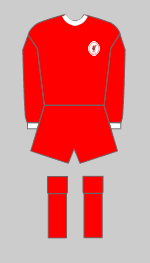 <![endif]>†<![if !vml]>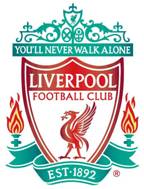 <![endif]>
Liverpool: Lawrence; Lawler, Byrne; Strong, Yeats, Stevenson; Callaghan, Hunt, St John, Smith, Thompson.
Referee: W. Clements (West Bromwich).
Only five days after the League Championship had been snatched from under their noses Unitedís players strode out at Wembley for their first-ever FA Cup Final appearance.
They had booked their place with a last-gasp back-header from Billy Bremner in the replayed Semi-Final against Manchester United and now faced the mighty Reds of Liverpool, the championship winners of the previous season.
Liverpool were without Gordon Milne and ex-Arsenal striker Geoff Strong took his place at right-half. United were at full strength with Willie Bell and Jim Storrie returning after missing the encounter with Birmingham City.
Prospects of a close contest looked good, but Leeds froze on the occasion, leaving the more experienced Liverpool to dominate the midfield. Unitedís veteran 34 year-old Bobby Collins, struggled on a soddened surface and could not bring wingers Giles and Johanneson into the game. He was lucky to stay on the pitch, as the referee was extremely lenient with him as he went over the ball in his first tackle leaving Gerry Byrne, the Liverpool left-back, in a crumpled heap, but the defender carried on despite suffering a broken collarbone.
The rain poured down relentlessly and it was Willie Stevenson who constantly stole the limelight with incisive runs from midfield to keep a constant supply of the ball to his forwards. United toiled under pressure and only a series of fine saves by Gary Sprake enabled Leeds to stay in the game and send the game into extra time for the first time since 1947.
United had Jim Storrie hobbling on one wing and Albert Johanneson overawed by the occasion on the other, leaving Alan Peacock to battle on alone against the redoubtable Liverpool defence led by their towering captain, Ron Yeats.
While the 90 minutes had been very tame and unadventurous, the extra time was all action. Only three minutes had gone when the brave Gerry Byrne crossed the ball for Roger Hunt to dive in and head Liverpool into the lead. Eight minutes later and United snatched an equaliser. Big Jack Charlton joined in the attack and rose to head the ball down for Billy Bremner to unleash a fearful half-volley to give Tommy Lawrence in the Liverpool goal no chance.
With just nine minutes remaining United found themselves behind again and this time there was no way back. Ian Callaghanís superb cross eluded the United defence and Ian St John smacked in the header which took the FA Cup back to Anfield.
Leeds never did themselves justice on the greatest afternoon in the clubís history as they seemed to freeze below the famous twin towers and while Sprake performed wonders to keep the game scoreless in normal time and Jack Charlton was a tower of strength in defence it was left to Bremner and Collins to fight a lone battle in midfield to try and spark life into a remarkably lethargic team. While Albert Johanesson was totally overawed by the occasion, Jim Storrie obviously carried an injury into the game and spent most of the game a limping passenger on the wing and Unitedís wing threat was reduced to nothing, leaving them without their most potent weapon and taking away Alan Peacockís supply line.
Having missed out on the League title by 0.686 of a goal and the FA Cup in extra-time it had been a double heartbreak for Leeds, a situation they would learn to live with in the next decade.
<![if !vml]>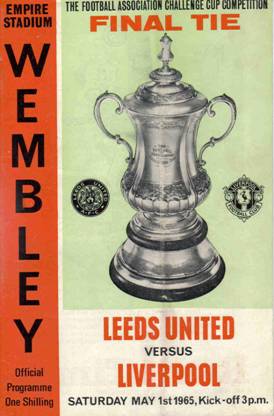 <![endif]>† <![if !vml]>
<![endif]>
The Teams:
<![if !vml]>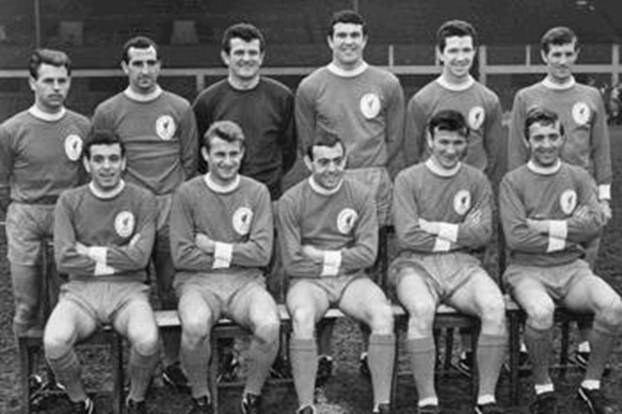 <![endif]>
Liverpool:
Back Row: Gordon Milne (4), Gerry Byrne (3), Tommy Lawrence(1), Ron Yeats (5)
Captain, Chris Lawler (2), Willie Stevenson (6).
Front Row: Ian Callaghan (7), Roger Hunt (8), Ian St John (9), Tommy Smith (10),
Peter Thompson (11).
<![if !vml]>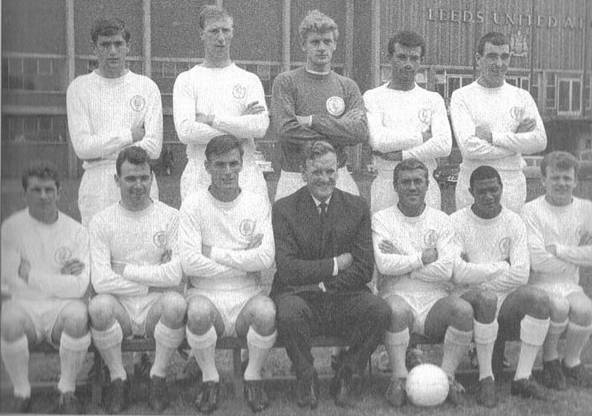 <![endif]>
Leeds United:
Back Row: Norman Hunter (6), Jack Charlton (5), Gary Sprake (1), Paul Reaney (2),
Willie Bell (3).
Front Row: Johnny Giles (7), Jim Storrie (8), Alan Peacock (9), Don Revie
(Manager), Bobby Collins (10) Captain, Albert Johanneson (11), Billy Bremner (4).
Match Action:
<![if !vml]>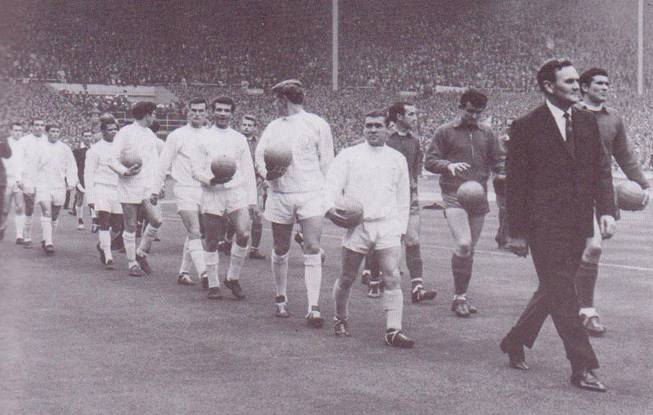 <![endif]>†††††† <![if !vml]>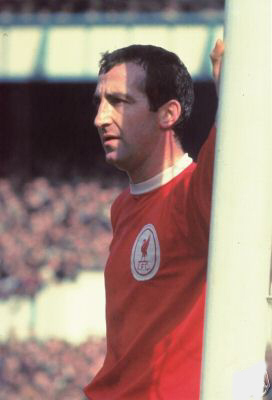 <![endif]>
Don Revie leads United on to the hallowed turf followed by Captain Bobby Collins, Gary Sprake,†† ††††††The brave Gerry Byrne played almost the††
Paul Reaney, Alan Peacock, Norman Hunter, Albert Johanneson, Johnny Giles, Willie Bell and†††† ††††††entire game with a broken collar-bone††
Jim Storrie. No doubt Billy Bremner and Jack Charlton were also bringing up the rear.
<![if !vml]>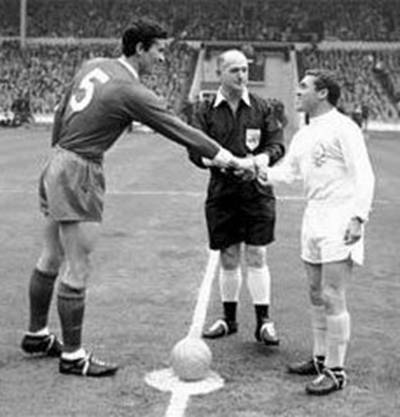 <![endif]>†<![if !vml]>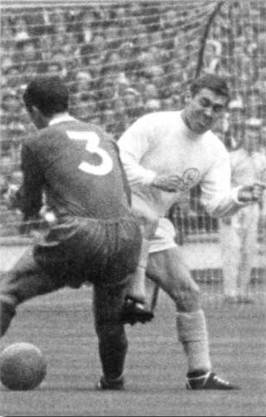 <![endif]>†<![if !vml]>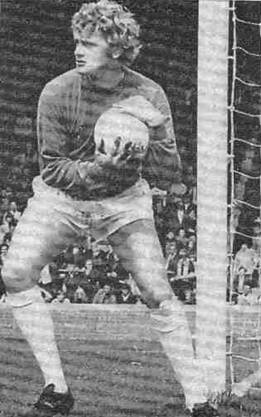 <![endif]>
The Captains, Bobby Collins and Ron Yeats shake††††††††††† ††††††Collins is straight into action as his†††† †††††Gary Sprake kept Leeds in the game
hands before the kick-off††††††††††††††††††††††††††††††††††††††††††††††††† ††††††††††tackle on Gerry Byrne leaves the
††††††††††††††††††††††††††††††††††††††††††††††††††††††††††††††††††††††††††††††††††††††††† ††††††††††††Liverpool left-back with a broken
† ††††††††††††††††††††††††††††††††††††††††††††††††††††††††††††††††††††††††††††††††††††††††††††††††††††collar-bone
<![if !vml]>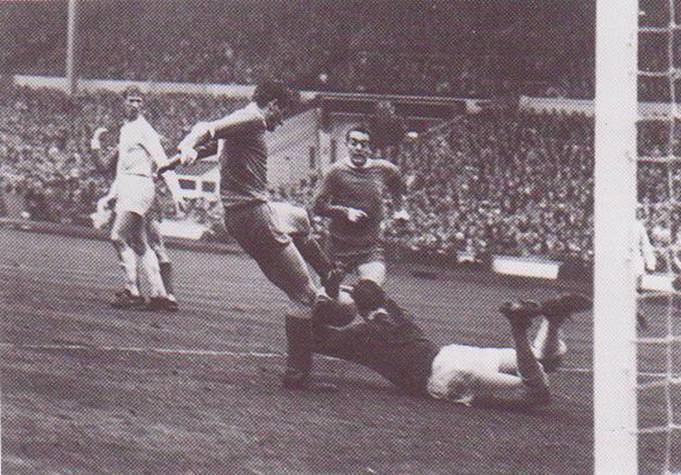 <![endif]>
The brave Gary Sprake shows no fear as he saves from Roger Hunt and Ian St John
<![if !vml]>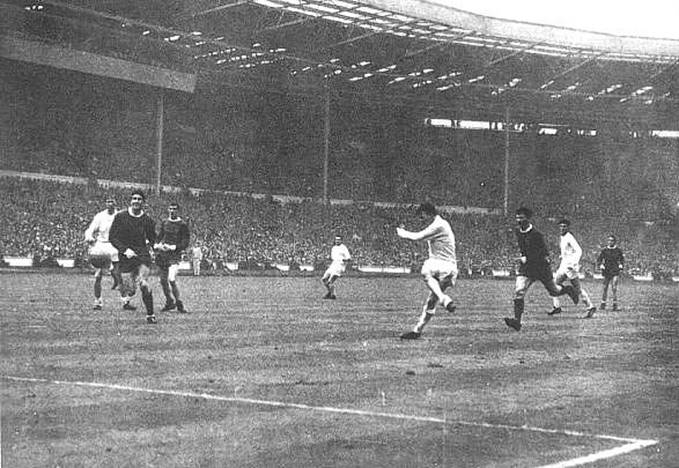 <![endif]>
<![if !vml]>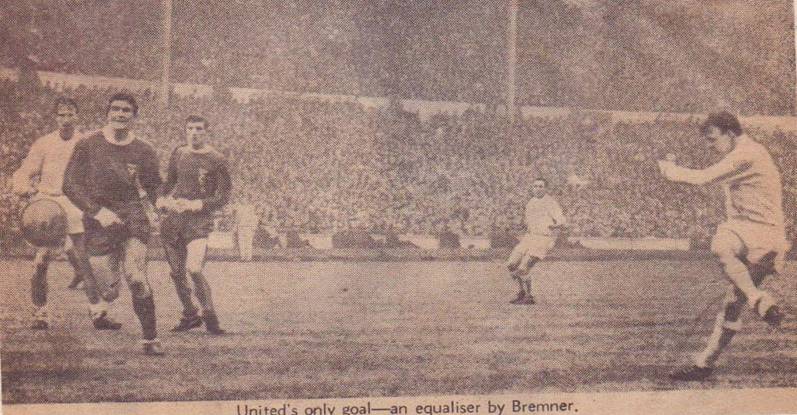 <![endif]>
†
<![if !vml]>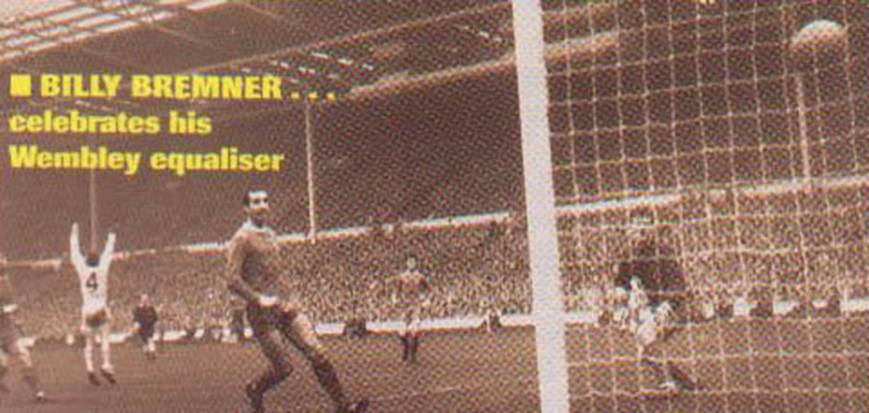 <![endif]>
Three views of Bremnerís goal
<![if !vml]>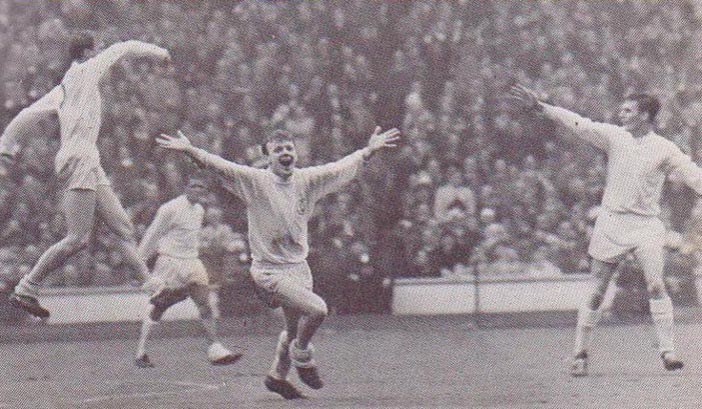 <![endif]>†<![if !vml]>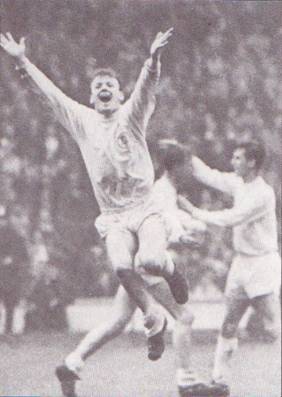 <![endif]>
Big Jack goes into orbit as Bremner and Peacock celebrate Unitedís goal.††††† †††††††††††††††††††††††††††††††††††††††††Billy jumps for joy
<![if !vml]>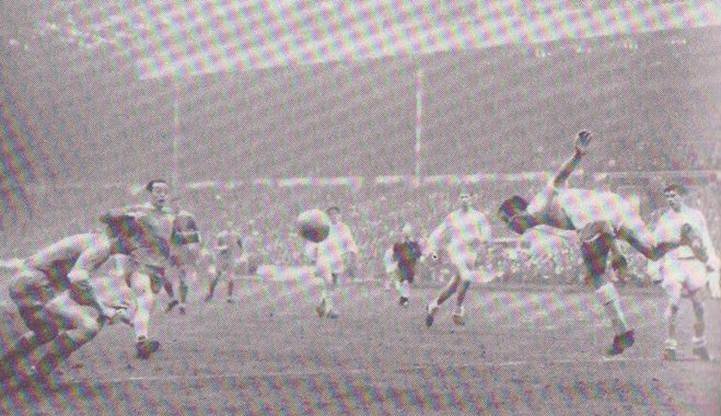 <![endif]>†<![if !vml]>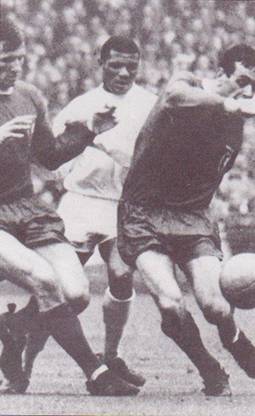 <![endif]>
Willie Bell makes a valiant effort but cannot stop Roger Hunt heading Liverpoolís first goal †††††††††††††††††††††††††††††Albert Johanesson is blocked by
†††††††††††††††††††††††††††††††††††††††††††††††††††††††††††††††††††††††††††††††††††††††††††††††††††††††††††††††††††††††††††††††††††††††††††††††††††††††††††††† ††††††††††††††††††††††††Tommy Smith and Ian Callaghan
<![if !vml]>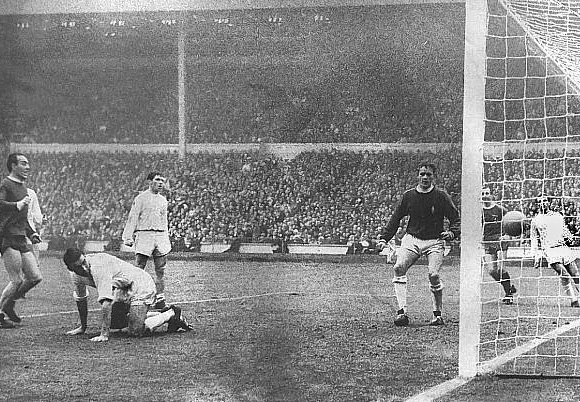 <![endif]>†<![if !vml]>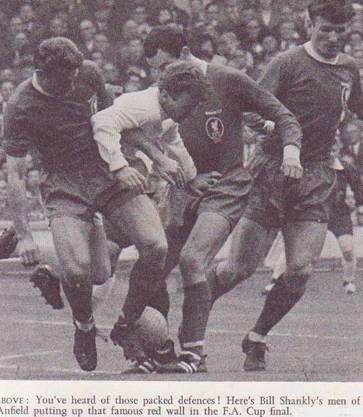 <![endif]>
Roger Hunt gets Liverpoolís first goal as St John watches the ball enter the net.
<![if !vml]>
<![endif]>†
Ian St John heads the Liverpool winner.
<![if !vml]>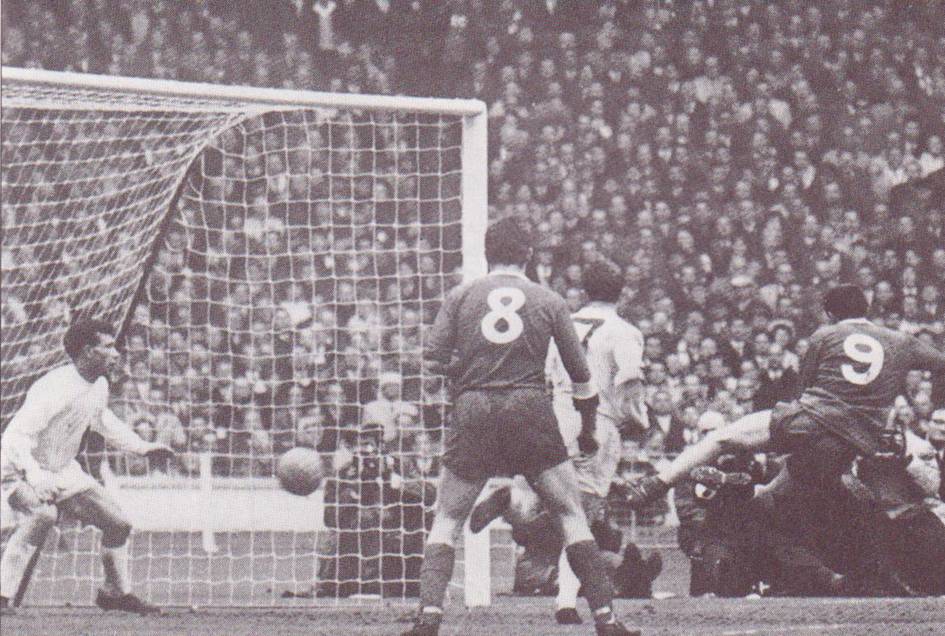 <![endif]>
Ian St John heads the Liverpool winner from another angle.
<![if !vml]>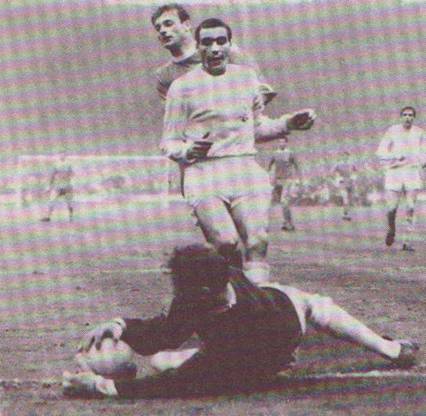 <![endif]>†<![if !vml]>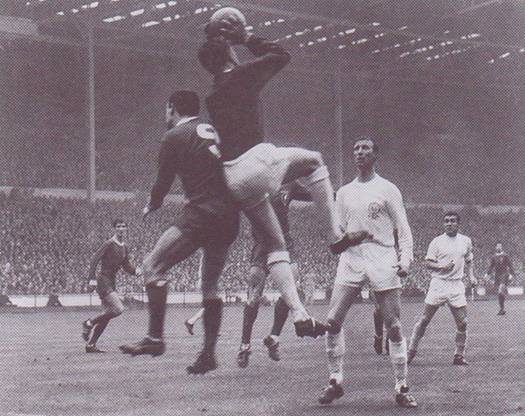 <![endif]>
Gary Sprake bravely dives to thwart Roger Hunt with help †††††††††Sprake flies high above St John to make another fine save as
†from Willie Bell†††††††††††††††††††††††††††††††††††††††††††††††††††††††††††††††††††† †††††††††††Jack Charlton and Bobby Collins look on
†††††††††††††††††††††††††††††††††††††††††††††††††††††††††††††††††††††††††††††††††††††††††††
<![if !vml]>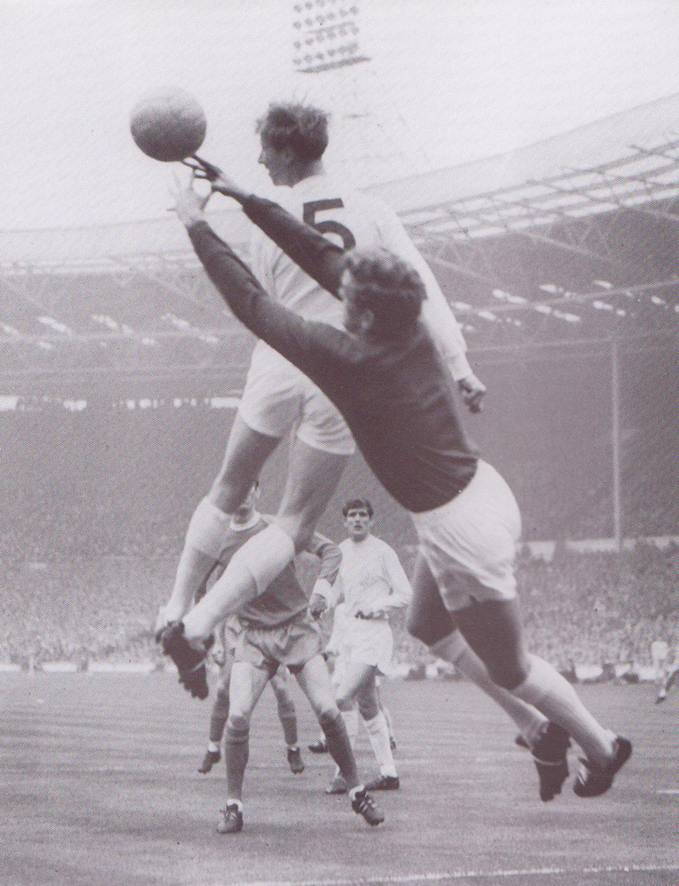 <![endif]>
Sprake again at his best as he flies high to save with Jack Charlton
<![if !vml]>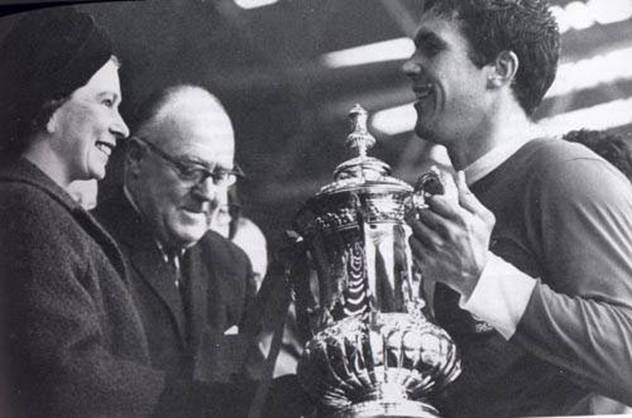 <![endif]>†† <![if !vml]>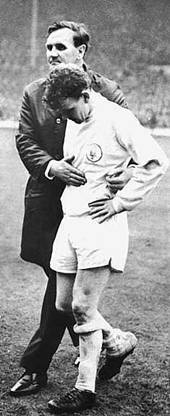 <![endif]>
Ron Yeats receives the FA Cup from the Queen.†††††††††††††††††††††††††††††††††††††††††††††††††††††††††††††††††† †††††††††††††Revie consoles Bremner†
The goal-scorers:
<![if !vml]>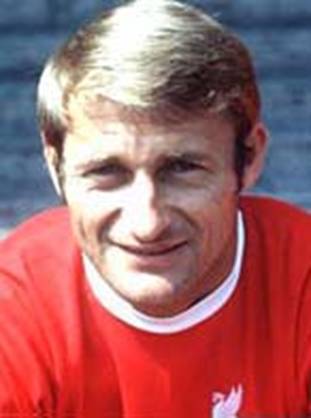 <![endif]>† <![if !vml]>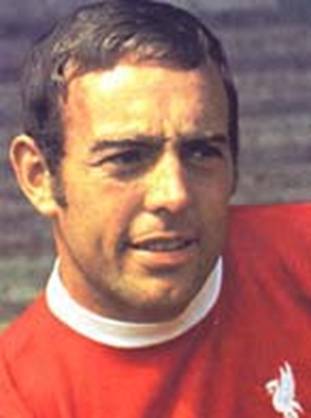 <![endif]>†<![if !vml]>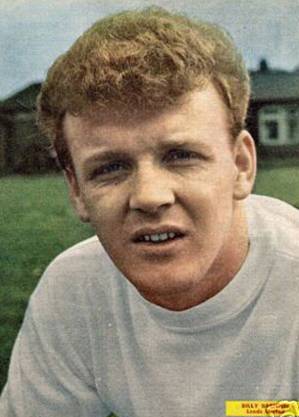 <![endif]>
Roger Hunt : Liverpool†††††††††††††††††††††††††††††††††† ††††††Ian St John: Liverpool†††††††††††† ††††††††††††††††††††††††††††Billy Bremner: Leeds United
<![if !vml]>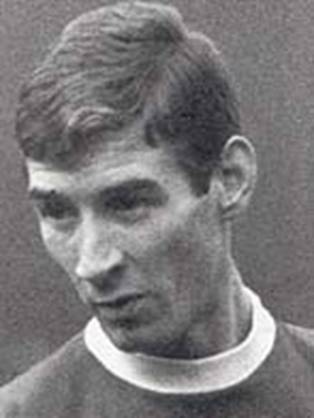 <![endif]>† <![if !vml]>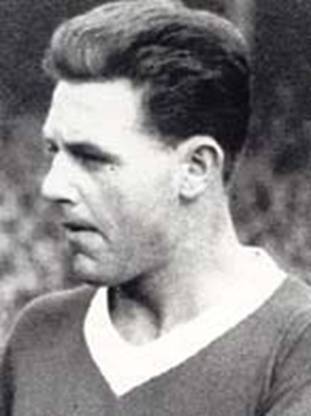 <![endif]>
Geoff Strong was in the Liverpool team at Right-Half in place of Gordon Milne